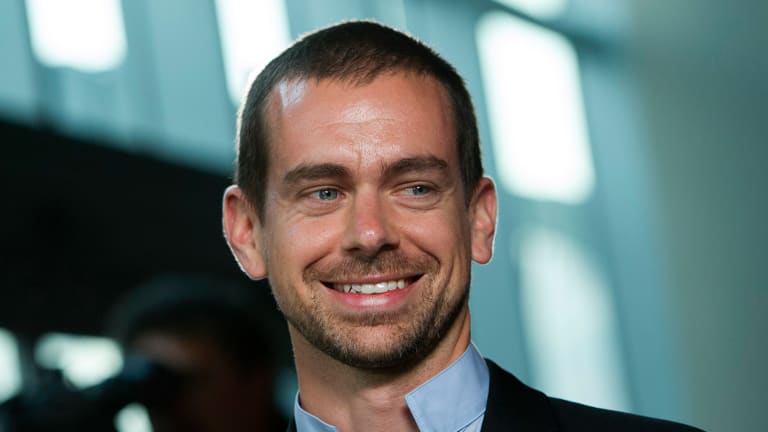 Can $Cashtag Put Twitter Back in the Social Media Business?
The new $Cashtag feature from Twitter looks like a move in the right direction with Jack Dorsey at the helm.
Updated to include comments from Jim Cramer.
NEW YORK (TheStreet) -- As Twitter (TWTR) - Get Report has shown, it's often easier to start a company than grow a company.
When Twitter and Square launched their $cashtag feature, it seemed like an idea hatched in Jack Dorsey heaven. The feature appears to combine Twitter's ubiquity with Square's efficiency. But can it ultimately breathe new life into Twitter's stale platform and anemic bottom-line?
After Dick Costolo was ousted from Twitter in June, the board turned to its co-founder Dorsey to rekindle some excitement in the microblogging site, repeatedly plagued by criticism that the platform was unable to exploit its treasure-trove of user demographics. Twitter shares were losing 1.9% to $24.81 on Monday, extending its decline since going public in November 2013 to 40%.
It didn't take long for Dorsey to launch $cashtag, a new feature that capitalizes on one of Twitter's greatest assets: an open source nexus for breaking news. The $cashtag feature allows political campaigns to post a link on Twitter that brings the user to a site where they can make a financial contribution to a particular candidate. Square will charge a 1.9% processing fee.
"This is a smart move for Twitter because political contributions plays right into people who use Twitter as a significant source of breaking news," according to Mike Vorhaus, president of Magid Advisors, a media consultancy.
"Political contributions are a good market," Vorhaus said in a phone interview. "We see tremendous added interest from millennials in getting information on politics from the web and not traditional sources"
And Twitter is "right on the cutting edge of gathering demographics to develop targeted advertising and content," said Jimmy Schaeffler, Chairman and Chief Service Office of The Carmel Group.
TheStreet's Jim Cramer, Portfolio Manager of the Action Alerts PLUS Charitable Trust Portfolio, agreed that the feature offers some evidence that Twitter management is pointed in a positive direction.
"We own Twitter for my charitable trust," Cramer said. "It's a small position given how hard it is to have conviction based on the earnings. But I do like the upcoming changes and I wish they would get on with a CEO."
Exclusive Look Inside:
You see Jim Cramer on TV. Now, see where he invests his money and why TWTRis a core holding of his multi-million dollar portfolio.
Want to be alerted before Jim Cramer buys or sells TWTR?Learn more now.
Although 85% of Twitter's revenue comes from ads on its site (advertisers pay for how many times their ads are re-tweeted), the rest comes from data mining. Twitter creates something called a "firehose" which allows companies to analyze the roughly 500 million tweets per day that Twitter generates. And not only will advertisers learn what you like, but can determine if you are "willing to take the next step and donate to a cause," according to Schaeffler.
Schaeffler is so convinced that this will be lucrative for Twitter, he gives the company twelve months to "turn this part of their business into something remarkable."
But the feature is not without its detractors, many of whom fear that data-mining from members can be a double-edged sword, alienating users who are targeted for products. While this is no different than similar tactics employed by Google and Facebook, the immediate nature of Twitter, and its appeal as a microblogging site could turn-off users that now have to wade through an ocean of ads.
It could also turn off users that not only have to provide personal information, but divulge their political affiliations, leaving them vulnerable to solicitations for more money.
Which is exactly the kind of information advertisers and fund-raising organizations are willing to pay for. Marketing executives and consumer research outfits want to know "how passionate individuals are and will this specific individual take the next step and donate to our cause?" added Schaeffler.
According to Patrick Moorhead, President and principal analyst at Moor Insights and Strategy, this is also a way "for Twitter to get users comfortable conducting commerce and collecting credit card information."
While there is no immediate monetary reward for Twitter since Square gets the 1.9% transaction fee, the potential revenue the information could generate, not to mention the appeal to new members, could be a turning point for Twitter. If nothing else, it shows that the company is looking in the right direction for organic growth.
This article is commentary by an independent contributor. At the time of publication, the author held no positions in the stocks mentioned.