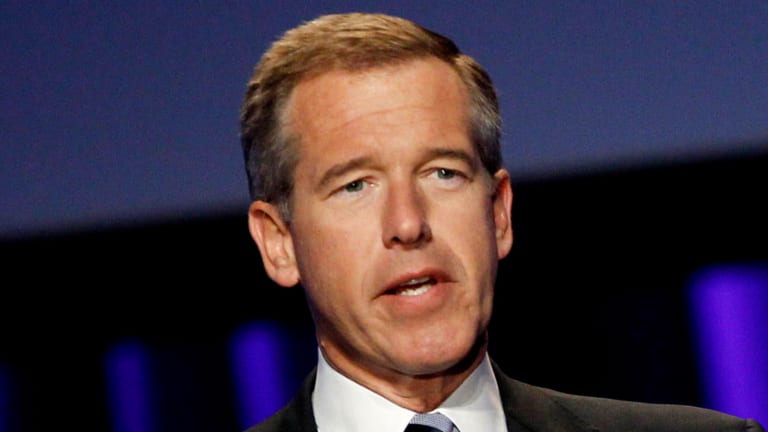 Can Brian Williams Bring Better Ratings to Comcast's MSNBC?
Comcast's retooling cable network will jettison left-leaning commentary for a hard-news approach that leans on NBC News talent.
LOS ANGELES (TheStreet) -- MSNBC is going back to its roots by focusing on news rather than commentary--and betting heavily that audiences will forgive disgraced anchor Brian Williams.
The struggling Comcast-owned (CMCSA) - Get Comcast Corporation Class A Report cable network has jettisoned three daytime commentary shows and will replace them with breaking news, hoping to lure viewers away from rival CNN.
As part of its plan, the network will cancel daytime programs The Cycle, Now with Alex Wagner and Ed Schultz's The Ed Show. Final episodes are Friday.
"There's no doubt it's been a difficult time," Griffin said in the memo.
Indeed, the network's second-quarter primetime audience in the 25-54 demographic on which networks sell advertising declined 18% to 130,000 viewers on average from a year ago, according to Nielsen data. That's a distant third behind gains at 21st Century Fox's (FOXA) - Get Fox Corporation Class A Report Fox News (301,000) and Time Warner's (TWX) CNN (195,000).
MSNBC's full-day figures fell 17% in the demographic to an average of 85,000 viewers.
"It's a pretty significant programming change and reflects the endemic ratings they've had during the day with these shows," said Feldstein, a former CNN correspondent.
"It also shows that (NBC News chairman) Andy Lack is serious about trying to make it a more traditional daytime news network, and even try taking on CNN on its home turf of breaking news," Feldstein added.

The back-to-basics approach also will call on Meet the Press host Chuck Todd, who will get his own hour-long weekday daytime show.
The network's decision to de-emphasize commentary, especially during its daytime programming, is part of Lack's effort to find a new way to capture more viewers during the fevered lead up the U.S. general election next year.
"Political is something you can count on," said Brad Adgate, research director at Horizon Media, an advertising buyer, in a phone interview. "You're going to get a spike" in viewers.
To get that audience, Lack and Griffin plan to better integrate NBC News reporting talent with MSNBC.
"The upside is that NBC has a stable of producers and correspondents and bureaus for newsgathering that can't fit all of its reporting on the formats that it has on NBC," Feldstein said. "This now gives a new venue for producers and correspondents to get their work out. It's a way for amortizing the cost of their newsgathering."
Any help NBC News, which tops all broadcast news divisions with $1 billion in revenue according to Kantar Media, could lend to boost MSNBC's audience would be a victory for Comcast. MSNBCgenerated $501.4 million in revenue last year, trailing both Fox News and CNN, according to SNL Kagan.

The Philadelphia-based conglomerate has been surging recently in all of its businesses except for NBCUniversal's cable and broadcast divisions. Revenue in cable slipped 1% last quarter and broadcast was flat as ratings slid across its television platforms.
But with smaller audiences and less profit from news than in the past, Adgate sees Lack and Griffin leaning on NBC News' gravitas to have an effect that goes beyond MSNBC's balance sheet. It also may reflect a new reality for today's news operations that have cut staff and closed bureaus around the world.
"This goes back to the early days of television," Adgate said. "The news division was the most prestigious part of the network. ... They're going to continue to invest because it's more about branding than it is a profit center." 
This article is commentary by an independent contributor. At the time of publication, the author held no positions in the stocks mentioned.