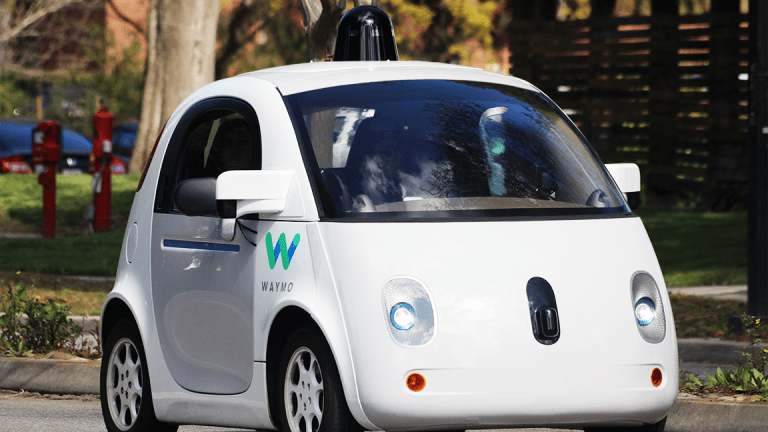 By the Numbers: The Future of Autonomous Driving
It's no longer the stuff of the Jetsons. Robo-taxis could dominate roads in the coming decades, say RBC analysts.
Wasting time sitting in hours of traffic on your daily commute could soon be a thing of the past.
According to analysts at RBC Capital Markets, there could be a "meaningful" adoption of autonomous vehicles at levels four and five by 2050.
Driverless cars are classified by levels, ranking zero through five. A level zero car has no automation, one has drive assistance, two has partial automation, three has conditional automation, four has high automation and five has full automation.
In a note Thursday, May 24, RBC analysts said they estimate that 20% of global new vehicles released to market in 2017 were level one and 9% were level two.
"To date, this has mostly been consumer pull," RBC said. "We see a democratization of active safety driven by the competitive nature of the automotive market and forecast that by 2025, 77% of new demand will have [level one through level three] capabilities."
RBC said that Aptiv Plc (APTV) is "very well positioned" in the future analysts envision, given that their active safety business is forecast to grow 50% per year through 2020. The broader automobile technology market is expected to grow at a slower 20% clip year over year in the same period.
RBC added that by 2050 about 83% of new cars will have level four or level five capability and about 30% could be robo-taxis. "We see L4/L5 autonomous vehicles in a shared fleet before they are in your garage because of a) the high cost which is more easily absorbed by the business model and b) still evolving technology," RBC said.
RBC noted that the cost of developing artificial intelligence, sensor and computing technologies will shrink as more driverless vehicles come to fruition. Analysts expect about 14,000 robo-taxis on the road in 2020, growing to 2.4 million by 2025 and representing a 187% compound annual growth rate. By 2050, RBC sees about 31 million new robo-taxis per year, about 30% of total units. By that time, analysts expect about 75% of "owned" new annual units to have level four or level five capability.
"Robo-taxis enable a powerful business model shift," RBC said, as companies could see the lifetime revenue of units increasing to between $100,000 and $150,000, growing three to five times from current levels of about $30,000.
"Further, miles driven is meaningfully less cyclical than units sold," RBC said. "As we work through our robo-taxi forecast, given the higher utilization we believe they could account for ~40% of global miles traveled by 2050."
That could open up an enormous new market, analysts said. At an expected cost of about 50 cents per mile in a robo-taxi, the new space could represent a total addressable market of about $3.8 trillion by 2050.
"Automakers have a meaningful opportunity, but new technology entrants are likely as well," RBC said. Analysts noted that General Motors Co. (GM) is ahead of Ford Motor Co. (F) currently, and that Alphabet Inc. (GOOGL) subsidiary Waymo is a leader.
As driverless technology expands, the use of LiDAR technology will, too. LiDAR, a detection system that uses light from lasers, is widely used in level three units and is expected to be in "essentially all" level four and five units, RBC said. Analysts predict the automotive LiDAR market will grow at a roughly 45% compound annual growth rate through 2025 to about $7 billion.
Alphabet is a holding in Jim Cramer's Action Alerts PLUS member club. Want to be alerted before Jim Cramer buys or sells GOOGL? Learn more now.