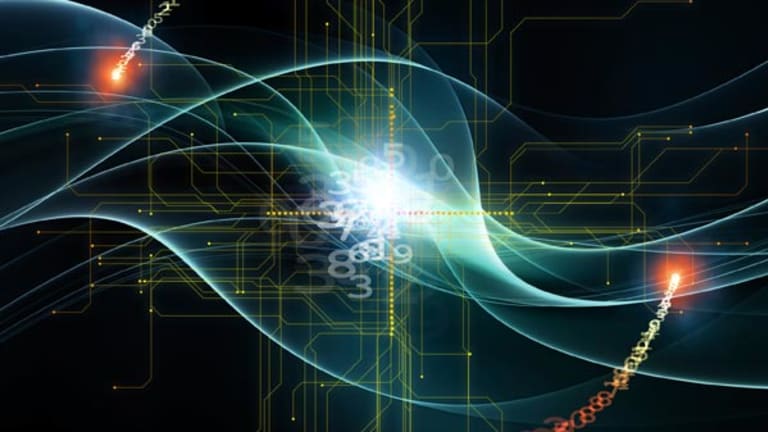 Buyouts, iPhone Paranoia, Dominate Wireless
AT&T and Verizon's mixed earnings picture is giving new life to telecom sector bears
AT&T and Verizon's mixed earnings picture is giving new life to telecom sector bears
NEW YORK (
) - Investors hoping for clarity on the earnings outlook of wireless giants were disappointed by
AT&T's
(T) - Get Report
generally
released on Wednesday morning, which gave new life to bearish predictions for the telecom sector amid a profit surge.
AT&T activated 4.7 million iPhones during the third quarter, in a positive indication that
Apple
(AAPL) - Get Report
-addicted subscribers continue to flock to the network despite unlimited plans offered by the likes of
Sprint
(S) - Get Report
. Still, surging smartphone additions came in slightly less than forecast and new iPhone devices on AT&T's network significantly hit overall wireless service margins.
AT&T earnings confirm some fears that surging demand for Apple devices - namely the iPhone 5 -- may
in spite of far
third-quarter earnings posted by
Verizon
(VZ) - Get Report
recently.
After Verizon's report, some skeptics on the iPhone 5's impact on wireless profits
retreated from that bearish analysis
. On the heels of AT&T's Wednesday earnings, however, negativity on the direction of industry profitability is resurfacing.
Notably, industry bear Craig Moffett of Bernstein Research sees AT&T's earnings as reason to believe a looming surge in smartphone upgrades may hit overall sector carrier profits, which have been steadily rising in the past year.
"AT&T isn't just lagging Verizon in subscriber growth. They are lagging in margins as well," writes Moffett, in a Wednesday research note to clients. Moffett highlights that AT&T's strong iPhones sales are adversely impacting wireless margins, as customers come due for subsidized smartphone upgrades.
"Without a tailwind of lengthening useful life of its subscribers' handsets, AT&T's Wireless margins sagged. Service margins of 40.7% were -300 bps lower than a year ago," writes Moffett, in reaction to earnings.
"Handset life remains perhaps the fundamental question facing telecom investors. If handset life is not sustainably extending... then recent declines in subsidies will reverse, and margins will come back down. We continue to believe this is a question of when, not if," the analyst concludes.
At issue is whether the carriers can use new smartphone launches to profitably steer users onto their networks. On one hand, carriers pay in the range of $500 a phone in subsidies to handset makers like Apple to lure in customers - or to meet the terms of upgrade schedules - in a relationship that can cost big money. Over the long term, carriers expect to make their money back on subsidized handsets by way of the monthly cost of wireless contracts, and in particular, the tiered pricing of smartphone data usage.
Just over a month ago Apple unveiled its newest smartphone -- the iPhone 5 - in a blockbuster launch that set opening records for the company. Amid all the iPhone 5 hysteria, however, not everyone was cheering.
As launch numbers rolled in, investors and analysts following
AT&T
(T) - Get Report
and Verizon began to wonder aloud whether the adoption of Apple's latest smartphone would
wreck telecom sector profitability
and disprove an emerging notion that, after spending billions to build national networks, carriers would see steadily rising profits.
In the wake of Verizon's earnings, Moffett suspended his thesis that Verizon's earnings momentum would tip negative on the iPhone 5 launch. Now weaker-than-forecast AT&T earnings give new give credence to arguments that fourth-quarter earnings could show the true impact of iPhone subsidies on profits.
AT&T posted third-quarter revenue of $31.5 billion, flat compared to the prior year's quarter, and below the consensus estimate of $31.58 billion. The telecom giant, however, earned 63 cents a share, up from 61 cents a share in the prior year's quarter. Analysts surveyed by
Thomson Reuters
were looking for earnings of 60 cents a share.
Moffett also unveiled a new bearish twist for the wireless industry on Wednesday, in a note arguing that Verizon's parent
Vodafone
may look at selling its 45% stake the U.S.-based wireless leader.
"With Verizon trading at all time high multiples; US investors appearing to suspend disbelief on the impending deterioration of the US wireless market; and an urgent need for major strategic change in Europe, there may never be a better time for Vodafone to relinquish its 45% of Verizon Wireless," writes Moffett, in a note that highlight's Vodafone's cost disadvantages and Verizon's high valuation as key possible drivers of a stake sale.
Moffett also highlights a fast consolidating U.S. market that may
on wireless leaders like AT&T and Verizon, who offer tiered pricing smartphone data plans.
"With SoftBank's cash infusion into Sprint and T-Mobile's merger with MetroPCS and both companies apparently intent on using price as a key weapon in their fight for market share; it is hard to imagine that the market will not deteriorate for Verizon in the longer term," the analyst writes.
Earlier in October, Sprint's
to
Softbank
of Japan forced Moffett to call off odds making on the carrier's eventual bankruptcy.
For now, telecom investors can breathe a sigh of relief on the impact of the iPhone 5 on carrier profit margins. Still, a telecom sector reshuffle on Sprint's takeover and
T-Mobile's
merger with
MetroPCS
(PCS)
-- in addition to new data that an iPhone subsidy drain will hit -- are now giving new life to bearish predictions for wireless giants like AT&T and Verizon.
For more on the impact of the iPhone 5 on corporate earnings, see whether iPhone 5 sales can buy
Best Buy (BBY) - Get Report some time
. See why AT&T is still
and how a tower deal
twists consolidation
for more on the wireless industry.
Follow @agara2004
-- Written by Antoine Gara in New York