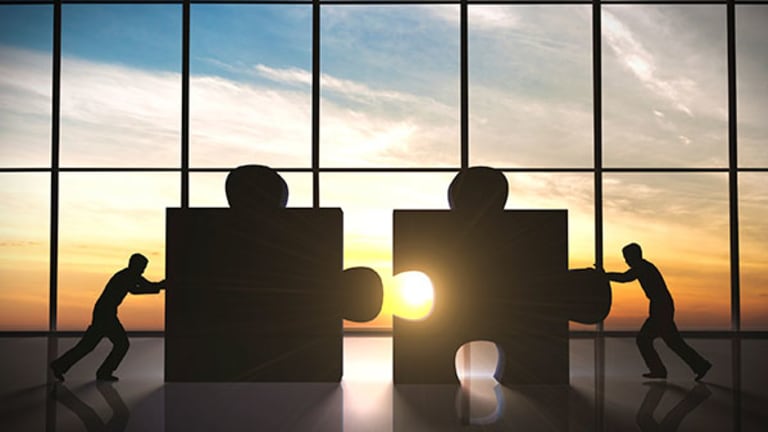 Publish date:
Brocade to Continue the M&A Wave? -- Tech Roundup
Brocade shares soared into the close on speculation that a buyout could be imminent.
Brocade shares soared into the close on speculation that a buyout could be imminent.
Shares of Brocade (BRCD) were on the move higher Monday, climbing a robust 22%, just shy of a new 52-week high, as it appears the company is attempting to sell itself.
In fact, it's not just on the block, but a deal could come as soon as this week, with Broadcom (AVGO) - Get Report being reported as an interested party. Broadcom could be a possibility in order to better compete with its rivals.
A deal would likely come at a slight premium to today's current levels, which would put the final purchase price at around $5 billion, given that the company already has a $4.25 billion market cap after Monday's rally. 
While it's a notable deal, it may feel small to investors who have gotten used to seeing mega deals in recent weeks, with NXP Semiconductor (NXPI) - Get Report and Qualcomm (QCOM) - Get Report tying for almost $50 billion, AT&T (T) - Get Report and Time Warner (TWX) agreeing to an $85 billion deal and even CenturyLink's (CTL) - Get Report merger with Level 3 Communications (LVLT) going out for $34 billion.
Still, the M&A train appears to be continuing.
We've highlighted Alphabet's (GOOGL) - Get Report  Google Fiber project for quite some time, whether it was the expansion into Salt Lake City and San Francisco, or when the company pulled back the reigns on its spending.
Now, the segment has a new leader: Jonathan Rosenberg.
Rosenberg, a Google veteran who advises CEO Larry Page, previously straightened out the company's robotics segment after it began struggling early last year.
Now, he'll be tasked with helping right the ship for the company's Fiber unit. One issue is known as the "last mile" expense. The company can lay cable and tap into existing infrastructure to quickly lay the "arteries" of the project. But it's the "capillaries" that are the most costly, as Google has to hookup each apartment or house to ready it for Google Fiber.
Once hooked up, though, it's a big win for consumers looking for an amazingly fast Internet connection at what many would consider a reasonable price.
However, because of the increased expenses and no readily available solutions, the unit has hit some bumpy patches, causing the company to lay off a number of its employees working on the project. Hopefully Rosenberg is able to fix those issues and get Google Fiber back on its feet.
Shares of Alphabet closed at $809.90 Monday, down 1.2%. But Action Alerts PLUS, which Jim Cramer co-manages as a charitable trust, counts GOOGL among its holdings -- and recently raised the stock's price target to $1,000. Click here for a free 14-day trial subscription to the portfolio and see why.
Coal. It's a cheap source of energy, but one that comes at a heavy price when it comes to emissions. Because of its impact on the environment, along with the steep decline in natural gas prices, energy companies are shifting away from coal as a way to generate electricity in the U.S.
However, that leads to a loss of jobs for many who have done nothing more in their careers than mine the energy source.
That's where the Obama Administration's Power Initiative comes in. The project will encompass 42 projects across 13 states with $28 million. Of that money, $2.2 million will be used in a rather interesting manner: The Virginia Emerging Drone Industry Cluster Project.
That's right. The grant will go toward developing workers for the up and coming drone industry. From the White House release:
"The award will enable Mountain Empire Community College to offer courses that train students, including former coal industry workers, to operate drones and drone sensors to provide commercial and government services -- including geospatial surveys, close-up inspections of fixed structures, and mapping."
Does it offset all the lost jobs in the coal industry? Of course not. But it's one good way to help ease the transition from a dying industry to a growth industry.
This article is commentary by an independent contributor. At the time of publication, the author held no positions in the stocks mentioned. Separately, Action Alerts PLUS, which Jim Cramer co-manages as a charitable trust, is long NXPI and GOOGL.