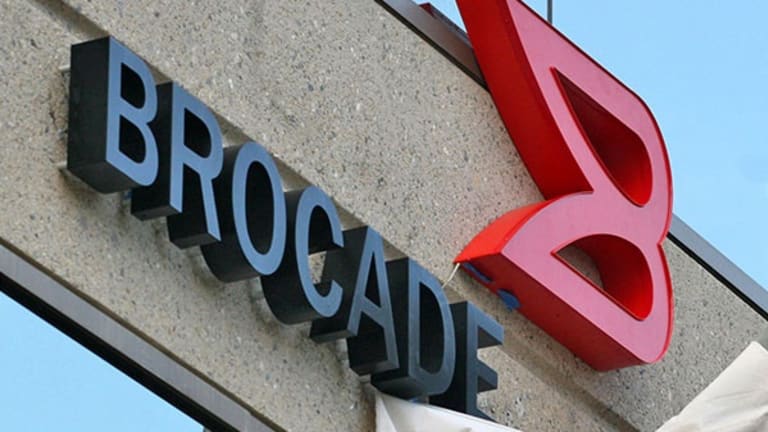 Brocade Plunges After Analysts' Reports, Oracle Slips as Lawsuit Heats Up: Tech Winners & Losers
Brocade Communications plummeted after two analysts issued reports doubting the networking services provider could outperform the markets. Oracle edged down as its lawsuit with Oregon heats up.
NEW YORK (TheStreet) -- Brocade Communications Systems (BRCD) tanked Friday after two analysts issued a less-than-stellar prognosis for the company despite its strong first-quarter results. Oracle (ORCL) edged lower as its legal battle with the state of Oregon became more contentious. CyberArk Software (CYBR) rose higher on its nine-day streak of gains.
Brocade fell 4.1% to end the day at $12.06.
The network service provider for data centers took a hit after Morgan Stanley and Oppenheimer analysts issued reports, doubting the company's ability to outperform the S&P 500, noted a report in Benzinga. According to Oppenheimer's report, Brocade, which sells storage area network devices to data centers, continues to face a difficult time showing consistency in its business.
This assessment comes despite Brocade soundly beating Wall Street's first-quarter estimates. Brocade, which reported its results after the markets closed Thursday, posted adjusted earnings of 27 cents a share on revenue of $576.2 million. Analysts were expecting the company to generate earnings of 24 cents on revenue of $569.9 million.
Oracle slipped 0.77% to close at $43.77, despite the broader markets advancing.
The enterprise software maker and the state of Oregon became embroiled in a legal battle in August after state regulators sued Oracle for building a non-functioning Affordable Care Act Web site. Since the state filed its lawsuit, Oracle has counter-sued and more recently threatened to withhold renewing its contract to operate the Medicaid enrollment portion of the site, a report in Business Insider states. The contract expires at the end of February and, ironically, is one of the few areas of the site that is functioning correctly, notes the report. 
For Oracle investors, this legal battle is more than just an entertaining side show. Oregon has threatened to ban the enterprise software giant from landing future software contracts with the state. 
CyberArk soared 9.4% to end the session at $70.35. 
The security software vendor has been on a rocket ride, rising a whopping 95% over nine consecutive days since Feb. 9 Fueling this performance has been high-profile security breaches, which, in turn, have benefited security software vendors as companies look to guard against similar attacks.
Security vendor Kaspersky Lab recently issued a report that noted more than 100 financial institutions around the world have lost a combined $1 billion as an international hacking ring stole money over the Internet from various account holders.
This article is commentary by an independent contributor. At the time of publication, the author held no positions in the stocks mentioned.