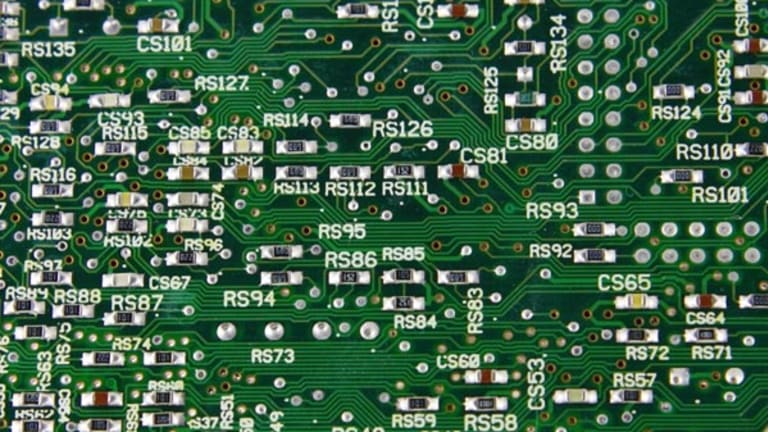 Brocade Gets Sales Boost, but Posts Loss
The storage networking company enjoys revenue hike but misses Wall Street's estimate.
The storage networking company enjoys revenue hike but misses Wall Street's estimate.
Updates stock price, comment on Brocade's acquisition of Foundry Networks
SAN JOSE, Calif. (
) -- Storage specialist
Brocade
(BRCD)
missed analysts' revenue estimates in its third-quarter results, despite seeing its sales grow 35% year over year.
After a strong
, Brocade's revenue dipped 3% sequentially, failing to meet analysts' expectations. The
switch maker
reported third-quarter revenue of $493.3 million, up from $365.7 million in the prior year's quarter, but well below Wall Street's estimate of $503.67 million.
Including items, Brocade lost 5 cents a share on a loss of $21 million, down from earnings of 5 cents a share and net income of $61.2 million in the prior year's quarter.
Brocade, which
competes
with
Cisco
(CSCO) - Get Report
,
Emulex
(ELX)
and
QLogic
(QLGC)
, grew its gross margin from 56.2% to 58.2% sequentially, but this was down from 61.9% in third quarter of 2008.
"We are very pleased with our financial performance, which delivered a thirty-five percent year-over-year revenue growth and a healthy sequential increase in gross margins," said Michael Klayko, the Brocade CEO, in a statement released after market close.
Excluding items, Brocade earned 12 cents a share on net income of $55.4 million, down from 16 cents a share and $61.2 million in the same period last year. Analysts surveyed by Thomson Reuters had expected earnings of 11 cents a share.
Brocade's third quarter follows
from storage firms
EMC
(EMC)
and
NetApp
(NTAP) - Get Report
, and storage is seen as one of tech's
.
Goldman Sachs analyst Min Park blamed Brocade's lower-than-expected product revenue for its third-quarter miss. The Sunnyvale, Calif.-based company brought in $402 million, compared to Goldman's estimate of $414 million. Brocade's services revenue of $91 million, however, came in slightly above the analyst firm's expectations.
It is worth noting, however, that revenue from the third quarter of 2008 did not include sales from Brocade's
Foundry Networks
acquisition, which was completed late last year.
Brocade's stock has risen steadily over the last six months, boosted by changes in the competitive landscape, although its shares traded down in extended trading Thursday.
The company's shares dipped 36 cents, or 4.5%, to $7.69 in the immediate aftermath of its third-quarter results.
Written by James Rogers in New York