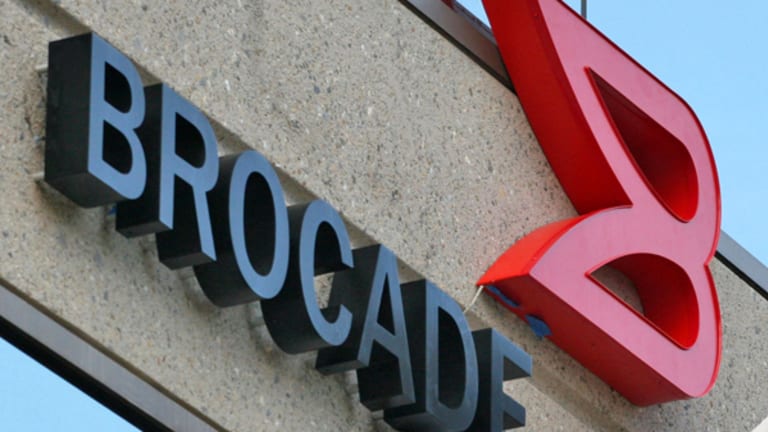 Brocade CEO: We're Going for 2015 Growth
Brocade's growth plan will kick into gear in fiscal 2015, according to CEO Lloyd Carney, driven by software defined networks and Ethernet networking technology.
NEW YORK (TheStreet) -- Brocade's (BRCD) growth plan will kick into gear in fiscal 2015, according to CEO Lloyd Carney, driven by software defined networks (SDN) and Ethernet networking technology.
"FY2015 absolutely will show topline growth," he said, during a phone interview after the firm's fourth-quarter results this week. "We're positioning ourselves in all the right emerging markets that we know will be propelling this industry going forward."
Brocade's fiscal 2015 begins in November 2014.
SDN, a set of techniques for managing network traffic flows through software, will be key, according to Carney. "Software-defined networking, it is happening," he said. "It's so much more efficient -- it's like you rode a horse to work in the morning and drove a car home."
Carney added that Brocade's Vyatta virtual router has been downloaded more than 1.3 million times.
The CEO is also confident that Brocade's Ethernet fabric technology, such as its VDX switches, will ride the server virtualization wave. "It's infinitely easier and more cost effective to build a network using a fabric -- the fabric enables you to more efficiently connect these virtual environments."
Brocade recently won a deal with IBM (IBM) - Get International Business Machines (IBM) Report, which will resell its Ethernet fabric technology, he added.
This is a transitional time for Brocade, which has shifted is market focus onto thepublic sector and data centers. The San Jose, Calif.-based firm expects to exit certain, as yet undisclosed, businesses during the next six months, impacting its fiscal 2014 revenue by about $80 million.
Set against this backdrop, Brocade offered weaker-than-expected first-quarter revenue guidance earlier this week. Carney, however, noted that top-line growth is not the company's near-term priority.
"This year it's all about free cash flow -- we're going to be very good stewards of our investors' money," he told TheStreet.
Brocade ended the fourth quarter with nearly $1 billion in cash, its highest cash balance in five years.
Wall Street has applauded Brocade's recent cost-cutting efforts. During the fourth quarter, it met its goal of reducing annualized spending by $100 million, two quarters ahead of schedule. Analysts, however, pointed to a lack of clarity around the firm's long-term growth.
Carney said the company is enjoying success supplying gear to some of America's tech-hungry social media heavyweights.
"We doubled down on some of the data players," he noted, without naming names. "We're doing well positioning our products in data centers -- some of these social media companies -- our largest sales went to some of those guys who are building out large data centers of scale."
Like its rival Cisco (CSCO) - Get Cisco Systems, Inc. Report, Brocade struggled with tough U.S. federal spending during the fourth quarter, but is making its presence felt in emerging markets such as China and Russia.
"We're without a doubt getting good traction [in China], getting good traction in Russia," said Carney, acknowledging the help of IBM and EMC (EMC) . "Our partners are helping us, we're able to stand on the shoulders of the largest computer companies in the world and go into these markets."
Brocade shares gained 1.47% to $8.98 in Friday trading.
-- Written by James Rogers in New York.
>Contact by Email.