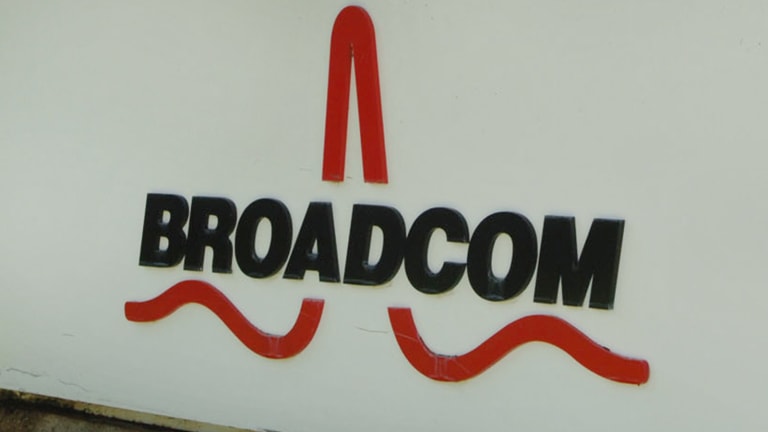 Broadcom Shares Surge on Reports Avago May Buy Chipmaker
Shares of Broadcom surged after a report from The Wall Street Journal noted Avago Technologies, another chip company, is interested in acquiring the Irvine, Calif.-based Broadcom.
NEW YORK (TheStreet) -- Shares of Broadcom (BRCM) surged Wednesday afternoon following a report from The Wall Street Journal that Avago Technologies (AVGO) - Get Report, another chip company, is interested in acquiring the Irvine, Calif.-based chipmaker.
Broadcom shares were surging 14.2% to $53.76 after the headline hit the Journal's Web site. Broadcom, which makes chips for mobile devices, connected cars, and other connected devices, has been a rumored target for several weeks, with Qualcomm (QCOM) - Get Report thought to be the most likely acquirer.
The Journal said it was unclear what terms the Broadcom and Avago were discussing or whether a deal would be reached. With the runnup in Broadcom's stock, the company is currently valued at about $33 billion.
A purchase of Broadcom by Avago would make sense, given the profileration of connected devices, especially as the Internet of Things (IoT), where everything from refrigerators to microwaves to ovens becomes connected to the Internet. Consolidation in the semiconductor space.
In January, Broadcom CEO Scott McGregor told TheStreet that Broadcom helps provide the infrastructure for the explosion of wearable devices.
"Broadcom makes the technology that enable these devices to get connected," McGregor said. "Whether it's Bluetooth, wireless LAN, NFC or Zigbee, or other tech, we do that and we're in a larger percentage of the devices out there, the watches and other devices, and we do that."
Shares of Avago Technologies were also rising on back of the report, gaining 6.8% to $140.18.
Representatives for both Broadcom and Avago could not be immediately reached for comment.