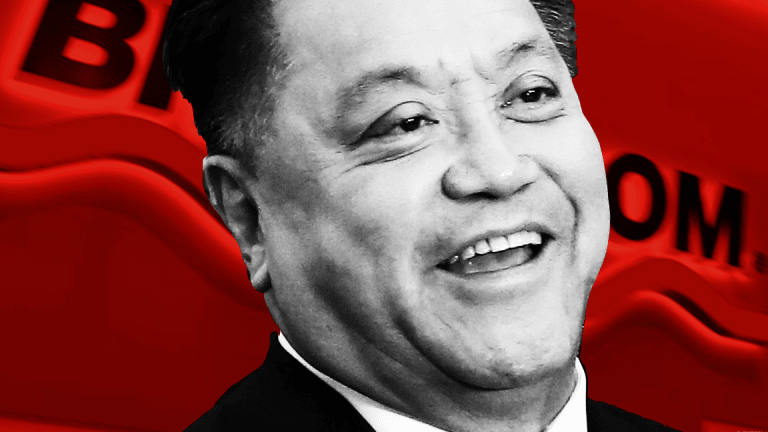 Broadcom CEO Hock Tan Proves the Skeptics Wrong With Latest Moves
It was risible when Broadcom's Hock Tan said he'd buy sleepy old software maker CA last July. Tan's having the last laugh, however.
It was just over a year ago that President Trump signed an executive order prohibiting chip giant Broadcom (AVGO) - Get Broadcom Inc. Report from buying Qualcomm (QCOM) - Get QUALCOMM Incorporated Report on grounds of national security. 
CEO Hock Tan pivoted at the time, instead buying a giant, old software maker -- CA -- for $18 billion. To critics of Tan, the move was risible. Had Tan lost his mind, or simply run out of things to do?
Fans of Tan, though, kept faith, cheering "In Hock We Trust."
That faith was rewarded Thursday night, as the company indicated to the Street that its cost-cuts at CA are proceeding more swiftly than expected, and gross profit margin, as a result, jumped by over six points, year over year to 55.4%. 
Shares are up almost 11% today at a recent $297.17, and the stock touched a new all-time high of $299.55, as price targets zoomed at numerous analyst shops.
Since that Trump rebuke, Broadcom is up almost 14%, trouncing the S&P 500's price increase of 2%. And shares are up almost 22% since the day Tan announced the CA deal. 
Streamlining costs, boosting margins and paying out to shareholders pays off, it turns out, just as the bulls argued. The skeptics were wrong -- at least, for now.
Estimates of free cash flow this year are rising, implying the company is prepared to raise its dividend later this year. It also will probably do more software deals, now that it seems that Broadcom can, in fact, sell software.
The March quarter was the first full quarter of revenue from CA since the deal was closed, and the total revenue from that -- higher by 9% from a year earlier -- was a billion dollars or more than what some analysts expected.
As TheStreet's Martin Baccardax reported, the company's report of fiscal first-quarter earnings per share of $5.55 in the three months ended in March came in well above consensus for $5.22, despite the company missing revenue targets slightly. 
Adding fuel to the fire, Tan told analysts on the conference call that the company's wireless chip business will bottom out this quarter, and that "the semiconductor business will resume meaningful growth" in the second half of this year. 
Even though Tan was referring to his own chip business, his remark is being taken as a reprieve for the entire semiconductor business, and stocks of peers are rallying today, with shares of Intel, for example, up 1.7% at $54.31. 
For many, however, the focus today is on the "cash machine" that Tan has created with the purchase of CA. That's the term used by Anthony Stoss of Craig-Hallum Capital, who wrote today that he's expecting "AVGO to continue to cut costs at CA and optimize the business driving strong FCF generation for the company and likely dividend raises as well." 
Two things will end up boosting Broadcom's profit above their current forecast, according to Stoss: Products for the enterprise, including CA software but also switch chips for storage networks, may indeed end up doing better in the back half of this year. And second, the company's likely to buy back more stock than they have been, boosting reported earnings.
CFO Thomas Krause's remarks about enterprise products sales imply they could drop by what appears to be a substantial amount later this year, which seemed hard for many on the call to fathom. Krause simply said, "Hey, so far, so good." That seems like an easy set-up for a beat later in the year.  
Stoss said he's "assuming very little share buy back in FY19," but in fact, it "will likely end up being more than we expect leading to higher FY19 EPS." The company returned $4.6 billion to shareholders in the quarter, in dividends and repurchases, out of a planned $12 billion for the year. 
Broadcom trades at only 12 times projected earnings per share for this fiscal year, versus 21 times for Texas Instruments (TXN) - Get Texas Instruments Incorporated Report , but has a better dividend yield, at 4%, versus just 2.9% for TI. 
Stoss thinks Broadcom's gotten a taste for software and will continue to buy more firms. He foresees "deals similar to CA given limited regulatory hurdles for US companies."
The only blemish on all of this is the company's no longer giving quarterly financial forecasts, with no explanation why. Broadcom also told analysts that going forward, it will only report its semiconductor results as one giant category, and will no longer give details of what were wireless chip sales versus wired, for example. 
Because of that, Christopher Caso with Raymond James reiterates a Market Perform rating on the stock, writing that he's not exactly comfortable just trusting in Tan's upbeat take for the year, "particularly given the company's reduced disclosure, which makes the business tougher to analyze."
For the moment, though, In Hock We Trust has again become Broadcom's investors' motto.
Tiernan Ray neither trades nor owns shares of any companies mentioned in this article.