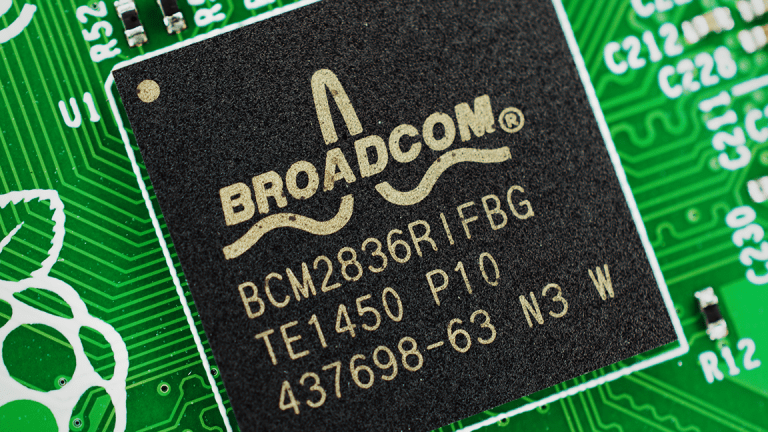 Broadcom Beats Earnings Estimates But Offers Mixed Commentary: 5 Key Takeaways
Hock Tan's company maintained its full-year outlook and was relatively upbeat about networking and wireless chip sales. But it also noted some other businesses are facing headwinds.
Three months after cutting the full-year sales outlook for its chip segment, Broadcom  (AVGO) - Get Broadcom Inc. Report suggests chip demand is in something of a steady state.
On Thursday afternoon, Broadcom reported July quarter (fiscal third quarter) revenue of $5.515 billion and non-GAAP EPS of $5.16. Revenue, which was up 5% annually thanks to the CA Technologies acquisition (it closed in Nov. 2018), was roughly in-line with the consensus FactSet analyst estimate. EPS slightly topped a $5.13 consensus.
Separately, Broadcom reiterated full-year guidance for revenue of $22.5 billion and a non-GAAP operating margin of 52.5%. Its Semiconductor Solutions segment, which saw a $2 billion guidance cut in June, is still expected to post revenue of $17.5 billion. And its "Infrastructure Software" segment, which in spite of its name covers Broadcom's storage switching business in addition to its CA enterprise software business, is still expected to post revenue of $5 billion.
Broadcom shares, which went into earnings up 18% on the year, fell a little more than 1% in after-hours trading and are down 0.9% to $298.00 in pre-market trading on Friday. Here are some notable takeaways from Broadcom's report and earnings call.
1. Broadcom Thinks Chip Demand Has Bottomed, But Sees Little Improvement for Now
When it cut its guidance in June following the slapping of import bans on China's Huawei (a Broadcom client), Broadcom said trade tensions and limited visibility were leading chip clients to cut inventory.
Now, as Broadcom heads into a seasonally stronger part of the year, CEO Hock Tan says his company hasn't seen "further deterioration" in its chip business over the last three months, and that demand has "bottomed out." However, he also says Broadcom thinks demand will (for now) "continue to remain at these levels due to the current uncertain environment."
In addition, Tan, whose company continues to forecast mid-single digit long-term growth for its chip operations, says that chip demand visibility remains limited heading into fiscal 2020. "So, we are managing the business with an expectation that we will continue to operate in a very low-growth, uncertain, macro environment for the foreseeable future," he said.
Broadcom's Semiconductor Solutions revenue came in at $4.35 billion during its July quarter -- up 6% sequentially, down 5% annually and a little above a $4.29 billion consensus.
2. Networking and Wireless Chip Demand Is Reasonably Healthy...
Broadcom's large networking chip business was said to have once more performed well. Tan noted demand for Broadcom's merchant switching and routing chips (widely used by both networking hardware OEMs and cloud giants) was strong, as was demand for custom ASICs used to power AI/machine learning accelerators, intelligent networking adapters (SmartNICs) and video transcoding accelerators. He added that (like some other chip suppliers) Broadcom has begun seeing improving demand from cloud giants (the proverbial hyperscalers), albeit while adding cloud spending is starting to show some of the lumpiness traditionally seen by telco spending.
Separately, Tan indicated wireless chip demand has begun seeing the seasonal uptick it normally witnesses around this time of year thanks to top wireless client Apple's (AAPL) - Get Apple Inc. Report iPhone production ramp -- Broadcom supplied RF chips, Wi-Fi/Bluetooth combo chips, touch controllers and wireless charging chips for iPhones. Broadcom, which last year lost some iPhone RF chip share to Qorvo (QRVO) - Get Qorvo Inc. Report , has signaled its iPhone RF content will grow this year. Next year might see larger content growth thanks to 5G RF design wins.
Apple is a holding in Jim Cramer's Action Alerts PLUS member club. Want to be alerted before Jim Cramer buys or sells AAPL? Learn more now.
3 ...But Other Chip and Hardware Businesses Are Under Pressure
Tan said Broadcom's "broadband" chip sales -- they cover chips for products such as cable modems, set-top boxes, DSL equipment and last-mile fiber equipment -- weakened last quarter, as did its storage chip and component sales. He also indicated these businesses will remain under pressure in the current quarter, offsetting networking and wireless sales growth.
Broadcom's storage switching business (the product of the 2017 Brocade Communications acquisition) was also said to have weakened, with the softness expected to continue this quarter as enterprise hardware OEMs continue paring their inventory. A number of major storage OEMs have reported seeing soft demand.
Due to storage switching headwinds, Broadcom's "Infrastructure Software" revenue came in at $1.14 billion, slightly missing a $1.17 billion consensus.
4. CA Is Said to Be Exceeding Expectations
"The CA business is running above our expectations, benefiting from sustained enterprise demand for our mainframe and distributed software," said Tan on the call. He added that renewal activity remains strong among the large enterprise clients that CA is now focusing on selling "all you can eat" software agreements to, with revenue growth among clients with deals up for renewals expected to be above 20% in fiscal 2019. This is forecast to more than offset a 10%-plus attrition rate among smaller clients that Broadcom is de-emphasizing.
Based on recent trends, Broadcom is confident it can meet or exceed its revenue and profit goals for CA, Tan added. Last December, Broadcom said it's aiming for CA to produce over $2.5 billion in annual operating income on revenue of more than $3.5 billion in 2-to-3 years' time.
5. Broadcom Is Changing its Capital Allocation Priorities Following the Symantec Deal
Five weeks ago, Broadcom announced a $10.7 billion deal to buy Symantec's (SYMC) - Get Symantec Corporation Report enterprise security segment, while outlining plans to focus on the segment's strongest businesses and to integrate its salesforce with CA's. Assuming this deal closes -- it's worth noting here that private equity firms have reportedly made a $16 billion-plus bid for the whole of Symantec -- it will add to a net debt (debt minus cash) balance that stood at $32.1 billion at the end of the July quarter.
As a result, while Broadcom still plans to spend half its annual free cash flow (FCF) on dividends (the current dividend yield is 3.6%), CFO Tom Krause said Broadcom has "started to transition [its] focus to deleveraging the balance sheet" from buying back stock following the Symantec deal.
Krause noted Broadcom has spent $13.1 billion to repurchase 54.5 million shares at an average price of about $240 (19% below current levels). $977 million was spent during the July quarter to repurchase 3.5 million shares.