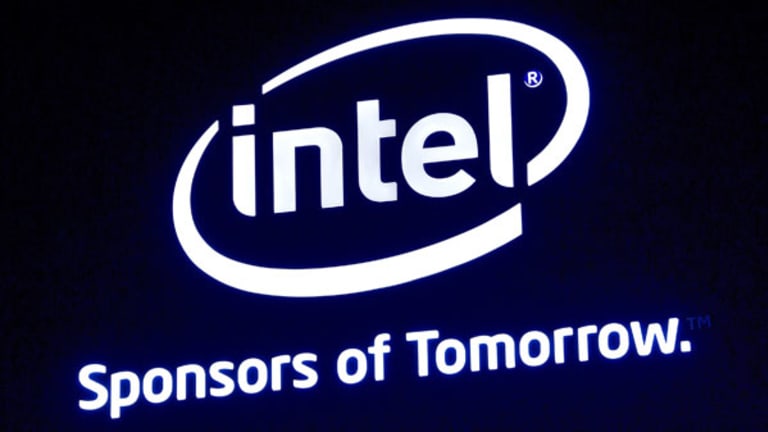 Broadcom at $30 Billion May Be Excellent, If Pricey, Fit For Intel
Intel will have to open its wallet wide if it decides to shift its gaze to Broadcom, now that its deal to acquire Altera appears finished.
NEW YORK (TheStreet) -- With talks between Intel (INTC) and Altera (ALTR) seemingly at an end, tech analysts are speculating Intel may now target Broadcomundefined for acquisition. A deal between the two chip giants would make a great deal of sense, but wouldn't come cheap.
The general thought is Broadcom's product portfolio in the network infrastructure and wireless space would fill in gaps that currently exist in Intel's product line.
To make the deal work, Intel would probably have to make an offer in the low to mid-$50 range, a similar price to what it offered Altera, which would value Broadcom at $30 billion or more. Broadcom's current market cap is slightly more than $26 billion, and the company's sales climbed 1.5% to $8.43 billion in 2014.
"It makes more sense for Intel to buy Broadcom as it is a purer player in the networking space, but Intel would have to place a similar premium on Broadcom and that could prove hard for Intel to pull off financially," said Mark Hung, research vice president for GartnerIT.
TheStreet's Jim Cramer said Thursday on CNBC's Squawk on the Street that the Altera deal never made sense. "They already have a partnership," he said. "They didn't need to do this deal."
Neither Intel nor Irvine, Calif.-based Broadcom could be reached for comment. Broadcom closed higher on Thursday amid speculation that it could be Intel's next target. 
The networking infrastructure business has a great deal of room for growth and high margins, and Broadcom's expertise in wireless networking would be a huge boost for Intel's on-going attempt to push the Internet of Things (IoT) concept, Hung pointed out.
Rajani Singh, a  senior research analyst with IDC, concurred. Intel's Internet of Things Group revenue rose 19% to $2.1 billion in 2014, while companywide sales climbed 6% to $55.9 billion.
A bid for Broadcom would add to Santa Clara, Calif.-based Intel's recent buying spree. In February, it purchasedMunich, Germany-based Lantiq a supplier of broadband access and home networking technologies, for an undisclosed sum.
In September 2014, Intel signed a definitive agreement to buy more than 1,400 patents and patent applications from an affiliate of The Gores Group for an unspecified amount. The patents were obtained via the Chapter 11 bankruptcy of Powerwave Technologies.
One month earlier, Intel picked up LSI's (LSI) Axxia Networking Business in a $650 million cash deal.
The transactions are all part of Intel's attempt to shore up is wireless connectivity business, said Philip Solis, research director with ABIResearch. He noted that Broadcom's expertise with Wi-Fi and Bluetooth would help's Intel's efforts in the tablet and smartphone space, where it lags.
"There is a lot of synergy there with Intel, but whether Broadcom would want the deal is another thing," Solis noted.
It could prove difficult for Intel to incorporate Broadcom into its existing structure, Singh added. Their corporate cultures are also quite different, Hung said, with "Broadcom being very aggressive and Intel quite conservative."
This article is commentary by an independent contributor. At the time of publication, the author held no positions in the stocks mentioned.