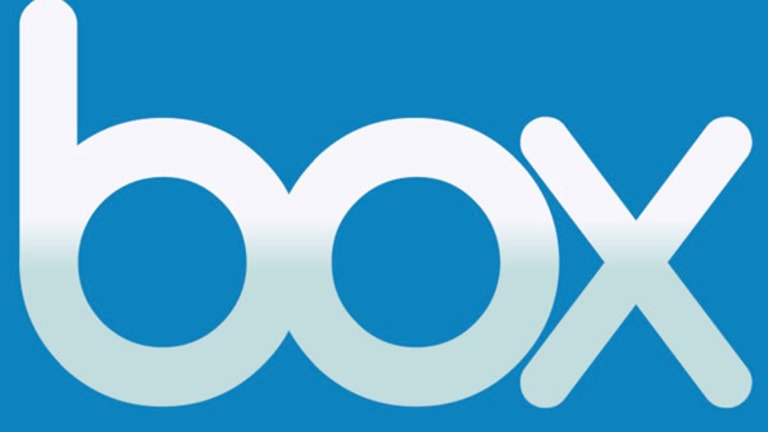 Box's Growth Unpacked: What Wall Street's Saying
Analysts welcomed Box's earnings beat Wednesday, but with the cloud-based storage provider still losing money, they are waiting to see how it will do in the long term.
NEW YORK (TheStreet) -- Box's (BOX) better-than-expected results for the first quarter impressed analysts, but most saw the earnings as one step on the long march toward profitability for the company.
The cloud-based storage provider posted an adjusted loss of 28 cents per share on revenue of $65.6 million, better than the 31 cent per share loss on $63.7 million predicted by a survey of analysts conducted by Thomson Reuters. That sent the stock higher, with shares jumping 10% Thursday to $19.61 in the early minutes of trading.
Growth at the company was driven by several factors, including a 70% increase in customers to a total of 47,000; a storage deal with the U.S. Department of Justice; and the acquisition of a smaller company that could help Box expand services to different devices.
For the second quarter, estimates from both the Los Altos, Calif.-based company and analysts predicted revenue will move higher, landing somewhere between $69 million and $70 million. Box did not provide estimated earnings per share for the second quarter.
Analysts were upbeat on the company for the short term after the earnings report, with most placing price targets several dollars above Wednesday's closing price of $17.79. Still, several cited long-term concerns about the business, including its ability to continue growing and reach profitability.
Here's what a few had to say:
Credit Suisse analyst Philip Winslow (Outperform, $24 PT)
"Although there is some concern that an increasingly competitive landscape could result in Box experiencing per-seat pricing pressure or difficulty in gaining market share, we maintain a positive opinion of management's vision in terms of Box's enterprise-focused strategy, technology platform, and focus on incorporating incremental, value added functionality (e.g., workflow, vertical-specific features, etc.) that should enable the company to differentiate its offering in the near to medium term."
Pacific Crest Securities analyst Rob Owens (Sector Weight, $30 Bull PT, $12 Bear PT)
"We believe Box offers a premium technology that could disrupt traditional spending around content management and collaboration. As a first mover with enterprise-grade administrative features and consumer-grade ease-of-use and mobile-optimized functionality, the company's products outpace legacy competition. We believe near-term estimates of 30%-plus y/y growth are conservative and offer significant upside potential. However, Box may continue to face questions from investors around competitive pressures, sales force productivity and long-term profitability."
JPMorgan analyst Mark R. Murphy (Neutral, $21 PT)
"We are encouraged by Box's improved performance, as we believe large transactions that slipped out of Q4 closed in Q1. As such, we expect the shares to rally off of their recent lows and progress toward our price target. We remain Neutral rated, but with an improving positive fundamental bias as we monitor the company for sustained improvement in its growth plus margin profile and path to profitability."
Canaccord Genuity analyst Richard Davis (Hold, $21 PT)
"Box's solid quarter is a foundation for a case that we may make for an upgrade sometime in the future. Of course, ratings are about potential reward and risk so that once we feel we can make a logically rational case that we can see a path to profitability, we will revisit our HOLD rating. Meanwhile, shorter term, we are pleased that we suggested this quarter's results could surprise positively since we don't always get those calls right. In any case, our rating remains HOLD."
This article is commentary by an independent contributor. At the time of publication, the author held no positions in the stocks mentioned.