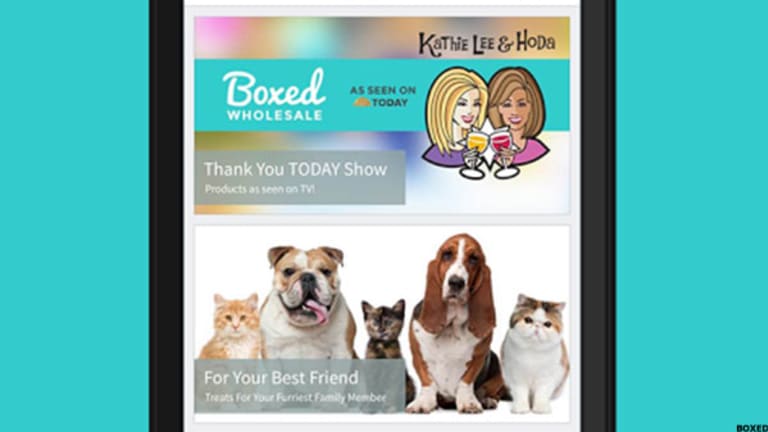 Boxed Raises $25 Million to Expand Delivery Service for Bulk Items
A startup that brings the wholesale shopping experience to your phone has raised $25 million in a Series B round of funding.
A startup that brings the wholesale shopping experience to your phone has raised $25 million in a Series B round of funding.
NEW YORK ( TheStreet) -- New York-based startup Boxed announced a $25 million funding earlier Wednesday. Boxed, which lets shoppers order goods in bulk at wholesale prices, is hoping to leverage the new capital to expand its delivery services and achieve a delivery time of two days or less across the country.
GGV Capital and Digital Sky Technologies (DST) led the series with participation from Founders Fund, AME Cloud Ventures, Vaizra Investments, and early investors First Round Capital, Greycroft Partners and Signia Venture Partners.
Boxed was founded in 2013 to serve consumers who may not live near a Costco (COST) - Get Report  store or Sam's Club, may not have a car to get there, or simply may not have the patience to spend the time waiting on a checkout line. For consumers who live in urban areas, in particular, this would enable them to have products delivered to them at a cheaper price instead of having to figure out a way of getting to a wholesale club.
"Right now 86% of our packages arrive in two days or less," Boxed CEO Chieh Huang told TheStreet. "We'd like that to be as close to 100% as possible."
Aiming for a younger consumer base, Boxed started as a mobile-first experience, with both iOS and Android apps. It also happens to have a desktop version, though Huang says it sees much less traffic than the mobile apps.
Despite the widespread belief that consumers will spend more time shopping on desktop than mobile because of the screen size, Huang claims that Boxed's mobile shoppers spend up to half an hour to an hour browsing before checking out, while the engagement on desktop is much less.
While Costco and Sam's Club do offer delivery through mobile apps of their own, Huang claims that the experience is more seamless, aesthetically-pleasing, and user-friendly with Boxed's app. Not only that, but Boxed gets rid of the membership cost that Costco and Sam's Club require.
Another alternative to Boxed is Google's (GOOGL) - Get Report Shopping Express, which, like Boxed, lets consumers order goods online and have them delivered within a day or two. However, unless you have a Costco membership you won't be able to get bulk pricing on Google Shopping Express.
As Huang sees it, "if you have the time, the means, and the patience you should go" to Costco or Sams' Club. "But if you don't have the time, you don't have a car or live in an urban area, or don't have the patience to go," that's where Boxed comes in handy.