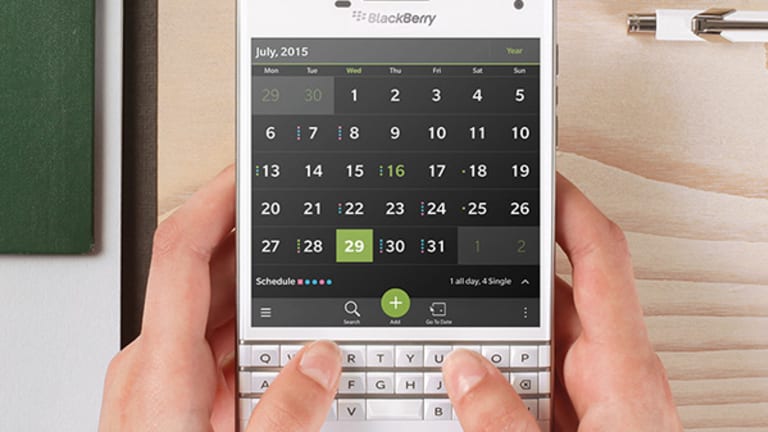 BlackBerry's Square Smartphone Part of Latest Turnaround Attempt
Blackberry CEO John Chen officially introduced a new smartphone he hopes will help to turnaround the once dominant force in the mobile communications industry.
NEW YORK (TheStreet) -- Blackberryundefined CEO John Chen officially introduced a new square-shaped smartphone, dubbed the Blackberry Passport, he hopes will help to turnaround the once dominant force in the mobile communications industry. 
In a global event held simultaneously in Toronto, London and Dubai, Chen introduced the new design he hopes will be part of the company's "big Canadian comeback." Speaking mostly off script, the CEO said despite the fact he wasn't working for BlackBerry when the Passport was created he joked that he deserves credit because he "didn't kill it" ten months ago when he joined the company. He admits he actually fell in love with the new device now that he has one.
Brian Collelo, analyst with Morningstar, thinks the new Passport is and "interesting" device that offers some "unique hardware features and believes Blackberry has the "right strategy" in focusing its efforts on business users.
But, Collello says BlackBerry has a much larger problem. He wonders if Passport can help the company get people to "turn away" from Android (GOOG) and iOS (AAPL) devices designed for consumers and now embraced in the enterprise because those devices are "good enough" for business users.
Following the announcement, BlackBerry shares were gaining more than 3% to $10.88 in mid-morning trading in New York.
MKM Partners analyst Michael Genovese didn't have anything nice to say about this morning's presentation. Before abruptly ending the phone conversation, Genovese said he thought CEO John Chen "looked embarrassed" speaking at the event and that the new phone is just the latest in a long line of products that "don't matter at all."
Passport is the first device to be released following the Waterloo, Ontario-based company's three-year long restructuring effort, and is the first big release for Chen. The phone is a revolutionary design for BlackBerry, the screen measuring 4.5 by 4.5 inches (a 1-to-1 aspect ratio) and is much larger than previous BlackBerry favorites. It provides 1440 x 1440 pixels, translating to 453 pixels per square inch. In a side-by-side demonstration with an iPhone 6, BlackBerry compared the new phone's ability to show a larger portion of a document, helping make it easier to edit.
The new, combination "touch-enabled" keyboard/touchpad located just below the screen offers what BlackBerry hopes is a better experience than with previous models. The keys are arranged into three rows instead of the classic  four row design. BlackBerry also noted it has improved the audio quality of the phone and has created a device switch application to help move a user's files from iPhones, Androids or even older BlackBerry OS 10 phones.
The BlackBerry Passport has a 2.2 GHz, quad-core processor, 4GB of RAM, 32GB of storage (and a micro-SD card slot), a 13 MP camera and a giant 3,450 mAh rechargeable battery which BlackBerry says is capable of providing 30 hours of usage on a full charge.
The new phone runs OS 10.3, the newest version of BlackBerry's current operation system. It features BlackBerry Assistant a rival to Siri and Google Now. The feature is said to be different from its competition by offering three separate modes: understands speech requests, dealing with typed requests when a user is in a meeting and offering a completely hands-free mode for when the user is driving. In another side-by-side comparison, BlackBerry Assistant was capable of displaying more personal and business information than Siri.
The Passport is being sold "unlocked" for $599 and is only available for purchase on the ShopBlackBerry.com Website.
Chen said the company will also be releasing a new Classic model - a 2014 version of its popular Bold handset from a few years back, with Chen saying to expect it sometime between "now and the end of the year." The company will also be announcing the release of its latest version of its mobile device management system called Blackberry Enterprise Server. Unveiled back in February in Barcelona, BES 12 offers backward compatibility, multi-platform support (that means Apple (AAPL) iOS and Google's (GOOG) Android), improved cloud/server integration and enhanced security features.
BlackBerry is scheduled to release second-quarter fiscal results on Friday. Chen hinted that the company is "making good progress" but wouldn't say more during the quiet period before the announcement.
Analysts surveyed by Thomson Reuters expect the company to lose 16 cents a share on $948.45 million in revenue.
Gary Krakow is TheStreet's Senior Technology Correspondent.