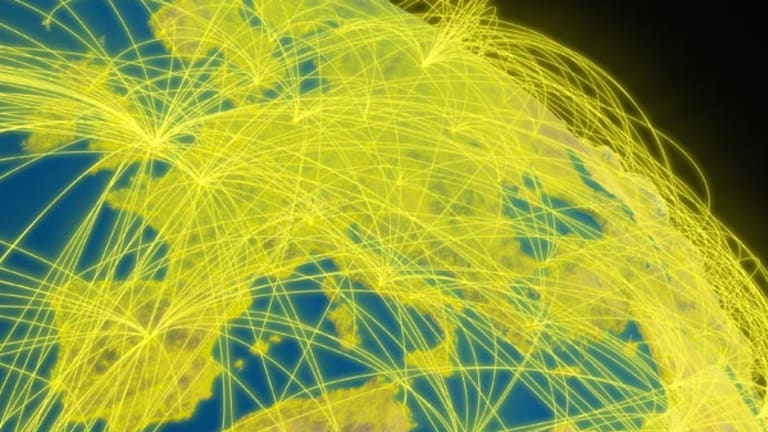 BlackBerry's Lazaridis Exits After Remaking Messaging
Former Research in Motion CEO Mike Lazaridis will be remembered at BlackBerry for his innovations in communication.
NEW YORK (
) - He's an engineer, first, a visionary second, and a businessman third.
That last part may have been Mike Lazaridis downfall, the longtime
BlackBerry
undefined
executive who today made public that he's officially leaving the Canadian company on May 1st.
As co-CEO of the company formerly known as Research in Motion, Lazaridis and his partner Jim Balsillie created a multinational, wireless data juggernaut. From the original Blackberry device (basically a two-way text paging system) to the incorporation of cell phone functions, the company was perched on top of the world.
Lazaridis is the guy who designed the miniature, 2-way radio antennas that powered BlackBerry's devices. His inventions were so well designed that his the early units were able to squeeze two days worth of use from a fully charged battery -- blowing away the competition at the time.
Little things like antennas can be very important to a smartphone design. Ask the engineers at Apple about bad antenna design. That's just one facet of his input in BlackBerry design history. That's just one small way Lazaridis helped make modern-day smartphones must-have devices, worldwide.
For a while, BlackBerry owned the market in high-tech portable e-mail delivery systems. It wasn't until
Microsoft's
(MSFT) - Get Free Report
Windows Mobile device began grabbing market share in spades beginning in the early 2000's that a competitor was able to seriously challenge RIM's marketplace dominance.
But after
Apple
(AAPL) - Get Free Report
introduced the iPhone in 2007 and
Google
(GOOG) - Get Free Report
began churning out Android-powered devices, Research in Motion was caught flat-footed. Their devices with physical QWERTY keyboard and somewhat dated software just couldn't compete with the radically new designs.
Lazaridis and Balsillie guessed wrong. They had assumed their delivery system was so uniquely simple and secure and well designed that it was infallible. By the time BlackBerry realized the severity of the attack, they tried creating full touchscreen phones but their aging operating system software just wasn't a match for Apple and Android.
RIM made matters worse by offering a cheaper, lower-profit margin handset for developing markets. That was the point when RIM began their relatively quick and painful decline into near oblivion.
All of that shouldn't minimize Lazaridis's innovations. His years at BlackBerry will be remembered for his input and guidance in making the early decisions that made Blackberries a very big hit, and won the company a generation of brand identification. He was, and still is an engineer at heart.
The good news for BlackBerry is that its newest model, the Z10 shows the company may be back on track. The new Z10 - and the soon to be released Q10 model with the famous BlackBerry keyboard may help the company make a remarkable comeback.
BlackBerry shares fell 1.8% on Thursday to $14.30. The stock has gained 20% this year.
In a brief statement, this morning, Lazaridis announced his official departure from the company and wished his successors good luck.
"With the launch of BlackBerry 10, I believe I have fulfilled my commitment to the Board. Thorsten and his team did an excellent job in completing BlackBerry 10. We have a great deal of which to be proud. I believe I am leaving the company in good hands. I remain a huge fan of BlackBerry and, of course, wish the company and its people well."
He will now be able to spend more time on a venture he founded more than a decade ago: the Perimeter Institute for Theoretical Physics, located in Blackberry's hometown of Waterloo, Ontario. The institute includes other great scientific minds including Neil Turok and Stephen Hawking.
--Written by Gary Krakow in New York.
>To submit a news tip, send an email to:
.
Gary Krakow is TheStreet's senior technology correspondent.