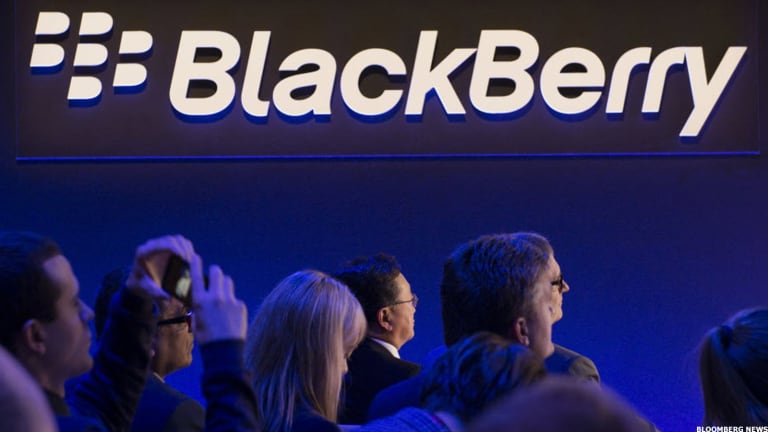 BlackBerry -- Who Knew? -- Wins 'Most Improved' From U.S. Consumers
Amazon, Netflix, and Uber are among the highest ranked technology companies, according to the Net Promoter Consumer Study.
NEW YORK (TheStreet) -- BlackBerryundefined has had a tough time competing with Apple (AAPL) - Get Free Report and Google (GOOG) - Get Free Report when it comes to market share for smartphones. But according to this year's Net Promoter Consumer Study, BlackBerry has increased its customer loyalty score more than any other brand or company in the report.
That is certain to be good news for company that has had more than its share of stumbles in recent years.
The Net Promoter Consumer Study, which is compiled by Satmetrix, determines customer loyalty for individual companies by asking more than U.S. consumers how likely they are to recommend the company to a friend on a scale of 0 to 10. The Net Promoter Score, or NPS, is calculated by subtracting the percentage of consumers who select 0 to 6 from the percentage of consumers who select 9 or 10.
While BlackBerry still comes in last place among the seven smartphone companies that Satmetrix surveys, it increased nearly 15 points from last year, scoring an NPS of 28 this year. While the company still has a ways to go, the NPS improvement is a good indication of a turnaround.
"BlackBerry was in a lot of trouble only a year ago and they seem to have recovered," said Brendan Rocks, data scientist at Satmatrix. "It appears that the quality of screen viewing was the main thing that changed for BlackBerry in particular."
Not surprisingly, Apple's iPhone took the first place with a score of 63. Samsung (SSNLF) got a score of 54, LG got a 41, Motorola got a 33, HTC got a 32, and Nokia (NOK) - Get Free Report got a 30.
For the online shopping category, Amazon (AMZN) - Get Free Report took the number one spot for the fourth year in a row (Satmetrix has only tracked the online shopping category for four years) with an NPS of 69. Zappos.com, which is actually owned by Amazon, came in second with a score of 57. Then comes Barnes & Noble (BKS) - Get Free Report with a score of 45 and Target (TGT) - Get Free Report at 43. eBay (EBAY) - Get Free Report got an NPS of 38, Wal-Mart (WMT) - Get Free Report got a 37, Best Buy (BBY) - Get Free Report got a 31, Overstock (OSTK) - Get Free Report got a 24, and Google Shopping came in last with an 11.

"On almost every attribute [Amazon] rates incredibly highly, and are at the top," Rocks said. "If we look at the drivers, it's the breadth of products they have for sale and on top of that it's the competitive pricing. On almost every aspect we measure for online retailers, Amazon did exceptionally well."
Target, Amazon and Barnes & Noble were the only companies to increase their score year over year, with Target making the biggest increase in company reputation for the category. Rocks attributes this to a rebound from Target's 2013 data breach. The retailer is gaining back its reputation for safety when it comes to online payments.
Netflix (NFLX) - Get Free Report overtook Pandora (P) for the online entertainment category with an NPS of 68, with consumers expressing higher levels of satisfaction that the content they're looking to watch is available as well as the fact that the content is available across devices. YouTube and Pandora both have scores of 59, Spotify's at 46, and Amazon Prime/Instant Video has a score of 38. Apple's iTunes, Beats Music, and Google Play all have scores of 30.
Another interesting finding was that Uber beat Lyft with an NPS of 37 versus Lyft's score of 9.
"Both applications are a commodity offering, they're offering almost the same service," Rocks said. "The ways they differ seems to be largely in their branding and pricing."
Despite the fact that Uber has the highest NPS in the software and apps category, it has the lowest rating for company reputation. However, that doesn't seem to be holding the company back from being the category leader overall.
"There may be some effect of [Uber] being the brand leader," Rocks said. "It could be the case that people are comparing Uber to not sharing a ride service at all whereas with Lyft they're comparing it to Uber.'"
For technology companies especially, Net Promoter Scores can be important indicators of a company's success.
"It's a very large leading indicator of customer retention and especially in the technology sector most of these companies have moved towards subscription models, which makes customer retention pretty much the most important indicator for them," Rocks said.