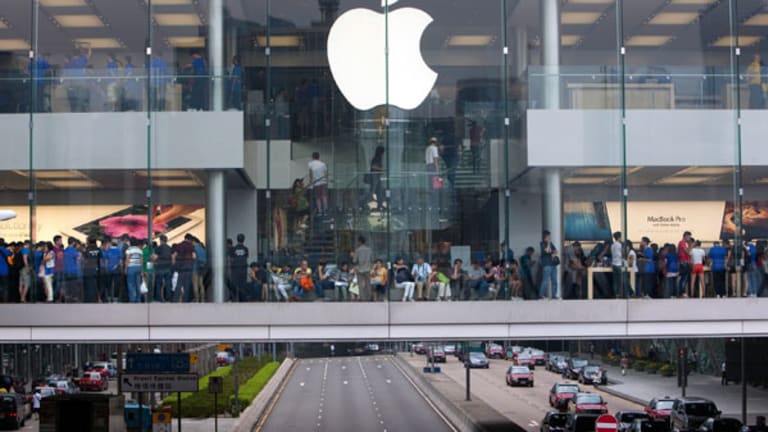 BlackBerry Stays Alive; Apple Expands Its Universe: Tech Weekly
Still, the companies' shares went in different directions during the first quarter.
NEW YORK (
) --
BlackBerry
undefined
posted a profit, stunning Wall Street, as the handset maker fought to live another day.
BlackBerry earned 22 cents a share on $2.7 billion in revenue during its
. Analysts polled by
Thomson Reuters
expected the company, formerly known as Research In Motion, to lose 29 cents on $2.84 billion in revenue.
The Waterloo, Ontario-based company said it shipped 6 million BlackBerry smartphones, including 1 million BlackBerry 10 smartphones and 370,000 PlayBook tablets. About 55% of BlackBerry 10 users came from other platforms, CEO Thorsten Heins noted on a conference call. The company ended the quarter with a subscriber base of 76 million, down from 79 million in the third quarter.
BlackBerry shares traded higher for the week, rising 22% in the first quarter.
Also see: The Next Big Catalysts From Blackberry >>
T-Mobile
is finally getting an
Apple
(AAPL) - Get Free Report
iPhone 5 it can call its own.
The T-Mobile iPhone will be among the first to be priced under its new no-contract plan. That means the iPhone -- as well as the
Samsung
Galaxy Note II, the
BlackBerry
undefined
Z10 (which went on sale this week), the upcoming Samsung Galaxy S IV (expected May 1) and the
HTC
One will sell for $99 down and $20 per month for 24 months.
The model is designed to take advantage of the company's new LTE network that T-Mobile says it's building across the country. Unlike other iPhone models, T-Mobile unit will benefit from being able to "fall back" to its current HSPA+ 4G network speeds instead of the 2G or 3G back-ups that other carriers use.
That idea is part of T-Mobile's plan for simplifying how consumers buy and pay for a phone. The company calls itself the "un-carrier." Unlike other major carriers, T-Mobile is offering no-contract plans with unlimited voice, text and messaging plus a minimum of 500 KB of data for $50 a month. Additional data will be added at cost in 2 GB increments.
T-Mobile estimates that after two years, users will be done paying for their phone. Comparing the new plans with the competition (the company used
AT&T
(T) - Get Free Report
as an example), T-Mobile estimates the savings as more than $1,000 over a two-year span.
MetroPCS shares traded higher for the week, closing the first quarter of 2013 up 9.7%.
Also see: T-Mobile Finally Gets an iPhone of Its Own >>
New rumors on an
Apple
(AAPL) - Get Free Report
television have surfaced, this time regarding an ultra-high-definition TV.
Tech Web site
DigiTimes
, which has a mixed record of predicting Apple launches, carried a
, citing sources, that Apple's oft-rumored television will support Ultra HD, the new picture technology for television sets. Along with Ultra HD, the set would feature voice and motion control, as well as Internet connectivity.
Ultra HD offers a ton more pixels and higher resolution than standard high-definition televisions, though the prices are exorbitant. At the Consumer Electronics Show,
Broadcom
undefined
co-founder Henry Samueli showed off a set using a Broadcom chip, but the price tag was $22,000.
The Apple television
have been around for some time and were reignited at the end of last year when CEO Tim Cook sat down with
NBC's
Brian Williams to
his first full year as CEO after taking over for the late Steve Jobs.
"When I go into my living room and turn on the TV, I feel like I have gone backwards in time by 20 to 30 years," Cook told Williams at the end of the interview. "It's an area of intense interest. I can't say more than that."
Piper Jaffray analyst Gene Munster says Apple will announce a television as early as the December quarter. He says a TV could add as much as 5% to 2014 revenue, but the innovation concerns would be withdrawn.
Apple shares traded lower for the week, closing the first quarter down 17%.
Also see: Should BlackBerry Attack Apple >>
The biggest private equity buyout since the financial crisis has received a reboot after
Dell
(DELL) - Get Free Report
said on Monday it has two new takeover proposals that trump a $13.65-a-share
the company struck with founder Michael Dell and private equity firm
Silver Lake Partners
in early February.
A special committee seeking a higher takeover price for Dell said a consortium of investors led by the
Blackstone Group
(BX) - Get Free Report
have submitted a $14.25-a-share propsal that would allow Dell shareholders either to receive a cash payment at that value or continue to own their publicly traded holding.
Francisco Partners
and
Insight Venture Management
will participate in the Blackstone investor group.
Dell also received a $15-a-share bid from Carl Icahn's holding company,
Icahn Enterprises
(IEP) - Get Free Report
, which will roll the activist investor's $1 billion stake into a takeover and use a mix of equity, debt and financing from Dell's factoring business to fund the deal.
To be seen is whether the Michael Dell-led consortium will try to improve on its Feb. 5 offer to take the struggling PC giant private. Some media reports indicate Dell could join the Blackstone consortium, while others also speculate Icahn and Blackstone could wind up working together.
The initial deal values Dell's shares at $24.4 billion and relies on over $12 billion in debt financing to go with an equity contribution from Michael Dell worth nearly $4 billion.
"We intend to work diligently with all three potential acquirers to ensure the best possible outcome for Dell shareholders, whichever transaction that may be," Alex Mandl, chairman of the Dell committee, said in a statement Monday.
According to the Blackstone-led group's offer, investment bank
Morgan Stanley
will lead debt financing for the takeover deal. However, the private equity firm didn't specify an exact financing need on its $14.25-a-share offer.
The offer, which was sent March 22, is signed by Chinh E. Chu and David Johnson of Blackstone; Robert A. Kindler, vice chairman of Morgan Stanley; and David Fox and Daniel Wolf of law firm Kirkland & Ellis.
Icahn's offer seeks to acquire up to 58% of Dell's shares and consists of about $4 billion in cash and an additional $1 billion by way of the company's recently acquired stock for a total of about $5 billion in equity.
Remaining sources of financing will consist of $7.4 billion of cash currently available at Dell, $1.71 billion in new factoring receivables and $5.22 billion in new debt.
Southeastern Asset Management
and
T. Rowe Price
, two of Dell's largest independent shareholders that opposed the initial $13.65-a-share deal in February, would need to roll over their share holdings into the surviving company under the Icahn offer.
If investors were to support Icahn's proposal, Icahn Enterprises would own 24% of Dell's remaining shares, while Southeastern and T. Rowe Price would hold 17% and 9.3%, respectively.
Icahn's proposal references investment bank Jefferies as having advised the firms bid.
"We are pleased that the alternative proposals submitted to the Dell special committee are structured to give shareholders the opportunity to continue to participate in the company's future prospects, while also providing a higher cash component for shareholders who choose to exit their investment," Southeastern Asset Management said in a March 25 statement.
Prior to Dell's disclosure, Southeastern Asset Management had been reported as interested in making a bid for the company. Both Southeastern Asset Management and Icahn also supported a dividend recapitalization of Dell earlier in March, in a move they said would reflect the company's true value.
Dell shares traded higher for the week, closing the first quarter up 41%.
-- Written by Antoine Gara in New York