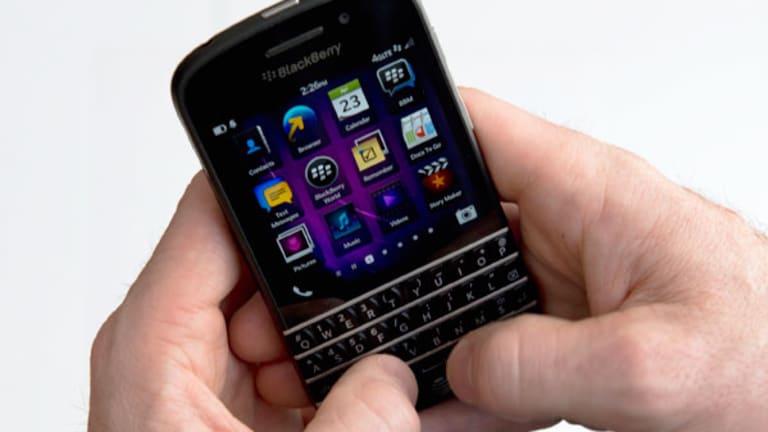 BlackBerry Quits on Consumer and 4,500 Workers
BlackBerry is restructuring its workforce as the smartphone pioneer signals it will exit the consumer handset market.
NEW YORK (
) --
BlackBerry
undefined
, a pioneer of the smartphone, is ending its bid to take on
Apple
(AAPL)
,
Google
(GOOG)
-Android and
Microsoft
(MSFT)
consumer oriented devices, in a major restructuring of the company that will leave 40% of its workforce without a job.
Late on Friday, BlackBerry said in a pre-announcement of second quarter earnings that it will refocus on its enterprise users after falling far short of expectation on its handset sales. The announcement marks a stark change of course for BlackBerry, which kicked off the year by ending lucrative charges to telecom carriers for its IT services, in a bid to win over consumer smartphone users.
While BlackBerry's newest line of handsets such as its Z10 and its Q10 made it on
Verizon
(VZ)
and
AT&T
(T)
displays, the strategy backfired and left the company with about $2 billion in total unsold smartphone inventory that will now be written off.
BlackBerry said in the pre-announcement it expects second-quarter revenue to come in at $1.6 billion, or about half of consensus Wall Street estimates. Of that revenue, 50% is expected to come from BlackBerry's various IT and security services. Meanwhile, the company said it expects to record a second quarter inventory impairment of as much as $960 million as a result of a glut of unsold BlackBerry Z10 handsets.
Overall, the company forecasts a second quarter net loss of approximately $950 million to $995 million.
Along with the writedowns, BlackBerry also announced a major restructuring of its workforce. BlackBerry will lay off 4,500 workers, or 40% of the company's overall staff, and record a $72 million restructuring charge. The company is now also targeting a 50% reduction in its operating expenditure by the end of the first quarter of its fiscal 2015; a second major cost cutting initiative under CEO Thorsten Heins.
BlackBerry's restructuring will allow the company to refocus on its enterprise business and implies that the company will no longer chase after the non-professional smartphone user.
"Going forward, we plan to refocus our offering on our end-to-end solution of hardware, software and services for enterprises and the productive, professional end user," Heins said in a statement.
"This puts us squarely on target with the customers that helped build BlackBerry into the leading brand today for enterprise security, manageability and reliability."
BlackBerry will trim its smartphone portfolio from six devices to four, including two high-end devices and two entry-level devices with touch keyboards that are targeted at enterprise and so-called "prosumer-centric" users. The company also said it will launch the BlackBerry Z30, its next high-end smartphone, this week. BlackBerry Z10 smartphones are now expected to be targeted at entry-level smartphone users.
Heins may be making a painful but necessary choice of dedicating BlackBerry to a dwindling enterprise market, as businesses allow workers to bring their own Apple, Microsoft or Google devices into their corporate infrastructure.
BlackBerry continues to have a valuable base of business users who enjoy the reliability of its keyboard, long battery life and secure email.
The company said on Friday it continues to see increasing penetration of its new BES 10 operating system with more than 25,000 commercial and test servers installed to date, an over 30% jump in users since July. "Our enterprise business continues to reflect the trust that governments and businesses have placed in the BlackBerry platform," Heins said.
Given BlackBerry's tenuous future, the company also said its Board of Directors continues to evaluate its strategic alternatives.
A sale or breakup of the company, or even a successful implementation of Heins' newest bout of corporate trimming, is likely to cement BlackBerry's quick fall from the technology sector's elite.
After pioneering the smartphone in 1999 with its hugely successful BlackBerry handset, the Waterloo, Ontario-based company grew into one of the largest corporations in Canada. Now, at a market cap of roughly $4.5 billion, the company is speculated to be a target of private equity buyers.
BlackBerry shares fell over 17% to $8.73 in Friday trading.
-- Written by Antoine Gara in New York.