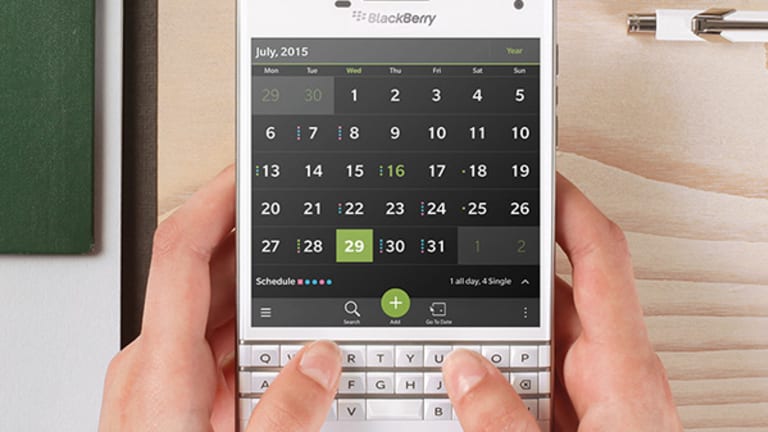 BlackBerry Passport Review: Is It Really Hip to Be Square?
This smartphone's unusual size and shape might present users with portability and usage problems.
NEW YORK (TheStreet) -- You have to give BlackBerryundefined credit. The one-time smartphone industry leader's long-term decline at the hands of Apple (AAPL) - Get Apple Inc. Report iPhones and Google (GOOG) - Get Alphabet Inc. Class C Report Android-based devices would probably have demolished most lesser companies. But, BlackBerry keeps working to get back into the smartphone game by trying new ideas - like the new, very square BlackBerry Passport smartphone.
The Passport is really more square in overall shape than any other handset we've ever seen. It's the touchscreen that's really the square part (4.5 by 4.5 inches for a 1:1 aspect ratio) which makes the phone look and feel more boxy than rectangular. The Passport name comes from the fact that the phone is about the same size as an International travel passport, as it measures 5 x 4 x 0.36 inches.
The screen is square for a reason -- BlackBerry says it's designed to give users a "wider vision that unleashes your capabilities," and is designed for a better experience with web browsing, reading, apps, editing and maps. The idea is to provide more information on the screen that can be read with a minimum of scrolling. Dealing with word processing documents as well as spreadsheets and mobile presentations come to mind as benefiting from such a screen.
That screen looks pretty terrific in real life, measuring 1440 by 1440 pixels for a pixel density of 443 and is capable of displaying full HD video - although because it's square in shape HD videos will be framed blank spaces on top and bottom. The responsive touchscreen is protected by Corning (GLW) - Get Corning Inc Report Gorilla Glass 3.
Inside is a Qualcomm (QCOM) - Get Qualcomm Inc Report Snapdragon 801 processor mated to 3 GB of RAM and 32GB of flash storage. You can also add up to 128GB of extra storage with microSD cards. Cameras measure 2 megapixels up front and 13 MP (with LED flash and 5x digital zoom) on the back. Both are capable of capturing HD videos (720p and 1080p @ 60 fps respectively). The rechargeable battery is non-removeable, but it does last more than a day on moderate user.
The Passport's keyboard deserves special mention. It's a completely new, three-row design that the company claims takes its iconic keyboard "to the next level." I found that it takes some getting used to. Because of the phone's overall shape, the keyboard is much wider than older BlackBerry models and it also doubles as an oversized track pad. That means both the screen and keyboard can handle similar scrolling tasks. I can see the benefits of such an input device (for instance, easier one-handed reading of documents) but must warn that I found there to be a large learning curve involved with this smartphone.
As for software, Passport runs the latest version of the Blackberry operating system, BB OS 10.3. It's much improved from what was installed on the Z10 released early in 2013. It's now faster, and more responsive, but it's still no match for what you'll find in modern Androids and iPhones. There are at least two recommended app stores - one from BlackBerry and the other with Amazon (AMZN) - Get Amazon.com, Inc. Report titles you can run on the phone. There are also methods to install certain, older Android apps. Added all together, these options don't come close to the numbers of software titles you can find on competing platforms. However, what's available works well. You will find versions of Facebook (FB) - Get Meta Platforms Inc. Class A Report , Twitter (TWTR) - Get Twitter, Inc. Report and other mobile favorites. BlackBerry's email and messaging software system is still beyond reproach.
The camera provided nice looking photos and videos, but the Passport's size and shape make it an unusual proposition for many users. It's too wide to comfortably fit in many shirt, jacket or trouser pockets. It's not alone in that respect. The terrific Nexus 6 phone is also a handful. Passport's outer dimensions will make it awkward for some to hold-up to their ears. Because of that, its not as good a "one-handed" device as older BlackBerry models. It's not as easy to use as a modern Android or iPhone and app selection is no match for what's offered by the current industry leaders. That's a lot of negatives to think about.
On the other hand, it IS a BlackBerry, which means your email experience is still top-notch. The new square screen allows a different (wider) view of many documents which just don't layout correctly on most 4-by-3 and 16-by-9 screens.
All that said, if Passport sounds appealing, you'll need to know that your purchasing options are somewhat limited. The smartphone is available through BlackBerry's online store or Amazon.com. It comes in three colors (black, white or red) and retails for a penny less than $600 in unlocked form. The bright red model may cost you an extra $100). Passport is strictly GSM-only which means it will work on AT&T's (T) - Get AT&T Inc. Report and T-Mobile's (TMUS) - Get T-Mobile US, Inc. Report wireless networks in the United States.
Overall Score: 8.0/10
-- Written by Gary Krakow in New York.
To submit a news tip, send an email to tips@thestreet.com.
Gary Krakow is TheStreet's Senior Technology Correspondent.