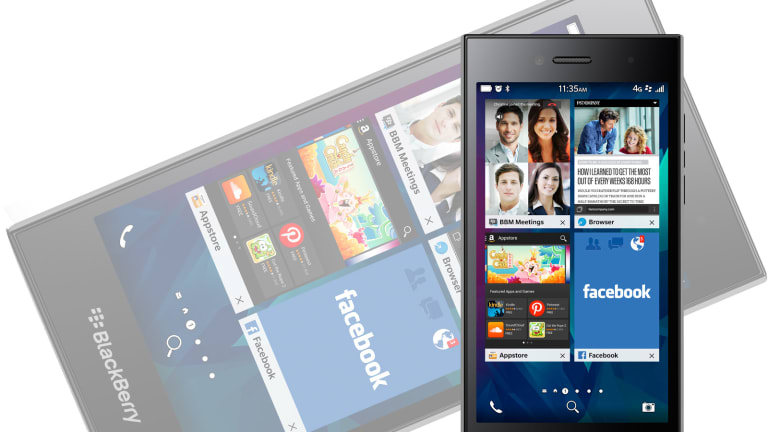 BlackBerry Leap Review -- It Still Means Business
The Leap is the latest refresh of BlackBerry's Z10/Q10 full touchscreen devices, and it's a worthy device for power-users at a very attractive price.
The Leap is the latest refresh of BlackBerry's Z10/Q10 full touchscreen devices, and it's a worthy device for power-users at a very attractive price.
NEW YORK (TheStreet) -- BlackBerry still means business.
The company has been making wireless messaging/email-centric devices for more than two decades, and though it has recently lost nearly all of its market share to Google (GOOG) - Get Report and Apple (AAPL) - Get Report, BlackBerry is still producing a solid platform and worthy devices to help power users take care of business.
Without much fanfare BlackBerry has released its new Leap smartphone, a candy-bar shaped handset without a keyboard. The Leap is like an updated Q10, which was a larger version of the company's first modern-day device, the Z10.
BlackBerry is well aware that modern-day businesses can use Androids or iPhones to get things done but it's still making devices for the super-power-users of the world, who will hopefully appreciate how the company's latest Hub software system excels at handling numerous messaging accounts in a single, secure, easy-to-use app.
The Leap measures 5.67 by 2.87 by 0.37 inches and weighs 6 ounces. It provides users with a 5.0-inch HD display (1280 by 720 pixels, 294 ppi, 16:9), a 1.5 GHz, dual-core, Qualcomm (QCOM) - Get Report Snapdragon S4 Pro processor, 2 GB of RAM and 16 GB of internal storage, a microSD expansion card slot (up to an additional 128 GB), and 8 and 2 megapixel cameras back and front.
These are not the most impressive specs you'll see for a high-end smartphone. Obviously, BlackBerry thinks the components they've chosen deliver enough raw oomph to accomplish its goals.
The Leap runs on the latest Blackberry operating system, version 10.3. It runs the most modern BlackBerry apps just like its most recent models such as the super-sized Passport and the very familiar-looking Classic. Modern BlackBerry smartphones can also download and run a number of Android apps from the Amazon (AMZN) - Get Report online store. There are thousand of choices available, but in reality, it's nowhere near the breadth and depth of apps currently available for Android or iOS devices.
Leap features BlackBerry's Blend app which integrates messaging, media and content between the user's smartphone, computer and tablet. And, BlackBerry Assistant is the company's digital assistant (think Siri or Microsoft's (MSFT) - Get Report Cortana) allowing users to use voice and text commands to manage both work and personal items, as well as native BlackBerry 10 applications.
We found Leap to be worthy of the BlackBerry name. It's fast, easy to master and is unequaled in its ability to deliver messages in one location. The app allows me to handle mail, discussions and notifications from a minimum of four email accounts, plus Facebook, Twitter and LinkedIn in one location. The system does exactly what it sets out to do. Leap is rock solid when it comes to making voice calls as well.
This phone would probably not be my first choice for users with a single email account and who want a smartphone just to view YouTube videos and play some games. On the other hand, for businesses that need to deliver the best, most-secure messaging system to their employees while de-emphasizing unnecessary bells and whistles, the Leap is a real option.
One of the Leap's best features, and possibly the most appealing to bulk purchasers, is its price. Without a service agreement, Leap sells for $275 on the BlackBerry's website. That puts it squarely in the same category as less expensive Android models from Motorola, Asus and others, as well as previous-generation iPhones.
Overall, the Leap is a very good smartphone and a terrific business tool that BlackBerry is offering at super-attractive price.
Overall Score: 8.5/10
This article is commentary by an independent contributor. At the time of publication, the author held no positions in the stocks mentioned.