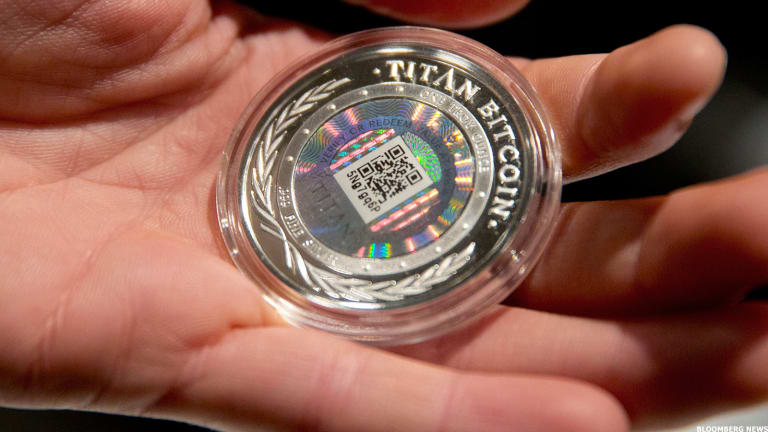 Bitcoin Surpasses $1,000 for First Time Since 2013 -- Tech Roundup
Bitcoin rocketed onto the scene in 2013, soaring from roughly $13 to more than $1,100 at its peak. After a steep decline and a few years, it's climbing once again.
Editors' pick: Originally published Jan. 3.
It wasn't long ago that Bitcoin exploded onto the financial scene, especially with its parabolic rise in 2013. The currency went from one Bitcoin being worth about $13 in the beginning of that year to more than $200 by the end of October. (2013 was also the year the S&P 500 advanced some 31%).
As if that weren't enough, the value for Bitcoin continued to soar. After crossing the $200 threshold, Bitcoin rose past $1,100 within the next month. Volatility goes both ways though and by late-December Bitcoin prices had crashed to $600, before rebounding to about $800 by year-end.
Phew. When it was all said and down though, Bitcoin's ascent had ended, and consolidation was the next step for the suddenly fresh crypto-currency.
After a down year in 2014 and a rebound in 2015, Bitcoin prices have again started reclaiming some of its previous numbers. In 2016, Bitcoin prices climbed 130%, ending the year just under $1,000. 
In 2017 that mark has finally been crossed for the first time since 2013. Will it continue higher? For the time being it doesn't look like there's any catalyst to knock the still-young currency lower, and perhaps its all-time will get a run for its money.
While Bitcoin fell out of favor among non-tech-savvy investors, those who believe in the currency have been scooping up quantities of it and stashing it away hoping that its prices would recover.
Looks like that bet paid off.
Bitcoin prices climbed $11.30 to $1,026.84 on Tuesday, up 1.1%.
Shares of Fitbit (FIT) - Get Free Report may have fallen 75% last year, but the stock is off to a strong start in 2017. Investors are bidding Fitbit higher by more than 8% on hopes of more good fortunes to come.
The company announced that it had expanded its partnership with both Qualcomm (QCOM) - Get Free Report and UnitedHealth Group (UNH) - Get Free Report .
According to SiliconBeat, they will expand the United HealthCare Motion, which aims to save users up to $1,500 per year depending on their activity and wellness. Basically, employees who have access to the plan will wear the Fitbit devices and if they prove to be active individuals, they will see a lower rate as a result.
The new programs aim to give out new Fitbit devices. For those who can take advantage, they can not only snag a new Fitbit, but save some dough at the same time. Sounds like a good deal to me.
For Fitbit, the company has obvious benefits, but so do the employer and insurance companies. According to studies -- and rather obvious observations -- those who exercise less tend to have higher medical costs.
So by rewarding those who are active, these companies are able to save money as well. A Fitbit and some incentives will hopefully be a much cheaper alternative -- for both the employer and employee.
Shares of Fitbit closed at $7.94 Tuesday, up 8.5%.
Ever hear of Proterra? Well if you haven't heard of the company yet, you likely will throughout this year. The electric bus maker just raised $140 million in its latest round of funding, with a possible IPO on the way at some point in 2017.
A bus company going for an IPO? Yep. But this is not your usual bus company.
Among the investors (although it's unknown who the lead investor is) are General Motors' (GM) - Get Free Report venture arm and Tao Capital Partners, among others.
The company doesn't produce hybrid buses or electric ones with a puny charge. Instead, these all-electric buses are getting a whopping 350 miles per charge -- and that's not just on the highway.
While the high-performance, zero emission buses are pretty sweet, they aren't cheap. Despite coming in at $749,000 though, Proterra is seeing its share of customers.
The company has a production facility in South Carolina, but plans to open a second one this year near Los Angeles.
This article is commentary by an independent contributor. At the time of publication, the author held no positions in the stocks mentioned.