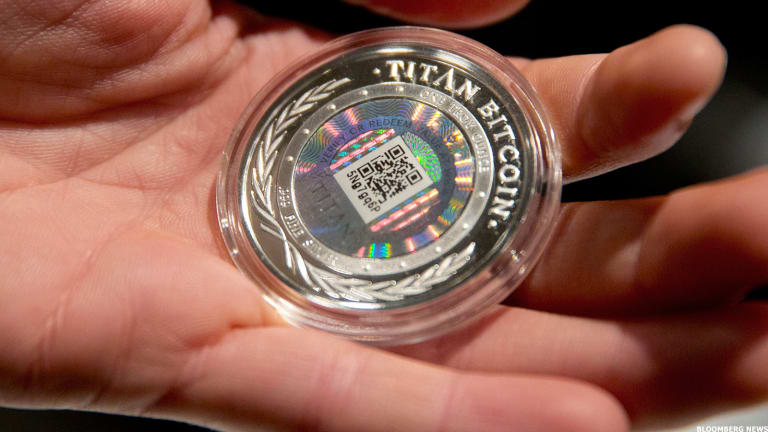 Bitcoin Will See One of Its Most Exciting Developments Ever Happen on Tuesday
Bitcoin is up 180% in 2017 to date.
Bitcoin is making a split on Tuesday, but that may not mean investors should, too.
Bitcoin's transaction history and blockchain will fork on Tuesday, giving everyone who stores bitcoins in a participating wallet or exchange an equivalent number of coins in a brand new cryptocurrency, Bitcoin Cash. According to the future's market, Bitcoin Cash will be valued at around $300. Bitcoins are more than $2,800 each, up more than 180% in 2017 to date.
As a part of a years-long debate over how Bitcoin records transfers, groups of developers are creating Bitcoin Cash to accommodate more transactions. Bitcoin has one megabyte per block, which allows it to process about five transactions every second. Bitcoin Cash, however, will have eight megabytes per block and should be able to process 30 transactions every second, Sean Walsh, partner at Redwood City Ventures, told TheStreet.
"It's one of the most exciting developments in Bitcoin over the last five years," Walsh said. "Those of us that have millions of dollars invested in Bitcoin and Bitcoin ecosystem, we want to see this thing grow into a global network. But when you only have 500,000 people who have at least one Bitcoin, that density [processing five transaction per second] of the fabric is too slow."
For that reason and having had conversations with long-time investors in Bitcoin who are supporting the new cryptocurrency, Walsh said he is bullish on the unexpected "dark horse" currency, because it solves this challenge. He said he thinks the ratio between the bitcoins could flip by this time next year.
According to Bitcoin Cash's website, 15 exchanges and eight wallets are participating in the endeavor. Coinbase, the world's largest Bitcoin exchange, however, is not supporting the new currency, saying in a blog post its policy is to support only one version of a digital currency.
Marc Van der Chijs, a Dutch serial entrepreneur and vulture capitalist, said he is more cautious about Bitcoin Cash. Both he and Walsh agreed that the next few days will likely be volatile, but Van der Chijs said he thinks it is the developers of Bitcoin Cash who are the ones who stand to benefit from the fork.
How Cryptocurrency Mining Works Explains Why AMD and Nvidia's Sales to Miners Might Soon Fall
AMD Shares Explode on Bitcoin Fueled Earnings Beat
"No one really knows what's going to happen," he said.  "It's good for the people behind Bitcoin Cash. In the end for the market, it's a bad thing."
Van der Chijs added that he thinks Bitcoin Cash's arrival has poor timing. Bitcoin developers and miners recently agreed to a plan called SegWit2x, which would expand Bitcoin's block size from one megabyte to two in November.
"SegWit was just approved by the miners, so the timing is really bad," he said. "I think it's more of a selfish thing. Everybody wants this, but an external group comes in and says, 'We're going to fork anyway. We don't like SegWit.'"
Van der Chijs said he feels some people's self-interest has galvanized this sea-change and that ultimately the split will confuse people.
Charles Hayter, co-founder of the exchange service CryptoCompare, agreed. He said Bitcoin is being bought right now like stock, as people look to take advantage of the split, but ultimately having two cryptocurrencies from each other with similar names will be confusing, which could make entry into the market more difficult.
"Bitcoin Cash and Bitcoin are very similar," Hayter said. "That can cause a little confusion, and it's already a very confusing sphere. Bitcoin will have a dual personality. That can be seen in the two philosophies going forward."
Walsh, Van der Chijs and Hayter all agreed, however, that they see Bitcoin, enabled by a devout community, will continue to exist. Whether or not that is true for Bitcoin Cash is yet to be answered.
A similar schism occurred last year on the ethereum blockchain, when members of that network created a new cryptocurrency in opposition to design decisions.
Van der Chijs said he expects Bitcoin to fall temporarily, but he thinks it will rebound. He added that he recommends waiting out the volatility for a day or two to see what happens.
"I think peoples should not panic," Van der Chijs said. "This is normal thing in crypto-land. If you own Bitcoin, keep them in wallet or exchange. Don't touch them. Wait until it's clear what happens."
More of What's Trending on TheStreet:
Bitcoin Is About to Have the Biggest Moment in Its History: Market Recon
Apple's Hometown Is Among 10 of the Most Overvalued U.S. Housing Markets