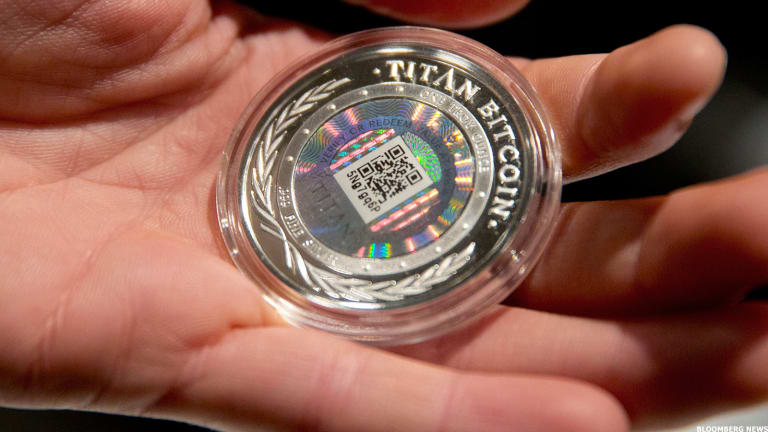 Bitcoin Slumps Below $7,000 Amid Question Over Segwti2X 'Fork' Delay
Bitcoin has lost nearly $1,200 since hitting $8,000 earlier this week amid concerns over the so-called software 'Fork' that could split the cryptocurrency.
Bitcoin prices fell below the $7,000 mark Friday, extending its two-day slump past 14% amid questions over the planned delay of a software change that would have potentially split the cryptocurrency.
Bitcoins were marked $400, or 5.7% lower in London trading on the bitsmap exchange and changing hands at $6,722 each, have fallen some $1,200 since reaching an all-time high of $8,000 earlier this week on reports that the so-called "fork" in bitcoin's architecture would be delayed.
"Our goal has always been a smooth upgrade for Bitcoin. Although we strongly believe in the need for a larger blocksize, there is something we believe is even more important: keeping the community together, saidBitgo CEO, Mike Belshe. "Unfortunately, it is clear that we have not built sufficient consensus for a clean blocksize upgrade at this time. Continuing on the current path could divide the community and be a setback to Bitcoin's growth. This was never the goal of Segwit2x."
The roll-out of a new Bitcoin data source, called SegWit2x, was designed to relive some of the pressure on the main network and speed up cryptocurrency transaction times, thus increasing their value.
Blockchain, the architecture that supports bitcoin's existence, has a cap on the information it can process, which some argue slows the speed of payment processing. To ease that congestion, software developers pushed to allow some data to leave the spine of the bitcoin system, a move some bitcoin miners say would reduce their ability to verify transactions, thus eroding their "bullet proof" appeal.
However, there has been intense speculation on social media that the proposed delay in Segwit2x hasn't entirely satisfied the cryptocurrency community, a view that was expressed last night on Twitter by one of its founding members, entrepreneur Charles Shrem.
The debate has, according to some, boosted the value of bitcoin's rival, bitcoin cash -- also known as BCH -- which was marked 27% higher at $800 each on the coinmarket.com exchange Friday.
Here's author Michael Lewis' take on Bitcoin: 
More of What's Trending on TheStreet: