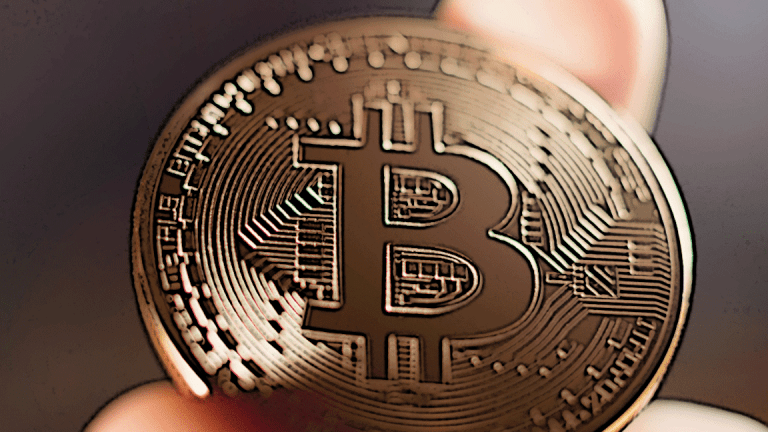 Strategist on the Big Bitcoin Correction: 'I'm Surprised It Took So Long'
The cryptocurrency's dramatic fall on Friday has prompted many to wonder if the Bitcoin bubble has finally burst.
The cryptocurrency's dramatic fall on Friday has prompted many to wonder if the Bitcoin bubble has finally burst.
Bitcoin continued its downward spiral on Friday, as prices fell more than 30% at one point and shed almost half their value after hitting a record high earlier in the week. 
By Friday afternoon, Bitcoin had recovered to around $13,000, a roughly 20% loss, but still a far cry from Bitcoin's record high price of $19,783 reached on Sunday. Other cryptocurrencies, including Ethereum, Litecoin and Ripple were also slumping on Friday, with all but two of the top 100 cryptocurrencies trading lower, according to CoinMarketCap. 
The selloff has prompted many market watchers to wonder if the Bitcoin bubble has officially popped, or if it could instead be a result of profit-taking before prices head higher again. 
Michael O'Rourke, chief market strategist at JonesTrading, said he was anticipating some degree of a cryptocurrency correction, due in part to the recent headlines surrounding heightened regulation and increasing perceptions that a bubble was forming among digital currencies.
"I'm actually a little surprised it took so long for the cryptos to sell off," O'Rourke explained. 
O'Rourke pointed to how Litecoin founder Charlie Lee said on Wednesday that he'd sold and donated all of his tokens this week, citing a conflict of interest. He said the move would be similar to if Amazon.com Inc. (AMZN) - Get Report CEO Jeff Bezos announced he'd sold all his shares in the internet giant. 
"When you think about it from a stock market perspective, if you walked in and found out Jeff Bezos sold all his Amazon stock, or if Mark Zuckerberg sold his Facebook Inc. (FB) - Get Report shares, or if Elon Musk sold his stock in Tesla Inc. (TSLA) - Get Report ," he said. "Almost overnight, those stocks would be down massively." 
Litecoin fell about 6% on Thursday after Lee made his announcement. 
According to O'Rourke, the recent plunge in prices of digital currencies during the last few days is likely tied to profit taking, Whether it's longtime bitcoin holders or "newcoiners" that are pulling out of cryptocurrencies is unclear, however. The frenzy around bitcoin mania may be deterring some investors who can't figure out where cryptocurrencies are headed next and are realizing it's not the safest trading environment to be in right now. 
"Over the past couple of days, we've seen a little more euphoria, especially as it filtered over into the stock market," O'Rourke said. "It became way too euphoric and people started to take profits and realize these things have had an incredible run this year." 
Bitcoin started off 2017 trading at roughly $1,000 before skyrocketing to almost $20,000 earlier this month. Campbell Harvey, a professor of finance at Duke University, said that given the levels that Bitcoin started trading at, this week's sell-off isn't as big as some are making it out to be. 
The drawdown in prices is consistent with recent volatility, Harvey added. In fact, Harvey said that based on Bitcoin's past volatility, there's a one-in-20 chance of a 25% swing in either direction occurring in any given week. 
"The current drawdown is also consistent with a price that was artificially driven up by bandwagon investors assuming that Bitcoin would gain 1,500+% in 2018," Harvey explained. 
Bitcoin's meteoric rise has led some market watchers to wonder if we're on the cusp of a Bitcoin bubble. Others have been reassured by the possibility of institutional investors entering the space via Bitcoin futures or exchange-traded funds, with the idea that the vehicles could lessen some of volatility of digital currencies. 
As long as the frenzied speculation continues in the cryptocurrency market, O'Rourke said he expects volatility to continue in the near term. To get a taste for the euphoric speculation in Bitcoin and other currencies, just look to the growing number of companies which added blockchain to their name, only to see their stock shoot up almost immediately.
O'Rourke pointed to fintech microlender LongFin, which went public at $6.65 per share last week. After announcing that it acquired "blockchain microlending" company Ziddu.com, LongFin's stock traded above $26 a share. On Monday, it climbed as high as $142 per share, before declining to about $40 on Friday. 
These kinds of speculative plays on the bitcoin craze are just one reason why O'Rourke said he thinks investors should be wary of cryptocurrencies. 
"When you're involved in pure speculation, you're at the market's whim," O'Rourke explained. "The SEC is right in that it's a buyer beware situation." 
Facebook is a holding in Jim Cramer'sAction Alerts PLUS Charitable Trust Portfolio. Want to be alerted before Cramer buys or sells FB? Learn more now.
More of What's Trending on TheStreet: