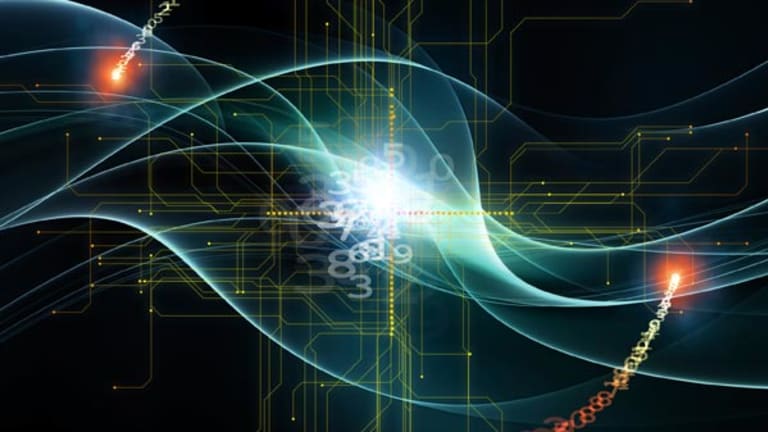 Biggest Threat to Apple: Google Chrome OS
Apple investors are focusing too much on the potential of Android, but it's Chrome that may cause the most damage.
NEW YORK (TheStreet) --
We
Apple
(AAPL) - Get Apple Inc. (AAPL) Report
investors typically view Steve Jobs' health as the biggest risk to the stock, but there's a potentially greater threat:
Google's
(GOOG) - Get Alphabet Inc. Class C Report
new operating system.
No, I'm not talking about Android.
I'm talking about Chrome OS.
People are focusing too much on Android, which has already overtaken Apple's iOS in terms of the global unit shipment rate, at least according to some estimates. While Android is a capable and interesting operating system, especially given that it's free and ties into Google's plethora of free services, ranging from maps to docs, it fundamentally doesn't change the game much, if at all. Its main architectural paradigm has more in common with Apple's iOS than any fundamental difference.
Chrome OS, on the other hand, is as fundamental a re-think of the operating system, the computer architecture and the nature ofapplications as we have seen since at least the advent of the PC inthe late 1970s. Its pure cloud architecture means lesser hardwarerequirements, more security and faster boot-time.
Google's Chrome OS can threaten Apple in at least three ways:
1. Starting some time around July or August, Google'spartners
Samsung
and
Acer
will launch laptops and perhaps also a desktop or two, based on Chrome OS. I am guessing laptops will startat $299 and "naked" desktops at $149. Given the superb performance ofthese Chrome OS PCs, with boot-up times (from cold) of less than evenApple's MacBook Air, some consumers and enterprises will pick ChromeOS PCs over the much more expensive Apple PCs.
To wit, the cheapest Mac laptop starts at $999. A service plan starts at $249. So effectively, you're out at least $1,248. Chrome OS laptops at $299 without the need for a service plan will look extremely attractive in comparison. I also predict that Chrome OS laptops will become available for sale in entirely new places: hotels, airplanes and even vending machines. Why? Unlike a regular Apple or
Microsoft
(MSFT) - Get Microsoft Corporation (MSFT) Report
PC, there is almost zero set-up time, making an impulse purchase/replacement realistic.
The cheapest Mac desktop -- the Mini -- starts at $699. A service plan is $149, which would equal the entire Chrome OS desktop.Attractive? I think so.
2. At some point in the future, perhaps as early as the December 2011 quarter but more likely some time in 2012, Chrome OS is likely to make it to the tablet market. Given the very light hardware requirements for Chrome OS, it seems that we could see unsubsidized 10-inch Chrome OS tablets selling for no more than $299, with perhaps $199 on the horizon. With Web apps and HTML5 becoming better and better every day, this should eat into the demand for Apple's iOS-based iPad.
3. At some point in the future, probably no earlier than 2012 and quite possibly in 2013, Google will likely offer the Chrome OS architecture for smartphones. They can be made a lot cheaper, and have a greater security, than any current smartphone. They could be sold free on contract, or $199 unsubsidized/unlocked. The superior security could appeal to enterprise buyers as well, threatening
Research In Motion
(RIMM)
. That said, this would also be bad news for Apple's iPhone.
I think the main message here is that Google's Chrome OS is going tobe a hard nut to crack for all the operating systems. Near term, the losers are primarily Microsoft with its dominant Windows 7 position in the PC laptops and desktops. Intermediate-term, the loser is Apple, with its dominant iPad tablet market position, although Android, RIM and
Hewlett-Packard
(HPQ) - Get HP Inc. (HPQ) Report
are also likely to suffer. Long term, the losers are all of them -- Android, Apple's iOS, RIM's BlackBerry, Microsoft with its Windows 7 Phone and HP with WebOS. Chrome OS is just so attractive and powerful that it threatens to wipe out much of the rest of the computing industry as we know it -- whether it's called a PC, a tablet or a smartphone.
In conclusion, I go back to the world looking at the wrong thing. Everyone is looking at Android as the biggest product threat to Apple now. It reminds me of the Germans in 1944, preparing for the Allied forces to land at Calais. Well, they landed in Normandy, taking the Germans by surprise and crushed the Third Reich as a result, within one year. This time around, everyone is looking at Android as the threat to the rest of the industry, when they should be looking at Chrome OS. And that includes Apple.
At the time of publication, Wahlman was long AAPL, GOOG and RIMM
.
This commentary comes from an independent investor or market observer as part of TheStreet guest contributor program. The views expressed are those of the author and do not necessarily represent the views of TheStreet or its management.
Anton Wahlman was a sell-side equity research analyst covering the communications technology industries from 1996 to 2008: UBS 1996-2002, Needham & Company 2002-2006, and ThinkEquity 2006-2008.