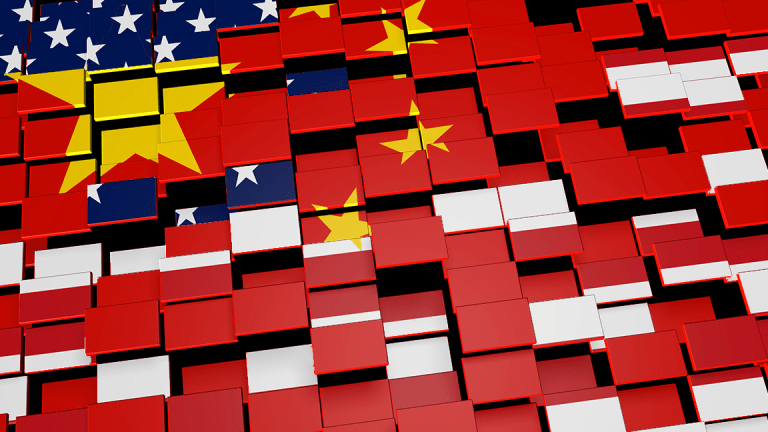 Consumers Might Be Biggest Losers in a U.S.-China Trade War
Many giant tech firms are likely to be insulated from the effects of President Trump's tariffs on $34 billion in Chinese goods, but not all of them.
It's tariff time -- and let's face it, nobody's too excited about it.
After weeks of back-and-forth from the White House on China trade policy, the Trump administration is set to impose tariffs on $34 billion in Chinese goods, effective July 6 at midnight. The impacts of the tariffs, which target electronics components in addition to penalties already in place for materials like steel and aluminum, have already hit a range of companies and industries with ties to the Chinese market. 
For tech, the outlook could be even more complicated. U.S. tech firms in the services business -- including Facebook (FB) , Alphabet (GOOGL) , Netflix (NFLX) and Amazon (AMZN) -- are likely to be insulated from the effects. But with China expected to impose tariffs on U.S. goods in response,  further escalation could spook tech companies with business in China, whether in their supply chains or sales funnels. Here's a look at who might be affected.
Chinese E-commerce Kings
China is an export economy, and that means tariffs will hit tech giants responsible for many of China's consumer exports. "The tariffs are going to have some direct impact on the large Chinese e-commerce companies -- on Alibaba (BABA) and  (JD) ," said Gil Luria of DA Davidson.
Amid tough talk on trade, including threats of a crackdown on Chinese investment in the U.S., Alibaba stock has sagged about 10% since the beginning of June. But the implications could extend well beyond Alibaba's stock: It's pulling back its footprint in Silicon Valley, where it had once hoped to lure more U.S. brands to its marketplace, in addition to buying up stakes in Snap (SNAP) , Lyft, and a handful of startups.
"Any disruption to trade would hit the Chinese consumer, and that's where the real impact will be," Luria says.
Electronics and Semiconductors
In a June report, Moody's was measured about the impact of tariffs and trade restrictions on the semiconductor industry, predicting that the pain for U.S. semiconductor businesses would be relatively minor, owing to a limited customer base in China: "Indigenous Chinese customers represent just 6%, or $1.8 billion, of aggregate revenue for Applied Materials Inc (AMT) , Lam Research Corp (LRCX) and KLA-Tencor Corp (KLAC) , the three rated US companies that sell equipment used to make semiconductors globally and to Chinese companies," the report said.
For electronics makers at large, supply chain disruptions could lead to bigger headaches down the road. "It's certainly the case that we've seen that within the tech sector, in particular the computer electronics sector, they're concerned," said Paul Lee of the Institute for Supply Management. "There will be some impact on the consumer directly, but also of equal concern is the indirect effect because of inputs to products made here." 
Moody's noted in a recent report that further escalation could damage consumer confidence and dampen demand for equipment globally. "If that were to happen, there would be a decrease in demand for equipment that is used to make semiconductors for a growing array of products, including consumer electronics, data center equipment, automobiles, and industrial products, to name a few," the report said. 
One potential exception? Apple (AAPL) . Apple's exposure to China -- both in growing sales within China and in its manufacturing relationship with Foxconn -- have sparked worry that that phonemaker would be hit. In mid-June, a New York Times report said Trump had promised Apple CEO Tim Cook that iPhones would be exempt from tariffs. Trump trade adviser Peter Navarro later denied any knowledge of the conversation. Apple's investors don't appear too rattled, with the stock holding steady at $185.40 as of Thursday's close. 
Consumers (Yes, You)
Some observers are suggesting that the biggest loser in a trade war may be consumers because pressure on manufacturers and retailers to adjust to heavier penalties could drive up prices for consumer goods. 
"In this type of market where the consumer is confident and the costs are going up for retailer, it's fair to expect those retailers to pass through these costs to consumers," added Luria. "If things escalate, it's hard to imagine the U.S. economy won't be affected."
Some trade groups are already warning that U.S. consumers will soon see price hikes on a wide range of tech goods that involve Chinese components, from computers to household appliances and lighting. 
"The decision to impose tariffs on Chinese goods will harm American consumers and businesses without addressing discriminatory and systemic Chinese trade practices and policies," said Josh Kallmer of the Information Technology Industry Council in a statement. "Too many jobs and livelihoods are at stake to continue escalating this trade war."
Apple, Amazon, Facebook and Alphabet are holdings in Jim Cramer's Action Alerts PLUS member club. Want to be alerted before Jim Cramer buys or sells these stocks? Learn more now.