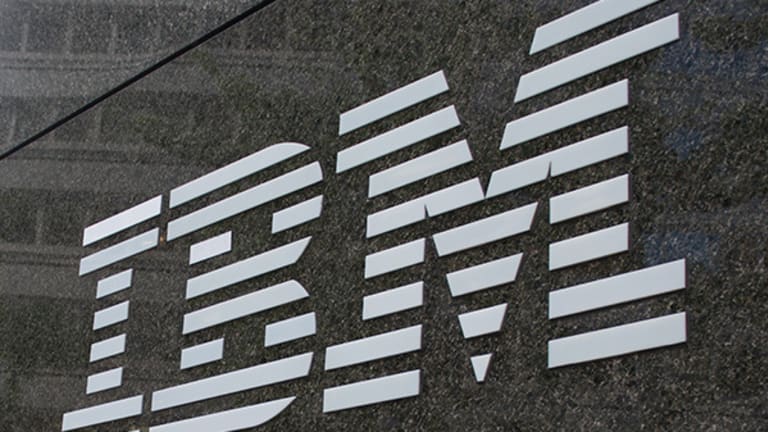 Big Blue Struggles With Underdog Reputation In Cloud Computing
Big Blue is forced to rebuild its reputation in cloud computing as the tech giant works to keep up with younger companies.
NEW YORK (TheStreet) -- Big Blue's (IBM) - Get Free Report future is unclear as it struggles to keep up with innovators and please investors.
Its share price has dropped 11% this year, versus a 23% gain for the S&P 500 Information Technology Index. The century-old tech company has reported eight consecutive quarterly revenue declines; its annual revenue has hovered at about $100 billion since 2007.
Chairwoman and CEO Virginia Rometty has said she wants to raise IBM's operating earnings per share to $20 by 2015. That's a long way from what it was in 2013, when the company had operating earnings per share of $16.28, according to its 2013 annual report.
Cloud computing has been the company's big hope for growth. Cloud provides companies or individuals with the ability to share information, applications, data sets and software platforms over the Internet on a pay-as-you-use basis. Especially useful for companies, cloud is a tool that allows employees to securely store, control and utilize applications, data and company information from emails to projects. Research firm IDC forecasts that the cloud computing market will grow to over $100 billion industry by 2017.
Since 2007, IBM has spent more than $7 billion on 17 acquisitions to accelerate its cloud initiatives, including $2 billion for SoftLayer Technologies. Other cloud-related companies purchased by IBM include Aspera, Cloudant, and Tealeaf Technology. IBM currently owns 1,560 patents focused on driving cloud innovation. Big Blue projects it will generate $7 billion in revenue from its cloud initiatives by the end of next year.
Nonetheless, IBM isn't growing big enough, fast enough. "We do like the way the firm is strategically going after cloud and analytics," said Peter Wahlstrom, an analyst at Morningstar. "However, these are areas other people are already playing into. There is a lot of competition."
According to UBS analyst Steven Milunovich, IBM needs to focus on reliable revenue growth as well as changing its cloud reputation. "A higher P/E would be driven by a return to consistent organic revenue growth combined with continued margin improvement. In addition, investors need to be convinced that IBM can be a winner in cloud and Big Data rather than a victim," Milunovich wrote in a May report.
IBM's troubles in cloud are illustrated by its difficulty competing for a CIA contract in 2012. Despite IBM's history with the CIA and its lower bid price, it lost out to Amazon (AMZN) - Get Free Report.
IBM challenged the CIA's choice by triggering a report from the U.S. Government Accountability Office. In June 2012 the GAO recommended that the CIA redraw parts of its contract and give IBM another shot to compete for the project. In response to these recommendations the CIA began to reopen negotiations. In July Amazon filed a legal complaint in the U.S. Federal Court of Claims, stating the CIA's corrective action was in violation of federal law and regulation.
IBM was a high-risk choice according to the CIA in court oral hearings. Judge Thomas Wheeler of the U.S. Court of Federal Claims ruled against IBM in October 2013 because the "overall inferiority of its proposal lacked any chance of winning." According to Judge Wheeler, IBM had no grounds to protest the company's award and that Amazon's cloud contract should be restored.
Research firm Gartner rated IBM the worst cloud infrastructure provider in an August 2013 study, putting it below Microsoft (MSFT) - Get Free Report, Rackspace Hosting (RAX) as well as Verizon Communications (VZ) - Get Free Report.
Investment in cloud innovation is still a focus for the tech giant according to CFO Martin Schroeter. "We're continuing to make investments in key growth areas such as mobility, security and cloud and these initiatives are gaining traction but are not yet at scale" said Schroeter on an earnings call in April.
IBM may be able to keep up with the competition of the cloud computing market because of how it combines the different cloud models. "The hybrid cloud market is customizable," said Wahlstrom, in a phone interview, "that's where IBM offers a lot of value."
Hybrid cloud combines private and public cloud models. The private cloud secures a company's information and applications by making it only accessible to specific users. The public cloud provides information and software without requiring users to pay for the service. The hybrid cloud offered by IBM also gives companies the ability to share the different data and applications to users but companies can decide what information stored in the cloud would require payment to access or be free to the public.
IBM is also pursuing initiatives in mobile and cognitive capabilities.
"We now have over 3,000 mobile experts. Across software and services, IBM's mobile business doubled from the prior year," said Schroeter in an April earnings call.
IBM recently partnered with Epic Systems to compete for an $11 billion project to manage U.S. troops' electronic health records according to a company press release in June. The project would serve 9.7 million beneficiaries, including active duty, retirees and their dependents by replacing the Military Health System clinical systems.
The company is also calling on IBM's artificially intelligent computer system, Watson. IBM plans to invest $100 million in start-ups "to fund the ecosystem" of entrepreneurs building applications with Watson, according to press release in January. Armonk, N.Y.-based IBM is investing $1 billion in the New York based Watson Group which will focus on bringing cloud-delivered cognitive applications and services to the market.
Over the past year, IBM has applied its cognitive technology to industries such as healthcare, finance and retail. The company is co-developing an application with Memorial Sloan-Kettering Cancer Center, partnering with WellPoint the University of Texas MD Anderson Cancer Center, and the Cleveland Clinic Lerner College of Medicine. With these partnerships, IBM is developing a cognitive computing tool that will to help physicians and medical students make more informed and accurate decisions from electronic medical records.
Technology initiatives in retail include IBM's introduction of the IBM Watson Engagement Advisor. Through Watson, retailers would be able to efficiently manage unstructured data to understand customer trends and needs as well as reinvent decisions about pricing and purchasing.
"This is the first time IBM is trying to commercialize Watson. Watson has gotten a lot smarter, a lot smaller and a lot faster," said Wahlstrom.
-Written by Kathryn Mykleseth in New York.