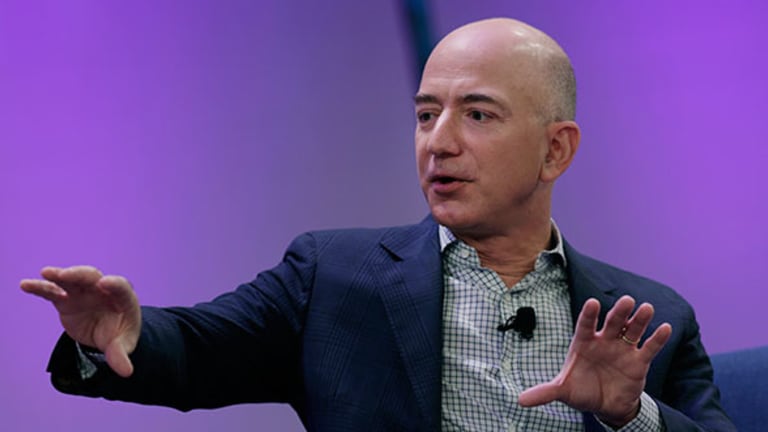 Publish date:
Bezos Is Making 'Washington Post' More Like Amazon
Since Amazon CEO Jeff Bezos purchased 'The Washington Post' in 2013, investments in newsroom resources and digital strategy have started paying off, in the form of eyeballs -- and revenue.
Since Amazon CEO Jeff Bezos purchased 'The Washington Post' in 2013, investments in newsroom resources and digital strategy have started paying off, in the form of eyeballs -- and revenue.
The recipe was always clear: Be more like Amazon (AMZN) - Get Amazon.com, Inc. Report .
When Amazon CEO Jeff Bezos purchased The Washington Post two years ago, he declared that legacy print publications needed to embrace the full power of the Internet. For the Post, that's meant embracing the full power of Amazon.
Bezos' strategy for the famous newspaper has been to employ some of his company's greatest strengths. Chief among them has been building a customer base. Among Amazon's many keys to success has been Bezos' decision, not always applauded by Wall Street, to invest nearly all of his profits back into the online retailer. Though profit margins were slim, the customer base grew and grew.
The Post has taken a similar tack. 
Under Bezos' urging, the newspaper has expanded the reach and responsibility of its Audience Team by placing social media and online-engagement specialists in each news department, as well as photos and graphics, and among top editors. Its Video Team was also expanded on the premise that video has become as integral to online news dissemination as the written word.
Executive Editor Marty Baron was given the green light to hire 120 new reporters, while Bezos also pushed for the newspaper to produce e-books, a product close to the heart of the maker of the Kindle.
As Bezos hoped, online traffic has surged. In October, the Post notched a record 66.9 million monthly digital visitors, a 59% increase from the same month in 2014, according to ComScore. The newspaper's steady climb pushed the Post over The New York Times (NYT) - Get New York Times Company Class A Report  for monthly digital visitors for the first time ever, a point of contention that led to a tussle between the two proud publications.
Like many big city newspapers, the Post has two product suites -- National and Classic -- with a different focus and a different price structure. Its digital National edition starts at $99 per year, or $48 per year for Amazon Prime members who pay a $99 fee for that service. The National and D.C. digital coverage costs $149 per year.
By comparison, The New York Times charges a bit more. Its smartphone and desktop subscription runs $180, whereas an all-digital edition which includes tablet access goes for $420 a year.
"It marks the arrival of The Washington Post as the country's fourth national newspaper," said Ken Doctor, president of Newsonomics and the author of Newsonomics: Twelve New Trends That Will Shape the News You Get. "What we have seen through this is Jeff Bezos' strategy."
That approach is marked by efforts to lead as well as follow stories trending on social media.
With an eye on the Web, the Post created The Morning Mix, a blog that combines original reporting with news aggregation, and Post Everything, a platform for user-generated stories. One of the most popular stories of the year, about a woman who drove her luxury vehicle to pick up food stamps that was dubbed "Mercedes Mom," came from Post Everything.
"That story went gangbusters on mobile," said Cory Haik, the Post's director of emerging news products, whose previous position at the newspaper was overseeing Project Rainbow, an-house technology development group that designed its Kindle Fire app. "It's something that can't really be aggregated by other news outlets. It was a viral success and people want to read it from the Post," Haik said.
More recently, the Post has partnered with Facebook (FB) - Get Facebook, Inc. Class A Report though its Notify and Instant Articles platforms, and with Twitter (TWTR) - Get Twitter, Inc. Report on its Moments product.
"[Bezos] has got that pipeline that nobody else has," Doctor said. "And he's had the wealth to do it on the distribution end."
All together, these many projects have amounted to a dramatic shift from the regional focus that the Post long embraced under previous owner Donald Graham, the son of its legendary publisher Katharine Graham. Rather than expanding its network of bureaus and launching a national edition akin to The New York Times, the Post under Graham chose to concentrate the newspaper's efforts largely on the Washington metropolitan area while maintaining select bureaus in the U.S., Europe and Asia.
Like many newspapers large and small, the Post suffered steep declines in the years before Bezos purchased the newspaper for $250 million in 2013. Print advertising sales at the newspaper plummeted some 55% between 2007 and 2012, according to the Newspaper Association of America, a steamroller caused by the migration of marketers and readers to digital platforms.
As a private company, the Post currently doesn't divulge financial information.
Monetizing online traffic has long been a conundrum for legacy print publications that continue to get most of their revenue from their hard copies. Nonetheless, some Web sites have managed to develop paid audiences.
But unlike any of the newfangled news sites or all-purpose aggregators such as Yahoo! (YHOO) News or Alphabet's (GOOG) - Get Alphabet Inc. Class C Report Google News, the Post can boast a long history as one of the country's best known news sources. To keep pace with the Internet's better-known brands, the Post counters with savvy social media and quality video.
"What we've seen in 2015 is the universe just keeps mushrooming and mushrooming and mushrooming," Doctor said. "It's these few companies in a virtual circle of a huge volume of great content and mastering social headlining. It's gotta be a game where some lose while others are gaining."
Of course, few newspapers that charge for online access have had the benefit of being offered free to Amazon Prime's subscribers, who number as many as 44 million. But that's the advantage of having Jeff Bezos as your owner.
"If you walk in our newsroom now vs. three years ago, it's a dramatically different place," Haik said. "I love what I do, but [newspapers have] been a hard place to work over the last decade."
This unique confluence of circumstances raises the question as to whether Bezos' strategy is replicable at other newspapers. While acknowledging the advantages to have a wealthy owner, Haik argues that making newspapers more equipped for the digital age often begins with changing newsroom attitudes.
"The cultural thing is something that I think other newsrooms could adopt," she said. "It's been a big part of the success for us."
Rick Edmonds, a media business analyst at the Poynter Institute in St. Petersburg, Fla., countered that some aspects of the Post can be adapted by all newspapers, but a formal relationship with the world's largest online retailer is hard to match.
"The deal with Amazon is unique to them," Edmonds said. "That's such a huge base of customers. I certainly think other papers are searching for those sorts of things."
For the Post, Bezos has been a lifesaver. And for newspapers around the country, the Post has become a model, of sorts, for survival in the digital age.