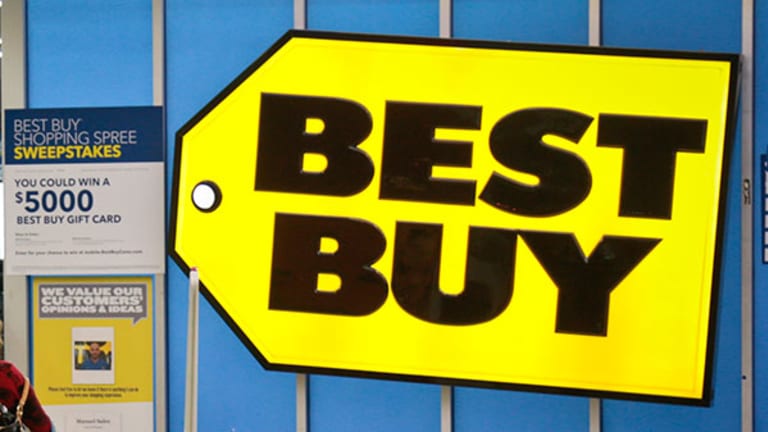 Best Buy Preview: What Wall Street Is Saying
On Thursday morning, investors will hear just how bad competition over the holiday season dented Best Buy when it reports fourth-quarter earnings.
This story has been updated from 10:32 am EST to include reports of management layoffs, stock price update.
NEW YORK (TheStreet) - On Thursday morning, investors will hear just how bad competition over the holiday season dented Best Buy (BBY) - Get Free Report when it reports fourth-quarter earnings.
The Richfield, Minn.-based electronics chain already said in January comparable store sales for the first nine weeks of the quarter dropped 0.8%, compared to a consensus expectation of a 2% rise.
Comps at domestic stores specifically dropped 0.9%, reflecting a highly promotional and competitive environment from the likes of Amazon (AMZN) - Get Free Report and Wal-Mart (WMT) - Get Free Report.
Best Buy said that revenue as of Jan. 4 had fallen 2.5% to $11.45 billion, compared to the prior year's quarter and that its non-GAAP operating margin would drop 175-185 basis points over last year.
As a result, Best Buy plans to rejigger strategic plans for 2014 to include lowering its cost structure "more quickly and more deeply;" grow its online channel at an "accelerated pace;" and reinvigorate and expand its Geek Squad services business, among other things, the company said at the time.
Wall Street will be looking for more clarity on those cost-cutting plans and just how it plans to take market share from big competitors.
According to a report by the New York Post, Best Buy plans to cut up to 2,000 mid-level managers this year at its more than 1,000 stores across the country. Best Buy has already notified roughly 500 "field managers" of job cuts last week, the Post claims. The firings are not expected to affect customer-facing employees.
A Best Buy spokesman declined to comment to TheStreet.
"To us, the key to BBY's success is its ability to cut costs in order to fund its lower gross margin to stay competitive with Amazon," Deutsche Bank analyst Mike Baker wrote in a Feb. 18 note to clients. "This way, they should maintain or even increase market share, while driving higher earnings power, with SG&A reductions offsetting margin declines."
Following the sales report, analysts dropped their earnings estimates from an average profit of $1.62 a share at the time, to $1.01 a share, on average, currently, according to Thomson Reuters. Revenue is expected to fall 12% to $14.66 billion.
The consensus also expects comparable sales for the quarter to fall 1% for the quarter, following Best Buy's dismal holiday sales report.
The stock is down 33% since Jan. 15, the day before it announced its holiday sales. Shares were trading up 2.4% to $25.92 on Wednesday.
Here's what Wall Street analysts are saying leading up to earnings.
Mike Baker, Deutsche Bank (Buy; $36 PT)
"Estimates have come way down of course, and we are at $1.02 compared to consensus of $1.01. Our comp forecast is -1% domestically compared to a down 1.9% result for the holiday selling period, suggesting some improvement in January. We think there could be risk to that estimate. What retailer has had a better January? But we see less risk to the EPS estimate as the CFO has a track record of lowering the bar to a level that can be cleared. We think a somewhat soft January should not change the investment outlook. Buy."
Michael Pacter, Wedbush Securities (Underperform; $18 PT)
"Our target is based on an EV of 10x sustainable free cash flow, reflecting expected negative comps in 2014, further margin erosion, low visibility, lack of guidance, and doubts about the sustainability of Best Buy's turnaround plan. We expect comps declines to continue, and we expect price matching to continue to pressure margins. Lower margins could pressure Best Buy's cash flow multiple."
Denise Chai, Bank of America Merrill Lynch (Buy; $34 PO)
"We reiterate our Buy rating as we continue to see several key catalysts to price to earnings and share appreciation in 2014. In our view, the 34% decline in share price since holidays results in early January represent an overreaction to short term factors that have largely passed. We see three key catalysts to drive an acceleration in earnings including: 1) The beginnings of a true CE cycle led by 4K TV's; 2) New cost cutting targets following the completion of the current $750mn goal, likely announced in 1H14; and 3) the bottoming of aggressive promotional activity by WMT and AMZN. Our $34 PO is based on 13x the midpoint of our 2014-15 EPS estimates and represents upside potential of 35%."
--Written by Laurie Kulikowski in New York.
Disclosure: TheStreet's editorial policy prohibits staff editors, reporters and analysts from holding positions in any individual stocks.