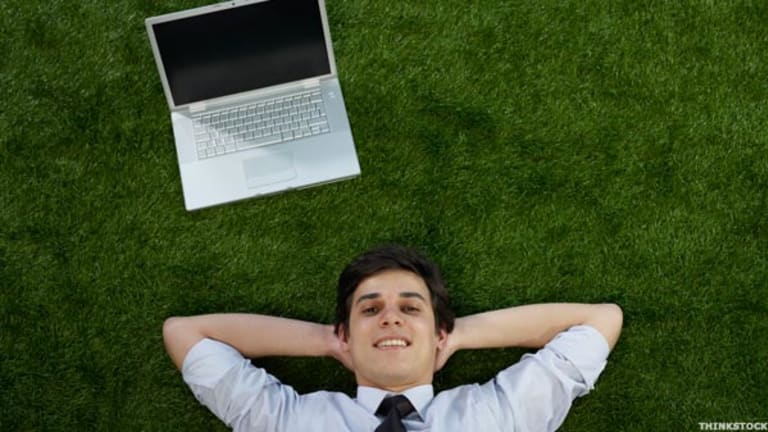 Best Android Phones for Fall 2010
With several new Android phones on the market we rank the best Android phones for Fall 2010.
NEW YORK (
) --These are my five picks for the best of Android phones available now. All run on Android OS 2.1 or 2.2 and are currently available at their respective carriers. The smartphones differ in size, weight and features but all provide the best of what's available at both ends of the Android price range.
Sprint EVO 4G
: The 4.3-inch, big-screen model Android made by
HTC
. This phone has nearly everything you need including a built-in desk stand and, of course, access to Sprint's WiMAX/4G data network - where you can find it. When you do, the phone is a speed demon. Sprint charges an extra $10 per month (on top of all other charges) for 4G phones, but when 4G comes to your neighborhood, you will gladly pay for the honor. Watch our
EVO review
.
Verizon Droid X
: Motorola and Verizon's jumbo Android handset. The Droid X features a 4.3-inch screen, 8-megapixel still and video camera plus anything else you can ask for in a modern-day smartphone. First units were somewhat balky when it came to things running smoothly, but after a few over-the-air tweaks, the Droid X is truly a super phone. Motorola is promising an update to Android 2.2 soon. Watch our
Droid X review
.
Samsung Galaxy S foursome
: The Verizon Fascinate, Sprint Epic 4G, AT&T Captivate and TMO Vibrant -- four different designs and one great Android phone blueprint. Underneath all of them is Samsung's 1GHz Hummingbird processor and one of the best screens on any portable device -- a 4-inch OLED beauty. As for the differences, the Captivate is a world phone that runs on AT&T's network, the Vibrant works 2G overseas and 3G on T-Mobile's network stateside, the Epic operates on Sprint's 3G and 4G networks (it also sports a slide-out QWERTY keyboard), and the Fascinate features Google search instead of Microsoft's Bing. Watch our
Galaxy S review
.
Verizon Droid 2
: The long-awaited update to Verizon's popular Droid phone. The Droid 2 was the first phone to be released with the latest Android OS version -- 2.2, aka FroYo. Now it also has a faster processor and double the memory. And while the slide-open QWERTY keyboard has been improved, users might still like the touch-screen version. Otherwise, the Droid 2 has many features in common with its bigger Droid X brother, but the 2 is smaller and much more pocketable. Watch our
Droid 2 review
.
T-Mobile's Motorola Charm
: The mostly square, oddball Android design that sports a very small, 2.8-inch screen. The Charm runs on Android 2.1 and looks somewhat like a BlackBerry. Its three big selling points: It has a fantastic QWERTY keyboard, it is lightweight enough to easily fit in a pocket or purse and it sells for just $75 with a 2-year contract. Many folks who have seen the Charm say the keyboard alone might get them to switch from a Blackberry. It's not perfect, but the low price gives it an advantage. Watch our
Charm review
.
Runners-up
TMO MyTouch 3G
: The second-generation MyTouch design with a slide-out keyboard, 5-megapixel camera and a good price. It goes for $180 with contract. Watch our
MyTouch 3G review
.
AT&T Aria/Verizon Incredible
: The itty-bitty Android from HTC. It features a 5-megapixel camera, Android 2.1 and HTC's Sense screen user interface. Watch our
Aria review
.
Sprint/Nextel Motorola i1
: The smartphone that proves Android can also be a boon to those who refuse to give up their "Direct Connect" walkie-talkies or Nextel 2G services. Fast Wi-fi connectivity helps greatly. Watch our
Nextel i1 review
.
--Written by Gary Krakow in New York.