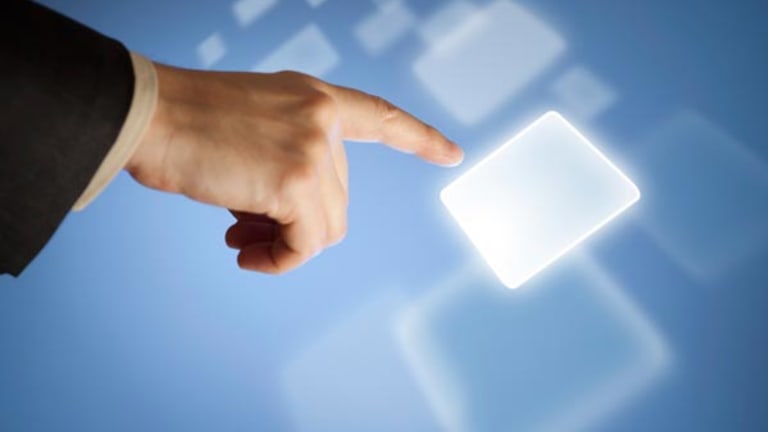 Best Android Apps
Best droid Apps for the new Morotola phone and all Google Android smartphones phones
NEW YORK (TheStreet) -- With the launch of the Droid and the hype around the Google phoneNexus One, Android phone buyers and users are hunting for the top free and paid apps for the suddenly hot mobile operating system.
Google's
(GOOG) - Get Alphabet Inc. Class C Report
open source approach is a developer's dream and the Android Market has been growing exponentially since the launch of the first Google phone, HTC's G1. Google has been very helpful to developers large and small. I can tell you from our experience building
, representatives from Google met with us to go over features we could include and even reviewed early versions to give us feedback on the interface and coding. Let's just say, Apple doesn't offer that service at this time.
While the
from
Motorola
(MOT)
grabbed all the attention this fall with a huge $100 million+ media campaign, the offering of phones under the Android umbrella is expanding.
Verizon
(VZ) - Get Verizon Communications Inc. Report
,
Sprint
(S) - Get SENTINELONE, INC. Report
and
T-Mobile
(DT) - Get Dynatrace, Inc. Report
all offer Android phones with dozens more set to come out over the next few months.
>>Photo Gallery: Android Smartphones
This look at free and paid Android apps is by no means complete. Please use the comments to give your reviews and opinions as new
are coming on line all the time and we'll update our story with your feedback.
See the great free Android apps>>
Great Free Android Apps:
Robo Defense:
Robo Defense - they describe it as the ultimate tower defense experience. And, it's actually fun to play.
Next>>10,001 Cocktails
10,001 Cocktails - It's like having a professional bartender on your smartphone. A gazillion drinks I never heard of. Fun to try each one.
Next>>NBA Game Time:
NBA Game Time - First official NBA Basketball app for Androids. A must for pro basketball addicts.
Next>>PacMan:
PacMan - the famous arcade game - brought to Android handsets. Complete with a trackball mode - which makes great use of the built-in controls.
Next>>NYC Subway Map:
NYC Subway Map - In addition to Google Maps and Google, The official MTA map. You can zoom in and out - an instant reference.
Next>>Where:
Where - A bunch of useful GPS applets all wrapped up in one - where to find coffee places, restaurants gas stations - etc.
Next>>Solitaire:
Solitaire - Terrific version - draw one card or three. Great use of the touch-screen interface.
Next>>
Pandora Radio:
Pandora Radio - Create your own favorite radio stations based on your favorite performers.
Next>>Great Pay Android Apps:RepliGo Reader:
RepliGo Reader (for PDFs) - Use it with your Android's Gmail and your browser to read PDF files on the go. - $7.95
Next>>Bejeweled
Bejeweled - It's the Android version of the best gem-swapping puzzle game. Line up diamonds, sapphires, rubies in both portrait and landscape displays. $4.95.
Next>>MyBackup Pro
MyBackup Pro - Backup your applications, contacts, call log, bookmarks, SMS messages, settings, shortcuts, alarms, and more. Full-featured version lets you do more. $4.95
Next>>Word Wrench Full:
Word Wrench Full - A game for anagram lovers. Six letter words win it all! $1.95
Next>>Rock Out Acoustic Pro:
Rock Out Acoustic Pro - A virtual Acoustic guitar on your smartphone. 99-cents
Next>>
Get TheStreet for Android app
>>Photo Gallery: Android Smartphones
Bill McCandless is the executive editor for multimedia at TheStreet.