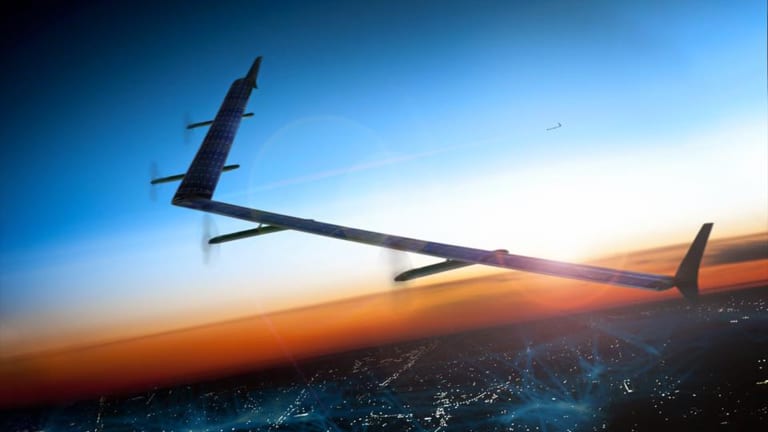 Beam Me Up! Facebook's Test of Unmanned Aircraft for Internet Access a Success
The social network has designed and tested a UAV for beaming down Internet access from the sky.
SAN DIEGO, Calif. (TheStreet) -- Facebook (FB) - Get Meta Platforms Inc. Class A Report has made a big step in its futuristic effort to beam down the Internet from the sky to populations without it.
CEO Mark Zuckerberg said Thursday that the social network has successfully conducted its first test flight of a prototype solar-powered unmanned aircraft vehicle, or UAV, which it eventually hopes to use to bring Internet access to regions without cellular connectivity.
The first flight, conducted in the U.K., was meant to test the aerodynamics of the aircraft, which has a wingspan greater than a Boeing (BA) - Get Boeing Company Report 737 airplane but weighs as much as a small car.
"Aircraft like these will help connect the whole world because they can affordably serve the 10% of the world's population that live in remote communities without existing Internet infrastructure," Zuckerberg wrote on Facebook.
The UAV project is part of Facebook's Connectivity Lab, which was launched one year ago to overcome the technical and financial hurdles in porting the Internet to people living in the two-thirds of the world without connectivity. The lab, which is closely aligned with Facebook's Internet.org initiatives, is building everything from drones and satellites to lasers. 
"The idea of this is to loiter across an area at very high altitudes -- 60,000 to 90,000 feet in the air -- stand on station for months at a time, and beam down backbone Internet access," Facebook CTO Mike Schroepfer said Thursday at the social network's F8 annual developer conference in San Francisco.
The company will have more to share about its UAV project later this year, Schroepfer said.