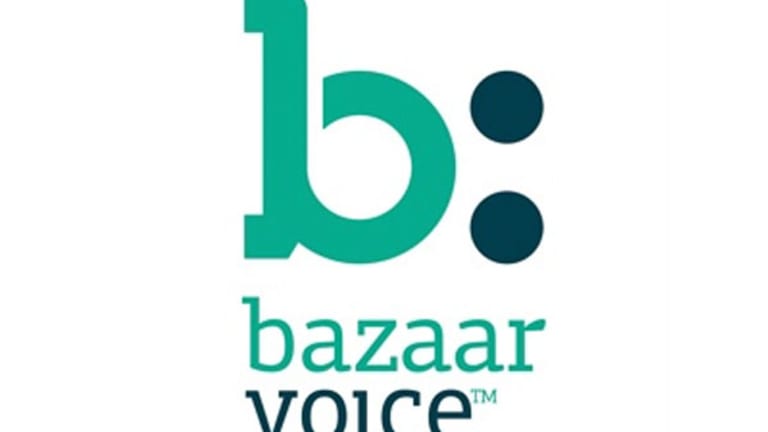 Bazaarvoice Looks to Twitter, Facebook In FeedMagnet Deal
Bazaarvoice's $9 million acquisition of FeedMagnet may help the online customer review network expand its services to social media such as Instagram. The deal also marks a new M&A strategy for Bazaarvoice after the Department of Justice called the company's vertical acquisition of competitor PowerReviews "unlawful."
NEW YORK (TheStreet) -- Bazaarvoice's (BV) - Get BrightView Holdings, Inc. Report $9 million acquisition of FeedMagnet may help the online customer review network expand its services to social media such as Instagram, Pintrest, Facebook (FB) - Get Meta Platforms Inc. Class A Report, and Twitter (TWTR) - Get Twitter, Inc. Report. The deal also marks a new strategy for Bazaarvoice after the Department of Justice fought the company's acquisition of competitor PowerReviews.
Instead of trying to further scale in online consumer reviews that are the deciding factor behind a majority of online purchases, Bazaarvoice is looking to expand its services to user-generated content on social networks. That content, whether it's an Instagram photo, a tweet, or a Facebook post, is expected to become of increasing importance for brands and companies seeking online sales.
"When we acquired PowerReviews, we acquired another ratings and reviews provider that gave us additional clients in the small-to-midsize business marketplace," Matt Krebsbach, Bazaarvoice's director of global public relations, told TheStreet in a telephone interview. "FeedMagnet gives us a new product that we did not already have," he said.
As Krebsbach and recently-appointed Bazaarvoice CEO Gene Austin put it, there is a disconnect between what customers are communicating about a brand on social networks like Instagram and what those brands can hear.
Austin, Tx-based Bazaarvoice is the de-facto customer review portal for companies as prominent as Best Buy (BBY) - Get Best Buy Co., Inc. Report, Wal-Mart (WMT) - Get Walmart Inc. Report, Macy's (M) - Get Macy's Inc Report and Costco (COST) - Get Costco Wholesale Corporation Report, and believes it can provide insights gleaned from social networks to its customers. With FeedMagnet, Bazaarvoice CEO Austin told TheStreet he believes customers will be able identify media such as Instagram images that a company can use on its website or in marketing materials.
"It was clear to us from our customers that they wanted to do more than just our reviews," Austin said. "The FeedMagnet decision was really a make or buy proposition," he added. Like Bazaarvoice, FeedMagnet is headquartered in Austin, Tx. and was recommended by some of the company's clients, CEO Austin said. 
The deal comes at a turning point for Bazaarvoice.
DoJ Lawsuit, Falling Shares
Bazaarvoice may soon move beyond its $168 million acquisition of PowerReviews, which put the company in the DoJ's crosshairs. In early April, Bazaarvoice said in entered into a letter of intent with Viewpoints to divest its PowerReviews business, subject to court approval and an agreement on closing conditions.
Were that deal to move forward, it could free Bazaarvoice from a troubled horizontal acquisition. In early 2013, the DoJ accused Bazaarvoice of eliminating its only major competitor in PowerReviews, and called the deal "unlawful." The DoJ also said Bazaarvoice took customers away from PowerReviews without investing in the business it acquired.
As a remedy, Bazaarvoice is now looking to simply sell PowerReviews, however, it is unclear what additional steps the company may have to take. Austin, who took over as Bazaarvoice's CEO in February from Stephen Collins, said the company has had a bit of a "tumultuous' time as a public company.
Since a February 2012 initial public offering that valued Bazaarvoice at just below $700 million, shares in the company have fallen sharply on continued losses, regulatory scrutiny and slowing revenue growth.
Increasing Bazaarvoice's ties to social networking, however, could prove an opportunity for the company.
High Engagement
Currently, Bazaarvoice is a solution to large brands and companies that rely upon online reviews. As of Bazaarvoice's most recent quarter, the company had 1,308 active enterprise clients, which generated annualized average SaaS revenue of $139,000.00 apiece. The company's retention rate was 96% in its most recent quarter.
Bazaarvoice total number of enterprise customers may not fully communicate the company's scale. In a January presentation, Bazaarvoice said its online reviews generated 22 million impressions an hour, 16 billion monthly and nearly a half trillion impressions since inception.
By its own estimates, Bazaarvoice has about 500 million monthly users, a figure that compares favorably to LinkedIn and Twitter's monthly active users and is about half of Facebook's monthly active users (MAUs).
Were Bazaarvoice customers to see the company as a solution to their social media efforts and marketing campaigns, and not just as a provider of online customer reviews, it could burnish the company's image in the tech sector after years of management change and regulatory scrutiny.
"Acquiring FeedMagnet is a clear indication to a lot of people that Bazaarvoice has moved beyond the DoJ and has big plans for innovation," CEO Gene Austin said.
-- Written by Antoine Gara in New York