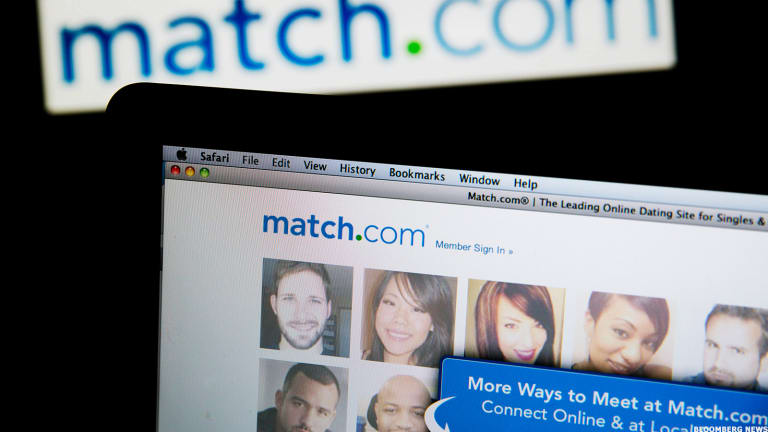 NEW YORK (TheStreet) -- Media mogul Barry Diller is looking for some love for Tinder and his other dating sites in IAC/InterActive's (IACI) Match Group. IAC on Thursdayannounced a planned spinoff of Match, which includes Match.com and Tinder.
The timing of an IPO comes amid heightening pressure from IAC investors to spin off Match, the fastest growing part of the company. If anything, the decision is a surprise insofar as Match remains in a start-up phase, its revenue growing 13% in the first quarter to $239.2 million. Earnings for the unit that includes Tinder, Match.com, OKCupid and the Princeton Review, the standardized test-preparation business, totaled $26 million.
New York-based IAC was rising 4.7% to $80.86, extending its 2015 advance to 33%.
The IPO is focused largely around Tinder, a dating app whose daily active users are expected to reach 20 million in 2015, according to Barclays Internet analyst Chris Merwin. Although the app is just three years old, Brittany Carter, an IBISWorld analyst, said it's not too early for the Match Group to stand on its own feet.
"It's exhibiting a lot of signs of a mature business," Cartr said in a phone interview in New York. "They have been the dominant player for a long time and they've been actively acquiring smaller companies. We expect that to continue."
The biggest opportunity for Match is also its biggest risk, she added. The cost of switching between online dating websites and apps is so low that users tend to give many different ones a trial run. That's why Match has continued to acquire dating websites such as OKCupid in 2011 and Tinder in April 2014.
Tinder, which claims as many as 26 million matches each day, has a reputation as a place for college students to find quick hookups by swiping right on profiles based on photos alone. Match.com, on the other hand, appeals to an older and apparently more serious dating pool and matches users based on 29 categories.
While Match now accounts for the single largest player in the industry with 21.8% market share, Carter said other dynamics could evolve.
"The way they're getting lots of users is using gammification techniques," said Carter, referring to Tindr's swipe-right-to-flirt model. "Think of the video-gaming industry. It's very volatile, with everyone just looking for the next blockbuster hit."
IAC's Barry Diller is no stranger to cutting loose his most successful brands and making them into new businesses. Tinder and its ilk have long been prime candidates to go the way of ExpediaEXPE in 2005 as well as HSN and Ticketmaster in 2007.
The planned IPO was foreshadowed a year and a half ago when Diller lumped all of his dating properties into the Match Group.
The online dating industry is expected to grow 3.9% be the end of this year according to estimates from IBISWorld. Nielsen data shows that 1 in 10 adults average over an hour every day on a dating website or app.
As part of the IPO announcement, IAC said Joey Levin, CEO of its search and applications business, has been promoted to CEO of IAC and has joined its board of directors. Match CEO Sam Yagan will remain in his role and Greg Blatt will remain as chairman. The offering is slated to take place in the fourth quarter.
Chief Financial Officer Jeff Kip is resigning from the company to spend more time with his family, the company release said.
Match will issue less than 20% of its common stock in the initial public offering, according to the release. IAC will keep a remaining stake in Match, consisting of both high- and low-vote common shares.
Match Group revenue growth in the three months ending March 31 was largely due to The Princeton Review, which was acquired in July 2014, company filings show. While Tinder and other dating properties saw a 14% increase in paid subscribers in the U.S. and Canada as well as a 21% increase in other countries, they were hurt by the foreign exchange effects of a strong dollar.
Nor was the Match Group the fastest-growing segment at IAC by revenue. Media revenue increased 20% in the same period, due to the theatrical release of the movie While We're Young and growth in YouTube rival Vimeo.