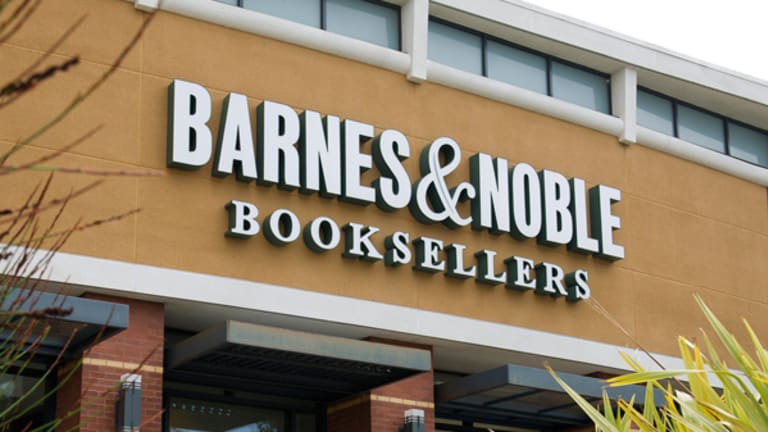 Barnes & Noble Is Betting Slimmer Company Can Beat Amazon
Barnes & Noble is spinning off its college business, but it remains to be seen if that will help it in the battle against Amazon.
NEW YORK (TheStreet) -- It's all about focus, and fighting Amazon (AMZN) - Get Amazon.com Inc. Report.
Barnes & Noble's (BKS) - Get Barnes & Noble, Inc. Report recent decision to spin off its college books group is being sold to investors as a means of unlocking value by creating a separately traded stock for a fast-growing business. But as Amazon steps up its presence in the college book market, the Feb. 26 decision to create Barnes & Noble Education is a bet on avoiding a repeat of 20 years ago when Amazon upended the country's onetime book market leader.
Last month, Amazon signed deals with three universities to create co-branded Web sites to sell textbooks, college paraphernalia and other items. 
"Certainly Amazon getting more competitive in that space played some part in the decision," RJ Hottovy, an analyst at Morningstar, said in a phone interview. "The struggles Barnes & Noble has -- you can tie a lot of that back to Amazon."
Two decades ago, Barnes & Noble was the country's largest bookseller, and then Amazon figured out a way to get people the books they wanted faster. After store shutterings and management turnover, Barnes & Noble became a smaller company, though not one any less vulnerable to the innovations of its larger rival.
Sales took a slight hit recently, with the retailer's second-quarter 2015 sales dropping 2.7% compared to the same period a year ago. The company's outlook for the full year of 2015 calls for single-digit declines for retail comparable bookstore sales, retail core comparable bookstore sales, and college comparable store sales.
These numbers, combined with the changing habits of consumers, paint a worrisome picture for Barnes & Noble, which is partly a reason for the restructuring.
Barnes & Noble is spinning off its college business -- which runs 714 college bookstores in the U.S. -- into a separate, publicly traded company, shares of which will be distributed tax-free to stockholders. 
"The hope is that by removing aspects of the business that might be diluting managerial attention, the logic may be that the management of Barnes & Noble can focus on ways to revive and strengthen its main business," Emilie R. Feldman, an assistant professor at the Wharton School of the University of Pennsylvania, said in a phone interview.
The question that remains is whether a college business will do better on its own.
One factor to consider is that the college division doesn't hold leases. It signs contracts to run the stores for the different colleges. That translates to fewer costs.
Additionally, the college unit has turned it focus to selling digital versions of textbooks and investing in the learning app Yuzu, efforts it will be able to further prioritize on its own.
"Separating Barnes & Noble Education will create an industry-leading, pure-play public company with more flexibility to pursue strategic opportunities in the growing educational services markets," CEO Michael P. Husbey said in a statement last week. Barnes & Noble declined to comment beyond the statements in the press release.
It's interesting to note that while back in June 2014 Barnes & Noble announced a future spinoff of both the college business and Nook together, the actual spinoff will not include Nook. This makes sense given the respective success and struggle of the two businesses.
Second-quarter revenue for the college business grew nearly 2% from 2014 to 2015 while revenue for the Nook decreased 41%. The college business in its current state seems to be the most viable section of Barnes & Noble. By spinning it off without the struggling Nook business, that business can stand a better chance.
"Lumping Nook in with the college business might have been problematic for that part which is actually doing quite well," Feldman said. "Attaching the struggling Nook business might not have been the best idea for the viability of the spinoff going forward."
Even without the burden of Nook, it remains unclear whether Barnes & Noble can outpace the competition from Amazon.
"Amazon is obviously a big competitive force for Barnes & Noble," she said. "I think Barnes & Noble is in a sense playing catch-up. I don't think they expected the consumer landscape and the way people consume books to change as dramatically as it has and the way people shop to change as dramatically as it has. I think Amazon is exerting a big force on Barnes & Noble's strategy."