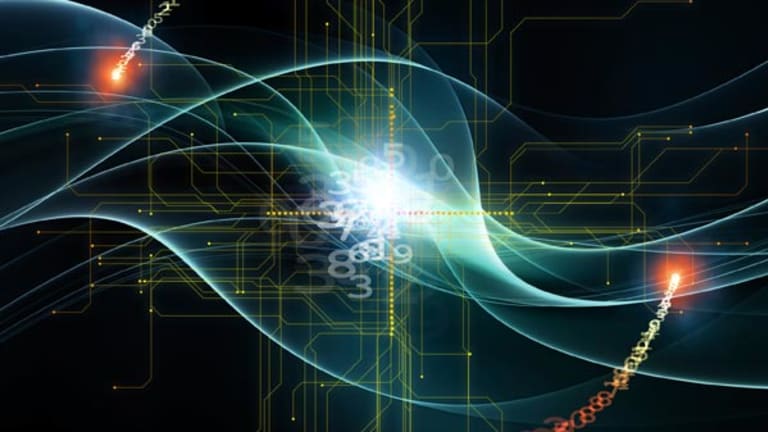 Publish date:
Autonomy Disappoints a Year After HP's Big Software Bet
HP's third quarter earnings are clouded by Autonomy's underperformance, a year after HP 'bet the farm' on software.
HP's third quarter earnings are clouded by Autonomy's underperformance, a year after HP 'bet the farm' on software.
NEW YORK (
) -- What a difference a year makes?
Hewlett-Packard's
(HPQ) - Get Report
mixed third quarter earnings mark the one-year anniversary of a plan laid out by the company's former CEO Leo Apotheker to cut and run from declining computer sales and push into software and IT services. The PC giant's effort was marked by a mega acquisition of British data analytics specialist
Autonomy
.
On the one-year anniversary of HP's radical strategy change, Autonomy's earnings underperformance gives HP little reason to celebrate.
In third quarter earnings, HP's software unit -- the division where Autonomy resides -- reported flat sequential growth and profits of $973 million and $175 million, respectively, as operating margins remained below 20% (where they had been in the first quarter before beginning a decline). The results signal slow progress by new HP chief executive Meg Whitman as she tries to impart her strategic vision to HP, which remains the world's largest PC maker after cancelling Apotheker's breakup plan.
Topeka Capital markets analyst Brian White had expected the unit to see sales increase 2% from the second quarter, while its services unit was expected to grow just 1%, in line with Wall Street expectations. In third quarter earnings, software sales of nearly $1 billion and services sales of $8.8 billion -- a 3% year-over-year decline -- both missed estimates.
The results signal that as performance at HP's networking, printers and PCs units remain resilient in contrast to peers like
Dell
(DELL) - Get Report
, which reported "death of the PC"-type earnings on Tuesday, a new strategic vision for Palo Alto-based HP is yet to fully emerge.
Overall revenue of $29.7 billion slightly missed analyst estimates, while HP's $1 in earnings per share beat an updated Aug. 8 guidance of between 94 cents and 97 cents in EPS.
With HP now having spent its "last" mega-deal dollars on Autonomy, the acquisition is yet to propel the company into
IBM
(IBM) - Get Report
and
Accenture
(ACN) - Get Report
-like territory of data and software services, as it tries to strategically reposition in the tech world.
Autonomy -- HP's third largest acquisition ever at $11.7 billion -- remains a key but uncertain piece of CEO Whitman's restructuring efforts. The unit is also a reflection of whether Whitman's decisiveness can help HP recover from a string of CEO failures and an erosion of its competitive footing.
Third quarter earnings were a defining test for Whitman after she restructured HP's software unit to bring Autonomy closer to the company's existing software and services operations.
After far weaker than expected results at Autonomy in the second quarter, HP overhauled management at the data analytics specialist in a big change of course for the company's software and services push. Whitman ousted celebrated Autonomy founder Mike Lynch and replaced him with Bill Veghte, HP's chief strategy officer, in a move to bolster the unit's performance. Whitman cited Autonomy's poor results as reason to remove Lynch and further integrate the software specialist within HP's global sales force, where the business could scale faster.
Yet the latest results signal are uninspiring. HP's earnings results signal that support is still needed, as revenue and profits continue to stay below expectations.
When HP first took control of Autonomy it planned to run the company independently, keeping Lynch, who founded the firm in 1996, at the helm. The drastic second quarter management change for Autonomy, a maker of software analytics that search unstructured data like emails, phone calls and social media, was a troubling sign for investors worried about whether HP will get a bang for its buck on the acquisition.
Under new unit head Veghte, HP expects to tie Autonomy to the company's existing services, server storage, networking businesses and its sales force, in an "organizational structure to support a $1 billion company," according to May comments from Whitman.
Whitman's closer alignment of Autonomy with core HP, and an overall restructuring and simplification of HP mirrors the decade-ago turnaround of IBM that took shape through a strategy to
quickly integrate acquisitions
.
A year into the turnaround push, HP's earnings confirm a transformation will not come quickly, as doubters mount.
Third quarter earnings did little to reverse a trend of falling profit margins and a growth slowdown at HP's software and services units, integral to any transformation. HP's software license growth fell to 2% in the third quarter from 7% in the second quarter and from 12% in the first, while the unit's operating margins rose slightly to 18% after dropping to 17.7% in the second quarter.
Earlier in August, UBS analyst Steven Milunovich said HP has so far assembled a mediocre set of assets that's unlikely to pull business from entrenched enterprise players IBM and
EMC
(EMC)
.
"HP lacks the pure enterprise focus of IBM and EMC yet will have trouble competing for consumers without strong tablet and phone businesses like Apple and Samsung," wrote Milunovich in an Aug 8 initiation of HP shares with a sell rating and a $16 price target.
"We question whether HP is 'better together' and that it might be 'smart to be apart,' specifically spinning off printers and PCs," he added.
In May, Jefferies analyst Peter Misek said that the company's future stock gains hinge on improving performance at Autonomy.
"We believe HP is one of a handful of players that has or is close to having the components of a full stack (i.e., software, storage, networking, services)," wrote Misek in a May note to clients. Were Whitman's restructuring efforts to work, Misek calculated that cross selling opportunities from Autonomy could lift HP's 2012 earnings per share to $4.20 from a base of $4.07. Such improvements would warrant a $40 share price because HP's price-to-earnings multiple could rise to 9.5 times 2012 earnings from a base of 7.5x.
Full year EPS guidance of $4.06 - unveiled on Wednesday - signal that software's not been the cure to declining PC sales, which fell 10% in the quarter. Meanwhile, the company's stock remains over 50% below Misek's bullish estimate.
In a decisive call, Whitman retained HP's PC unit -- contrary to Apotheker's plan -- and cast high expectations on the benefits of Autonomy. HP chairman Ray Lane said in September that Autonomy's software and analytics revenue could grow from present levels of $1 billion to $5 billion or even $10 billion. "Hopefully, we'll see a bigger software portfolio and we'll see more value-added services at HP, but we have $120 billion of hardware business that we care dearly about," said Lane in September.
Since then, HP has enacted other turnaround efforts under Whitman, including a
of its PC and printers divisions in a move to cut costs.
"When you try to go from $40 million to $400 million to $1 billion to $2 billion, boy it takes -- it's a whole different ball game," Whitman said in May, of weak Autonomy's-based results.
Whitman didn't think Autonomy should stand on its own two feet, but as part of HP's larger software unit, the legs seem equally shaky.
For more on tech sector M&A and turnaround efforts, see why a
BMC Software
(BMC)
deal
is caught between a cloud boom and tech gloom
.
Interested in more on HP? See TheStreet Ratings' report card for
this stock
.
Check out our new tech blog,
Tech Trends
.
--
Written by Antoine Gara in New York