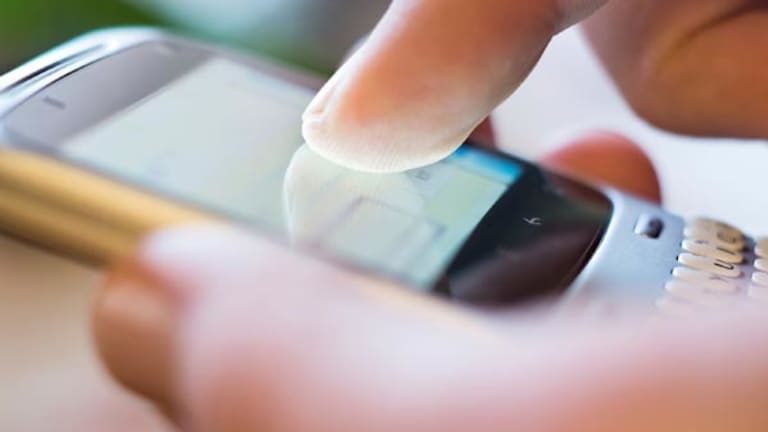 AT&T's Epix Smartphone Packs Powerful Punch
The compact 3G world phone from Samsung offers Windows Mobile 6.1 and more.
AT&T
is on a roll when it comes to selling interesting smartphones these days. There's
Apple's
(AAPL) - Get Apple Inc. Report
,
Research In Motion's
(RIMM)
brand new
and the very interesting, but little publicized Samsung Epix.
The Epix is a compact 3G (UMTS/HSDPA) world phone with Windows Mobile 6.1. It has all the software you would expect from such a device, including all the
Microsoft
(MSFT) - Get Microsoft Corporation Report
Office Mobile software you've come to love and more:
2-megapixel camera
full HTML Web browser
music player with access to all the music you can store on a microSD card
Exchange mail, Internet text mail and instant messaging
Wi-Fi
Stereo Bluetooth
aGPS capabilities
The Epix feature all this and a battery that offers up to seven hours of talk time and 14 days of standby power. When testing the smartphone, I got nearly two full days of service before having to recharge. Compare that length of battery life to an iPhone 3G, a
T-Mobile
(DT) - Get Dynatrace Inc. Report
or the Blackberry Bold and you too should be impressed.
Epix Phone: Eek! It Has a Mouse!
var config = new Array(); config<BRACKET>"videoId"</BRACKET> = 1904654293; config<BRACKET>"playerTag"</BRACKET> = "TSCM Embedded Video Player"; config<BRACKET>"autoStart"</BRACKET> = false; config<BRACKET>"preloadBackColor"</BRACKET> = "#FFFFFF"; config<BRACKET>"useOverlayMenu"</BRACKET> = "false"; config<BRACKET>"width"</BRACKET> = 265; config<BRACKET>"height"</BRACKET> = 255; config<BRACKET>"playerId"</BRACKET> = 1243645856; createExperience(config, 8);
As for overall size, the Epix is smaller than the iPhone but, then again, it also has a much smaller touch screen. It is also smaller, thinner and lighter than the Blackberry Bold. The QWERTY hardware keyboard, just beneath the screen, may appear small and cramped but I found typing on the device was quite easy to master.
The best feature of the Epix is its 3G connectivity. It actually approaches speedy. If you currently use an iPhone 3G or Bold you might be surprised at just how fast Web pages download on the Epix. I'm mentioning this because all three devices run on AT&T's sometimes-maligned 3G network. The Epix proves that AT&T's 3G network may not always be the problem with
.
And the Epix did a great job at receiving streaming videos via AT&T's CV (Cellular Video) service. The Blackberry Bold didn't fare quite as well in my side-by-side comparison test.
On the other hand, the Epix is not perfect. The handset eschews the normal Windows Mobile, four-way, joystick/pointing device and, in its place, has added the first-ever optical mouse on a smartphone. I'm not kidding. The mouse works smoothly and perfectly. But, I found in my testing, that it doesn't offer exactly the same experience.
In other words, I found it slightly more difficult to navigate through a long list of emails. Instead of being able to click up and down the list, when I placed the mouse pointer on a particular email the message opened. I would prefer that instead of opening the pointer would just rest in place and allow me to delete an unwanted message. After a while I got used the Samsung's pointing system -- but never really felt comfortable with it.
Another faux pas is Samsung's idea of an earphone jack. There is none. There is an oddly-shaped AC adapter that doubles as an earphone connection port via a supplied dongle. If you think it took way too long to read that explanation you'll understand why I'm upset that a user can't just plug a normal mini-headphone into this phone.
So, all things being equal, the Samsung Epix is a very good phone with one or two quirky design features. AT&T is currently selling the device for $299.99 with a two-year service contract. A $100 mail-in rebate knocks the price down to $199.99.
So if you're in the market for a Windows Mobile-based smartphone, give the Epix a serious look.
Gary Krakow is TheStreet.com's senior technology correspondent.