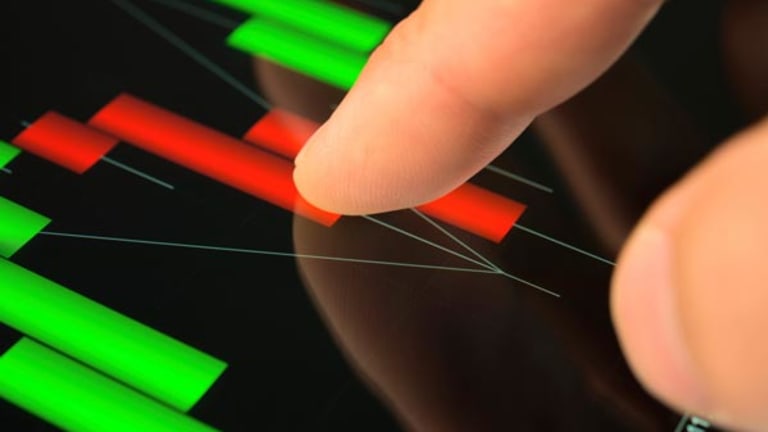 AT&T, Verizon Square Off on Mobile Pay
Telcos eager to collect mobile payment transaction fees from smartphone users are tapping into a new generation of tech startups.
NEW YORK (
) -- The quest to make your phone more like a wallet has long been the ambition of banks, credit card companies and Internet payment shops like
eBay's
PayPal
.
Starting this week, you can add phone giant
AT&T
to this list.
Telcos have always been eager to find additional revenue streams beyond the business of carrying calls and data. Getting phones involved in purchases targets a small but growing segment of the market where telcos can finally get their hands on fees for processing transactions.
The mobile billing approach in this case bypasses credit cards and other payment methods by letting users enter their cell phone numbers into the payment box, which is confirmed in a text message.
"We've connected into hundreds of carriers in 60-plus countries so big merchants like
Electronic Arts
(ERTS)
and eBay Classifieds are able to have their customers pay by just entering their mobile number and having that charge show up on a mobile phone bill," said Ron Hirson, co-founder of mobile payment startup
Boku
. "It helps people that find it easier to pay
that way especially for impulse purchases
and also those in the developing world who just don't have another way to pay ... there's a whole group of people that you enable to be able to purchase online with this service."
>>Shopping Via Smartphone
AT&T is expected to announce partnerships with two mobile payment companies -- closely-held Boku and
BilltoMobile
.
Earlier this year, AT&T rival
Verizon
(VZ) - Get Verizon Communications Inc. Report
signed on with BilltoMobile in March. And T-Mobile is working with
Google
(GOOG) - Get Alphabet Inc. Class C Report
to allow users making purchases in the Android Market to have items added to their phone bills.
Long-time observers aren't particularly jazzed by the latest promise of mobile billing. "Cutting out credit cards is a concept that has been around for 10 years," said one Wall Street analyst whose firm discourages analysts from being quoted by name.
These are not the least expensive buying techniques, but it appeals to young gamers -- a tantalizing segment of the market for phone companies who hope to bring the customers up the purchase ladder from ring tones to game credits to music and videos.
"It's an alternative payment option for what we call the under-banked, which is an age group between 13 to 18 years old," said BilltoMobile strategy chief Steve Klebe. BilltoMobile is a unit of
Danal
, a mobile billing shop based in South Korea, one of a few countries where phone payments have become a big market.
"Because of what's going on with smartphones, the carriers are anxious to be a bigger part of their customers' digital lives," Klebe said.
There is a fair amount of processing bounty by telcos -- a small percentage per transaction -- that comes from the payment service to younger customers who don't have credit cards or bank accounts. For each dollar of the mobile billing transaction, 85 cents goes to the merchant, leaving the processor and the carrier to divide up the remaining 15 cents. That compares to the 2% to 5% fee credit cards take or the 30% outfits like
Facebook
keep in Facebook credits, the virtual currency used in games like FarmVille.
Klebe says the average transaction is between $5 and $15 with a monthly maximum of $25. BilltoMobile's biggest merchant partner is
Nexon
, an online video game shop.
These mobile payment outfits face a big hurdle, though. Credit cards are by far the currency of choice in non-cash purchases, and if there's any online biller that has already made inroads above others, it's the Internet's favorite go between: PayPal. The Net payment division of eBay offers Apple iPhone applications that allow users to make mobile payments or transfer money by bumping phones together.
Telcos, it seems, will end up fighting for a very small piece of the market.
--Written by Scott Moritz in New York.>To contact this writer, click here: Scott Moritz, or email: scott.moritz@thestreet.com.To follow Scott on Twitter, go to http://twitter.com/TheStreet_Tech.>To send a tip, email: tips@thestreet.com.