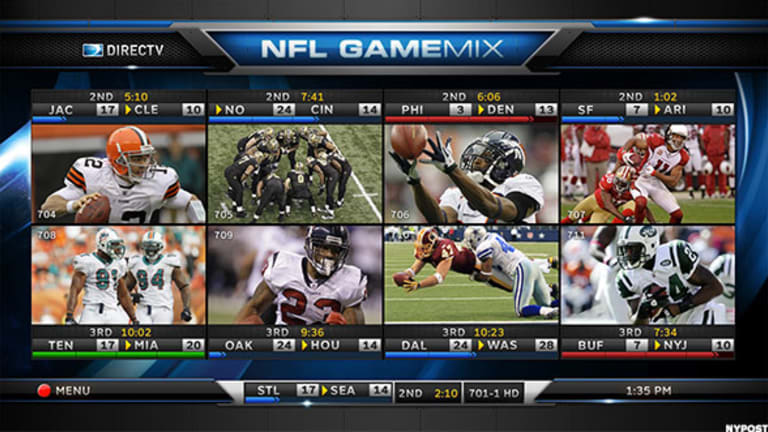 AT&T Risks Losing Exclusive NFL Package If Pub Lawsuit Succeeds
An antitrust lawsuit challenging DirecTV's exclusivity agreement with the NFL over its Sunday Ticket package could spell trouble for AT&T shortly before its acquisition gains approval.
LOS ANGELES (TheStreet) -- A class-action lawsuit filed by a local San Francisco bar has put the NFL and satellite-TV operator DirecTV (DTV) in the crosshairs of an antitrust complaint, possibly opening the door for other pay TV providers to cash in on America's most popular sport.
But the lawsuit, which alleges collusion on the part of NFL teams and above-market pricing due to DirecTV's exclusive agreement to sell out-of-market games -- games that take place outside of the broadcast area of an individual viewer -- stands to perhaps indirectly ensnare another company: AT&T (T) - Get AT&T Inc. Report, the second-largest U.S. wireless provider.
The lawsuit comes just before federal regulators are expected to approve AT&T's $45 billion acquisition of DirecTV -- a deal that hinged on the satellite provider's ability to again secure those exclusive rights to its Sunday Ticket package last year. 
"It's a pretty good case, for sure," said Alan Milstein, a New Jersey litigator who represented former running back Maurice Clarett in a lawsuit against the league. "The NFL is the only league that has that kind of arrangement with respect to out-of-market broadcasts."
Out-of-market Major League Baseball, National Hockey League and National Basketball Association games are all sold in packages on most pay TV operators, like Comcast (CMCSA) - Get Comcast Corporation Class A Report, Time Warner Cable (TWC) and Dish Network (DISH) - Get DISH Network Corporation Class A Report. Unlike the other three big sports, the NFL does not sell its live product directly to consumers online, either.
DirecTV, which has about 20 million subscribers and has been able to offer its Sunday Ticket package for some two decades, agreed last October to pay a reported $12 billion over the next eight years for the out-of-market broadcast rights. As TV ratings slide, live sports and the NFL in particular have been juggernauts for networks making their rights all the more valuable.
The Sunday Ticket package was so crucial to AT&T, which wants to expand its pay TV footprint beyond its 11.3 million U-Verse subscribers, that if the satellite provider was unable to secure the exclusive rights, AT&T would have been able to walk away from the deal without a penalty.
"The lawsuit is entirely without merit," DirecTV said in a statement. "We are fully confident of the legality of our agreement with the NFL."
AT&T declined to comment. The NFL did not respond to a request seeking comment.
The suit was filed in U.S. District Court in Los Angeles by The Mucky Duck bar, a pub and eatery in San Francisco's Inner Sunset neighborhood. The pub alleges that because DirecTV is the only pay TV provider that can air out-of-market games, it can command above-market rates for its Sunday Ticket package while the popularity of football forces bars and restaurants to subscribe to DirecTV rather than another provider. It's not about how the plaintiff has been damaged but that the league may be damaging competition, Milstein said.
DirecTV charges bars with a capacity of 51 to 100 people a base rate of $2,314 for Sunday Ticket, while large Las Vegas casinos and hotels pay more than $120,000 for the package, the suit says.
By contrast, baseball's season-long package costs a 51-100 occupant bar subscribing to DirecTV roughly $805 to receive typically more than a dozen games per night over the MLB's six-month season.
Milstein expects the NFL, which will bring in about $6.5 billion a year in TV rights once the new DirecTV deal kicks in, to argue that consumers watching games in bars are not hurt by Sunday Ticket, and the package allows greater access to out-of-market games too.
Key to the plaintiffs' case would be to establish that the NFL is not a single entity but its 32 member teams colluding to harm competition, Milstein said.
"If you've ever been to a sports bar, there's obviously competition between people who want to watch the Raiders or the Chargers or the Colts or any of the other teams," Milstein added.
DirecTV does not break out its Sunday Ticket figures in earnings reports, but president and CEO Mike White said last year that revenue from the package increased 13% while paying subscribers rose 10%.
Milstein believes the lawsuit will ultimately succeed in voiding DirecTV's exclusivity, inviting the likes of Comcast, Dish Network, Time Warner Cable and Charter Communications (CHTR) - Get Charter Communications, Inc. Class A Report to strike their own deals with the NFL.
"The NFL is going to have to behave like the other sports behave," Milstein said. "That's not such an outrageous result."
 How such an outcome would affect AT&T is clear -- the company did not plan on buying DirecTV without its NFL deal.
This article is commentary by an independent contributor. At the time of publication, the author held no positions in the stocks mentioned.