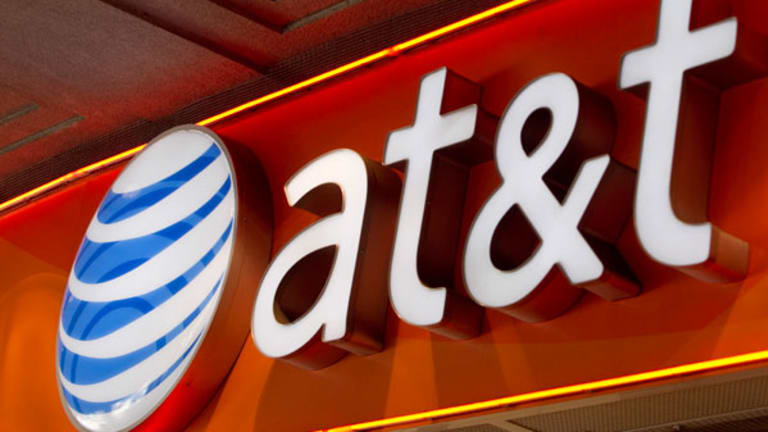 AT&T Falls Despite Less to Fear from T-Mobile, Sirius XM Drops Amid Class-Action Lawsuit
AT&T fell despite a report that rival T-Mobile may loose its bid to gain more spectrum. Sirius tanks after a group is awarded class status for their lawsuit.
NEW YORK (TheStreet) -- AT&T (T) - Get Free Report edged lower Thursday, despite a report that its rival T-Mobile (TMUS) - Get Free Report is likely to lose its request to gain an opportunity to bid on more spectrum for its channels. Sirius XM Holdings (SIRI) - Get Free Report tumbled after a court awarded class-action status to plaintiffs in a copyright lawsuit.
AT&T fell 0.43%  to close at $34.80.
Regulators with the Federal Communications Commission are likely to reject T-Mobile's request for more spectrum to be allocated to smaller wireless carriers such as itself when a spectrum auction is held next year, according to a Reuters report. The more spectrum that a telecommunications company owns, the more airwaves that it has at its disposal.
The FCC could finalize its decision in the coming weeks, according to Reuters. T-Mobile, the No. 4 carrier in the U.S., is pushing regulators to impose greater limits on the amount of spectrum that industry behemoths Verizon Communications (VZ) - Get Free Report and AT&T can receive in the auction. Last year, the commission told these two carriers their participation in the 2016 auction would be reduced because a portion of their markets' airwaves would be awarded to smaller carriers that participated in the auction. T-Mobile, however, was not deemed small enough to fall into that category, according to the Reuters report.
Sirius XM Holdings tumbled 2.3% to finish the day at $3.80.
A judge on Wednesday granted the plaintiffs in a copyright lawsuit against Sirius to operate as a class action lawsuit. That move paves the way for additional parties to join in the lawsuit and potentially result in a larger payout for Sirius if the plaintiffs win.
Representatives of the The Turtles rock band brought the lawsuit, claiming Sirius did not pay them royalties for paying their music. In September, the judge ruled Sirius was liable for copyright infringement.
This article is commentary by an independent contributor. At the time of publication, the author held no positions in the stocks mentioned.