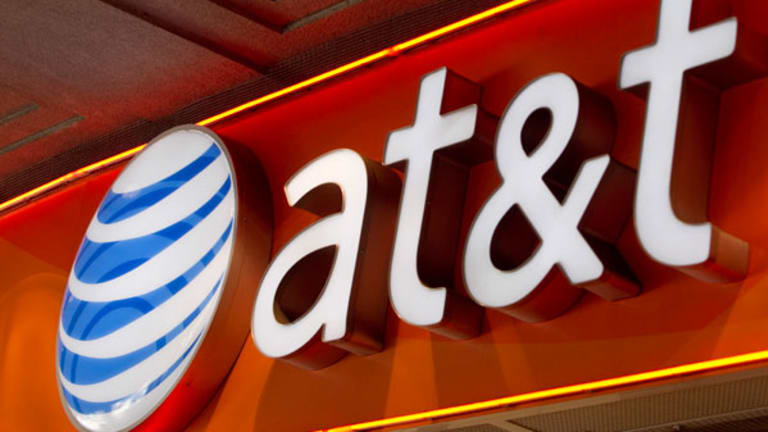 AT&T Embracing Net-Neutrality Rules It Slammed to Speed DirecTV Deal
AT&T has panned the FCC's "arbitrary" and "capricious" rules in the past. But to push through its bid for pay-TV operator DirecTV, AT&T is singing a new tune.
NEW YORK (TheStreet) -- Has AT&T (T) - Get AT&T Inc. Report lost its bite?
The company once known as Ma Bell has assumed the mantle in recent years as the leading antagonist to advocates of net neutrality, rules designed to give every Internet publisher the same speed and access to consumers.
But AT&T is softening its stance on net neutrality in hopes of securing approval from the Federal Communications Commission for its $49 billion cash-and-stock acquisition of pay-TV operator DirecTV (DTV) . Concurrently, the Dallas-based telecom is showing no signs of backing down from its plans to challenge the FCC's legal authority to impose those rules.
AT&T has consistently reaffirmed its commitment not to block, slow or charge more for faster broadband service, pointing to a May 13 statement announcing a joint lawsuit it filed with other broadband players in the District of Columbia Circuit Court of Appeals. The statement is from Walter McCormick, president of USTelecom, a trade group that is one of the other petitioners in the suit.
"We are not seeking to stay the order's bright-line rules prohibiting blocking, throttling and paid prioritization," McCormick said, citing the three major regulations in the new open Internet rules.
However, McCormick said, USTelecom and petitioners including AT&T want to end "this ill-conceived order's reclassification of broadband service as a public utility service."
AT&T declined to comment on whether the forthcoming DirecTV deal has affected its suit seeking a stay on parts of the Open Internet Order.
With antitrust officials at the Department of Justice expected in the coming days to clear the deal, the FCC remains the final hurdle. To make its case before the commission, AT&T executives have said in an application filing they're willing to make "voluntary commitments" that keep the public interest in mind, including expanding broadband coverage and offering cheaper plans. 
Although an acquisition of DirecTV would not change AT&T's Title II classification as an utility, unilateral promises to the FCC could bind AT&T's hands even if pending litigation succeeds in uprooting the open Internet order, said Charles Lee, an attorney at the law firm at Baker Botts LLP.
"If they flat out agree to do certain things in order to get the FCC to consent to the merger, then they'll have to follow (that contract) regardless of whether in fact it is proven that the FCC did have such authority," Lee said. "AT&T would have to decide 'Am I prepared to live with this to get this deal done?' "
When AT&T first floated its plan to buy DirecTV in May 2014, it said it would not speed up or slow down Internet traffic coming to any Web site or from different customers for three years after the deal closed.
Rumors that AT&T is now willing to concede even more ground in the net-neutrality debate are a sign that negotiations for an AT&T-DirecTV deal could be around the corner, Lee said.
"It means essentially that the FCC can see a path to this sort of transaction provided there are certain protections put in order," he said.
Another propitious sign is the mounting paper trail leading to the FCC's doorstep. The FCC has received 12 petitions from consumers, advocacy groups and competitors regarding the proposed purchase just this month.
In the same period, AT&T's own filings with the agency have grown more granular, with senior company executives elaborating on plans to expand its broadband coverage and to offer discounted broadband service to qualifying low-income consumers for a limited time.
But advocates say these "public-interest benefits" and plans to deploy broadband are too vague.
"If they're going to make deployment conditions, great, but let's make them as specific as possible," said John Bergmayer, senior staff attorney at Public Knowledge. "There's a long history of programs that haven't panned out."
He added that conditions on who qualifies for discounted broadband, which are based on the federal food-stamp program, might limit it from reaching people that need it.
In addition, Public Knowledge and other advocates have called for the FCC to push AT&T on terms beyond the current open Internet order.
That includes petitions to halt so-called interconnection practices (content providers paying for smoother, faster streaming), to stop zero rating (content providers paying to have their data exempt from broadband subscriber bills) and to guarantee AT&T offers a standalone broadband service that does not include pay TV.
The FCC has used adherence to the principles of net neutrality as a bargaining chip in merger negotiations before. In 2011, the conditions for Comcast's (CMCSA) - Get Comcast Corporation Class A Report takeover of NBC Universal included Comcast's agreement not to discriminate against different content carriers and to offer low-income families with a cheaper broadband plan.
The terms bound Comcast to stand by its individual contract with the FCC even if net-neutrality rules were thrown out in the courts.