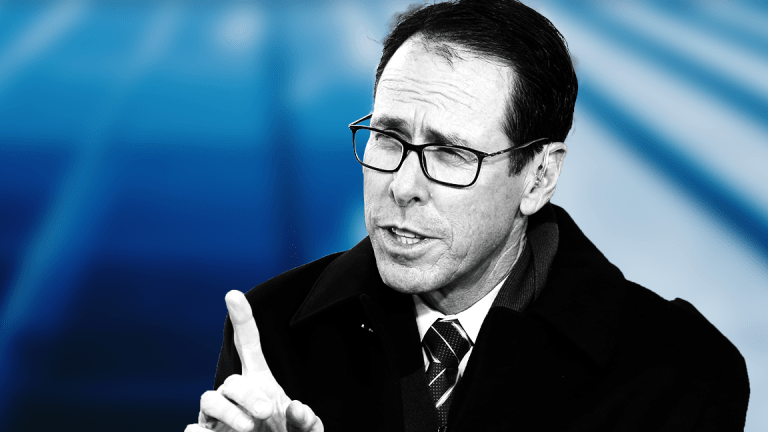 AT&T Media Ambitions Draw Cool Response
Investors were cool to the telecom giant's plans for media expansion.
AT&T's (T) newly constructed digital advertising, media and telecom machine got a cool reception Tuesday, despite an earnings beat from the company.
The parent of Time Warner, DirecTV and AT&T communications networks earned 91 cents adjusted per share in the second quarter, topping analyst estimates of 87 cents per share on a non-GAAP basis.
"We've now assembled the key elements of a modern media company," Chairman and CEO Randall Stephenson said on a call with analysts after the reoprt, touting acquisitions such as Time Warner and ad-tech platform AppNexus.
Stephenson said AT&T has assembled a combination of premium content such as HBO, Turner and Warner Bros; connections to wireless, broadband and pay-TV consumers; and ad tech and high speed networks that together form a media and advertising powerhouse.
By using data from wireless and TV networks, the CEO said AT&T can sell targeted ads for three to five times the rates of conventional spots. The newly added Turner networks such as CNN, TNT and TBS increase AT&T's ad inventory by three times, he added.
For the time being, however, AT&T as a whole is shrinking. Revenue slid 2.1% to $39 billion in the second quarter from a year earlier.
Despite Stephenson's plan to harness cutting edge ad-tech to Turner networks, shares of AT&T dropped about 1.1% to $31.32 after hours. The stock has fallen about 18% year to date. Rival Verizon (VZ) , which has not bulked up on traditional media assets, rose 1.5% Tuesday $51.51 after it beat earnings forecasts.
The Dallas telecom and media group added 342,000 subscribers to its DirecTV Now service, bringing total subscribers to the streaming pay-TV package to 1.8 million. The catch is that DirecTV Now customers pay less per month than the traditional satellite TV subscribers that DirecTV is losing.
On a positive note, AT&T grew wireless services for the first time since the fist quarter of 2014, excluding changes to accounting rules for recording revenue. 
AT&T closed the purchase of Time Warner for $85.4 billion -- $108.7 billion including assumed debt -- in June, though the Department of Justice has appealed the U.S. District Court order allowing the deal to close. Later in June, the company bought  AppNexus, which operates an ad sales platform for advertisers and publishers. 
Counting wireless, pay-TV and broadband subscribers, Stephenson noted that AT&T has direct connections to 170 million consumers in the U.S. and Latin America.  The CNN.com digital sites, Bleacher Report, AT&T's Otter Media properties add another 200 million monthly users, he said. 
"This is already a big scale direct-to-consumer business," Stephenson said. 
Meanwhile, WarnerMedia CEO John Stankey said the company will give HBO more resources to green light more original content, and noted that Warner Bros. is producing 75 television series for the 2018 to 2019 season.
AT&T's balance sheet has bulked up with the acquisitions. The company listed $168.5 billion in long-term debt at the end of the second quarter, and $21.7 billion in debt maturing within a year. CFO John Stephens said the company will pay down debt and reduce leverage from 2.9 times EBITDA in the second quarter to 2.5 times by the end of 2019.