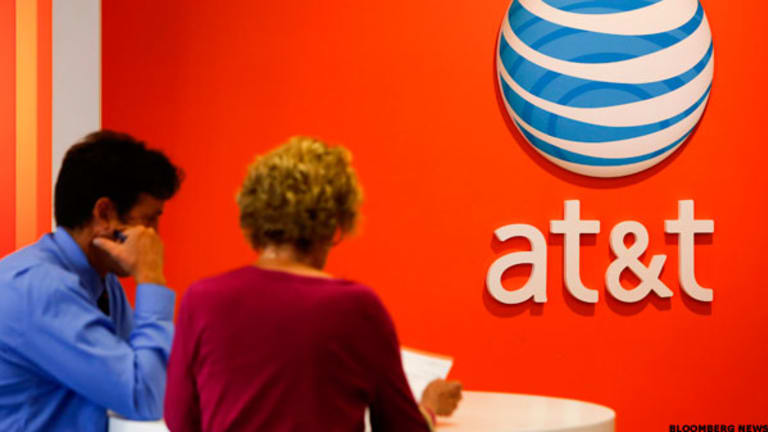 AT&T Is Super Excited About the Internet of Things
AT&T thinks we're this close to getting flying cars next year ... well, not really. But it appears to be pretty bullish on what's to come in innovation.
AT&T (T) - Get AT&T Inc. Report thinks we're this close to getting flying cars next year ... well, not really. But it appears to be pretty bullish on what's to come in innovation.
The telecom giant has put out its list of predictions for 2016, and its crystal ball appears to be a high-tech one. Among other things, it anticipates major strides in the Internet of Things (IoT).
"This is actually one of the most important initiatives within the company right now, and it's not only a domestic play, it's actually a more international play," said Mike Troiano, vice president of industrial IoT at AT&T.
On that front, the company looks forward to more connected cars, wearable devices and even smart cities in 2016.
Currently, AT&T has upwards of 5.8 million connected car subscribers, having added 1.6 million subscribers in the third quarter. By the end of 2017, it anticipates reaching 10 million cars, made by manufacturers like General Motors (GM) - Get General Motors Company Report , Tesla (TSLA) - Get Tesla Inc Report and BMW.
"The trajectory that we're seeing right now is incredibly impressive," Troiano said.
He described the proposal as "taking the smartphone concept into the vehicle" by way of features like wireless connectivity, infotainment and dashboard maps as well as those more centered on safety and security. He also stressed the importance of real-time updates so that drivers don't have to head to the dealership every time their "smart" car apps are due for a refresh. And car manufacturers will be wise to take note.
"Think about how many times your applications are updated on your smartphone," Troiano said. "In a vehicle setting, where it takes a car manufacturer a couple of years to actually build a car and get the design into the supply chain and production, if you don't start to think about how you can design products that can be updated in the cellular, wireless world, you can very quickly lose traction."
That doesn't mean that if a car doesn't come with a telecom box embedded one can't be added in later -- there will be plenty of space for after-market solutions, too. (So don't go trading in your car just yet.)
AT&T also anticipates an expansion in the tracking and management of assets, people and things alike.
Much of the automation that originated with tasks like package tracking years ago has spilled over into the consumer space -- think city shared bicycles, water sensors and pet collars. It has also expanded further into enterprise, in areas like food shipments and medication. And AT&T thinks it will only expand from here.
"We see asset tracking both on the consumer side and more and more on the enterprise side really start to continue to advance over the next couple of years," Troiano said.
That translates to wearables as well, which Troiano said is "a place where we think we're going to see a lot of traction in 2016 and 2017."
He pointed specifically to safety and devices with the ability to monitor and alert, for example, the well-being of remote field workers or those with more dangerous jobs, like construction workers. Wearable devices could also have a big impact on first responders and law enforcement officials, for example, police body cameras.
Wearables will continue to appeal to consumers as well.
"You'll still have a huge consumer play on wearables, there's no doubt about that," Troiano said. "What Fitbit (FIT) - Get Fitbit, Inc. Class A Report has done and some of the other sensors that are very much centered around health care and bringing more awareness to individuals, that will continue to be a very, very hot sector."
Smart cities are on the agenda, too, especially as cities began to consider their urban planning and technological measures more holistically as opposed to app by app.
"You're going to see a lot of consortiums or technology companies coming together to help promote some of these comprehensive issues that are affecting cities," Troiano said. "You're also going to see funding change, in fact, the federal government has already started to release funding on smarter cities."
At the center of AT&T's 2016 predictions is the question of security, which Troiano said is "the number one issue on the mind of our customers." And in the world of IoT, addressing the problem is a complex task involving devices, operating behavior, communications and threat analysis.
"We do see, and we will continue to see, more and more focus on security," he concluded.