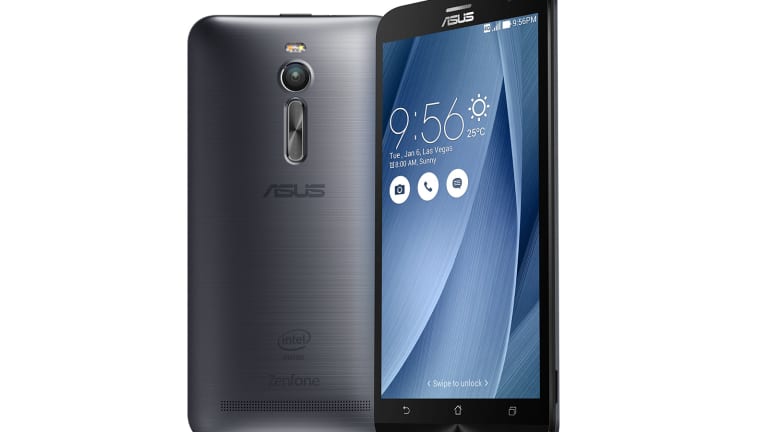 Asus Zenfone 2 Review -- Great Phone at a Great Price
Asus finally enters the North American smartphone market with a very competitive device.
NEW YORK (TheStreet) -- Not to take anything away from the best Android phones today, including those from Samsung (SSNLF) , HTC, LG and others, but there's another manufacturer that's finally bringing a killer smartphone to the U.S. -- the Asus Zenfone 2.
Asus' first Zen smartphone was a good device and sold well in a very limited number of world markets but the company never felt it was ready for the U.S. But, the second-generation Zen device is a different story. This is a real, well engineered standalone smartphone and its best feature is the affordable price.
The 16GB version of the Padfone 2 retails for $199, while the 64GB model sells for $299. By comparison, either of the Samsung Galaxy S6 phones or Apple iPhones are more like double that price.
So far, the Zenfone 2 is this year's unexpected sleeper similar to one of 2014's best - the still hard-to-find OnePlusOne. Unlike the OnePlus, which ran on a very special version Google's (GOOG) - Get Report mobile operating system, the new Asus relies on the Android 5.0 Lollipop.
There are actually two new Zenfone 2s -- one with 2 GB of RAM and 16 GB of storage and the other (our test model) has a whopping 4 GB of RAM and 64 GB of internal storage. Both can also handle an additional 64 GB of microSD card expansion.
To go along with that are the processors, with Asus selecting the quad-core chips made byIntel (INTC) - Get Report. There's a 1.8 GHz Atom Z3560 processor in the 2GB phone and a faster 2.3 GHz Z3580 version in the 4 GB model.
Both phones have a 5.5-inch, full HD (1080 by 1920 pixels) IPS touchscreens with less protruding bezel than even Apple's (AAPL) - Get ReportiPhone 6 Plus, 13 megapixel camera on the back (with f/2.0 lenses) and a 5 MP shooter up front, the latest highest-speed LTE, Wi-fF, and Bluetooth technologies and a 3,000 mAh rapid-charging battery pack.
Also inside is room for two SIM cards. This is a GSM worldphone with allows you to use more that one carrier at a time - a very popular feature in other regions. You can choose which SIM is dominant depending on where you are or what company provides better service. Or, you can use the Zenfone with one SIM if you prefer. I have both T-Mobile (TMUS) - Get Report and AT&T (T) - Get Report SIMs running in the test unit.
The volume control is on the back, just below the camera - very similar to what you'll find on LG's G-series phones. There's also an optional flip-cover for the phones which reminds us of what's available for some LG and Samsung models. I used very few of the Asus-branded apps and luckily they haven't gotten in the way. The few I tried seemed to work just fine.
In our tests, the Asus Zenfone 2 performed beautifully. It's a terrific performer and proved to be quite speedy handing everything we asked of it even with more than a dozen apps open at the same time. The Intel processor never blinked or stumbled. All of the apps we usually download and install worked exactly as they do on other handsets with Qualcomm (QCOM) - Get Report Samsung or other ARM-based (ARMH) processors.
If I had one complaint it would be that I'd love to have the play louder than it ultimately does. You can't turn the volume up to "11" and even "10" is usually not loud enough in some cases, like rocking out on Spotify or Tidal.
In our tests, the camera produced a number of good-looking snapshots and one or two stinkers. Overall, we preferred the photos taken with the HDR (High Dynamic Range) feature in play. We found that when it adjusts the light and dark portions of the photo it helps create quite acceptable pictures, especially for a phone in this price range.
For now, the Zenfone 2 won't be sold by U.S. carriers. If you're interested, you'll find that it's available from Amazon (AMZN) - Get Report, B&H, Groupon.com (GRPN) - Get Report and NewEgg.com
Is it a perfect device? No smartphone is, but is it a terrific Android phone priced just right? You bet.
Overall Score: 8.6/10
This article is commentary by an independent contributor. At the time of publication, the author held no positions in the stocks mentioned.