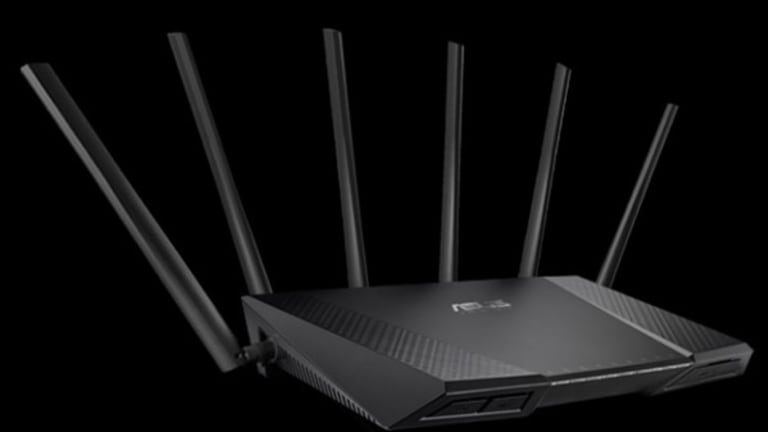 Asus RT-AC3200 Wi-Fi Router Review: Life in the Fast Lane
Its top-of-the-line, tri-band, 802.11ac design makes every connected device in the house noticeably faster.
Its top-of-the-line, tri-band, 802.11ac design makes every connected device in the house noticeably faster.
NEW YORK (TheStreet) -- If you've been using your home Wi-Fi router for a number of years, you may be missing out on the latest technologies, including the new Asus RT-AC3200 router.
The RT-AC3200 is a "tri-band (dual 5 GHz + 2.4 GHz) wireless Gigabit router," which means unlike my trusty, 8-year old Ruckus (RKUS) VF2825 router, the Asus (AKCPF) is capable of providing a super fast Wi-Fi connection. It can do this on a number of different wireless bands using an array of the latest high-speed networking capabilities. The Asus can also combine all of its frequencies to deliver ultimate download speeds.
When I started using the Ruckus, my wireless needs were comparatively simple -- connecting a few desktops and laptops, a PDA and maybe a Wi-Fi radio. Now, there are multiple desktops, laptops, tablets and a plethora of other devices and streaming services. I realized my old Ruckus router was starting to show its age under today's heavy load.
I upgraded my Time Warner Cable (TWC) Internet service to a higher tier, but that wasn't enough, even with my Motorola Solutions (MSI) - Get Reportcable modem. The AC3200 is Asus' latest top-of-the-line Wi-Fi router model.
This router does a lot of things well, but I was mainly interested in wireless signal speed and coverage. It handles all of the current Wi-Fi technologies, including the new 802.11 ac. In addition, it will combine some of these technologies to offer speeds up to 3,200 Mbps, a lot faster than my cable connection.
Setting up a new Wi-Fi box can be a challenge, but luckily, Asus provides a "Smart Connect" system with simple instructions and a lot of automated settings. Asus also offers users additional assistance via a special help desk phone number.
The new router is fast. Previously, I was able to obtain Wi-Fi download test speeds of 10 Mbps to 15 Mbps, but with the new router registered downloads of more than 100 Mbps. Upload speeds increased too, though not as much.
These speeds may sound impressive, but the real benefits of this device are more than just statistical. Everything connected to my Wi-Fi network now works better, from older Apple (AAPL) - Get Report MacBooks, to the newer Microsoft (MSFT) - Get Report Surface Pro 3 and a Chromebook Pixel: All are noticeably faster. The output of the video streaming devices is solid, and music streaming systems sound clearer.
In addition to its speed, the AC3200 offers a truckload of other impressive features, including 4 Gigabit Ethernet ports on the back and the ability to plug in USB 2 and USB 3 storage devices.
All of this performance comes at a price. The Asus RT-AC3200 has a suggested retail price of $300. You can find it discounted online for around $250. While it's nowhere near the $1,100 retail price of the top-of-the-line Ruckus, it is still more expensive than many other modern Wi-Fi routers on the market. 
There are other companies like Netgear (NTGR) - Get Report and Linksys (CSCO) - Get Report producing super-high-end routers that you might want to consider, but in our tests, we found the Asus to be a very solid performer, pretty much future-proof (for the near future, anyway) and well worth considering.
Overall Score: 8.8/10
Gary Krakow is TheStreet's Product Reviewer.
This article is commentary by an independent contributor. At the time of publication, the author held no positions in the stocks mentioned.