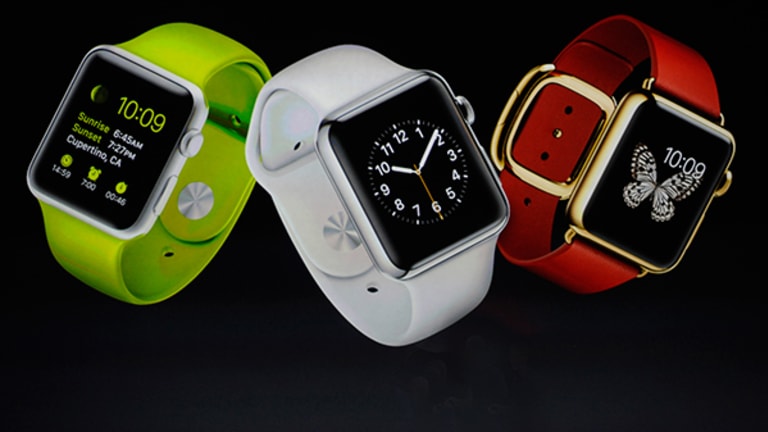 As Apple Watch Gets Ready to Launch, Is It Time to Sell Apple?
Societe Generale cautions investors to keep their attention on the iPhone and not the much-hyped Apple Watch.
Updated from 12:06 p.m. to include additional analyst comments in the fifth paragraph.
SAN DIEGO (TheStreet) -- Ignore the Apple (AAPL) - Get Apple Inc. Report Watch hype. That's analyst firm Societe Generale's message to investors ahead of the device's much-talked about April 24 debut.
Rather, investors need to keep their eyes on Apple's iPhone -- which may not be as big a hit down the road -- and not be distracted by the media frenzy surrounding the Apple Watch, Societe Generale analyst Andy Perkins said in a note Wednesday. The firm downgraded its Apple rating from buy to hold with Apple shares trading near Societe Generale's 12-month price target of $130.
Apple shares were trading down half a percent at $125.45 late Wednesday morning. Since the start of the year, shares of Apple have outperformed the S&P 500, gaining 13.8% vs. a 1.2% gain in the broad stock market index.
"The excitement surrounding the upcoming launch of the Apple Watch can sometimes obscure the main determinant of Apple's results and therefore its share price performance: the success or failure of Apple's iPhone handsets," Perkins wrote. 
The downgrade comes a day after Cantor Fitzgerald analyst Brian White, who rates Apple buy, reiterated that continued iPhone momentum and Apple Watch potential show that Apple's value can still grow. In March, White put a $1 billion valuation target on Apple.
Early reviews of the Apple Watch lean toward positive, even if there is a bit of a learning curve for the device. 
Reviewers have discussed that learning curve, along with complications with the user interface, major app limitations, an overall slowness, and, of course, the watch's considerable price tag. Still, several Apple Watch reviewers concluded that people will want the device, and The New York Times' Farhad Manjoo went so far as to say he "fell hard" for the device.
Real Money's Doug Kass has an overview of most of the Apple Watch reviews. "Upshot. It's clunky, not easy to use, slow & will most definitely look like relic after one year," Kass writes.
Apple is coming off a monster quarter with iPhone sales of 74.5 million units, up 46% over the prior year, helping the company post record sales of $74.6 billion in its fiscal 2015 first quarter. The iPhone accounted for 69% of total sales in the quarter, making it by far the most important product in Apple's lineup of devices.
But you shouldn't expect as stellar an iPhone performance for future quarters, Societe Generale said. The firm said that Apple's larger smartphones will make up a smaller percentage of total iPhone sales in the second quarter. It also expects Apple to sell fewer of the priciest 128 GB iPhone models, which would impact the device's average selling price, and lower both margins and revenue for the quarter. Societe Generale estimates total iPhone sales of 56 million units in the second quarter.
"We remain concerned that Apple will struggle to replicate the huge success of the iPhone 6 launch when it upgrades its handset portfolio in September," Perkins said.
Analysts surveyed by Thomson Reuters expect Apple to earn $2.13 a share on $55.5 billion in revenue for the fiscal second quarter.
Even though the firm cautions against getting caught up in Apple Watch chatter, it still expects the device to sell relatively well over the next several months. Societe Generale is predicting Apple will sell 8 million watches at an average selling price of $500. The firm, then, is anticipating Apple Watch sales of $4 billion for the company's fiscal year 2015, which ends in September. That compares to other analysts' fiscal 2015 estimates of between $1 billion and $7 billion.