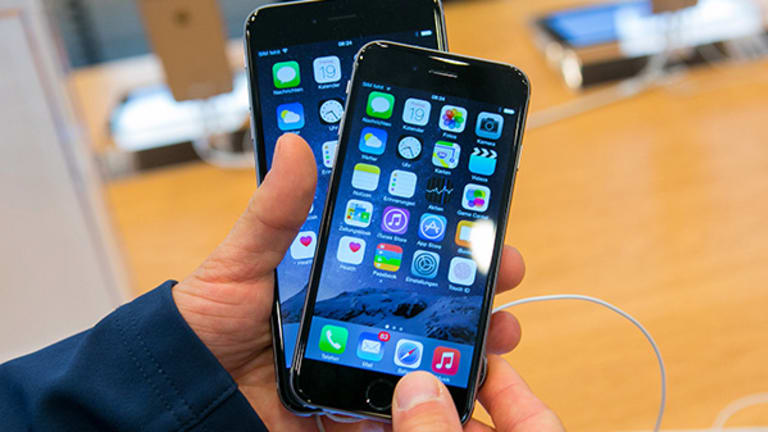 As Apple Pay Gets Ready to Launch, Who Actually Uses Apple's Passbook?
Apple has unveiled several new products, but the one that has excited investors the most is Apple Pay, Apple's payments system. The question remains who, if anyone, will use it.
This story has been updated from 8 am EST with comments from Apple CEO Tim Cook.
NEW YORK (TheStreet) –– Apple (AAPL) - Get Free Report has unveiled several new products, but the one that has excited investors the most is Apple Pay, Apple's mobile payments system. The question remains who, if anyone, will use it.
Research firm eMarketer has put out a survey with information from BlueHornet noting that nearly 25% of all U.S. mobile device users (24.5% to be exact) have used Passbook in the past six months from the polling, when the survey was done in the second quarter of this year.
Usage of Passbook varies by demographics, with 37.7% of those in the 25 to 34 age group using it, by far, the most. How people are using Passbook is more varied. Coupons are the most prevalent usage, with 68.5% of people who have used Passbook using it for coupons. Airline boarding passes and payment information are second and third in uses, with 46.7% and 44.6%, respectively. Using it for movie tickets was the least common usage, with just 36% of people using it for that purpose.
Apple CEO Tim Cook announced on Wednesday that Apple Pay would officially launch on Monday, Oct. 18. Cook spoke at an Apple media event to announce its latest iPad models.
Passbook allows users to store gift cards, coupons, boarding passes and tickets on a users' iPhone, eliminating the need for the physical object.
Passbook adoption and usage is important since Apple Pay allows users to use the Passbook app and add the credit card attached to their iTunes account by entering the card security code, or using the camera to take a picture of any other cards they might have.
Forrester Research expects the U.S. mobile payments industry to reach $90 billion by 2017, which indicates there is room for additional companies to enter the space aside from the industry leaders such as eBay's (EBAY) - Get Free Report PayPal and Square. Citi Research has put a lower figure on the industry, at $58.4 billion, by 2017.
Though many have noted the amount of commerce happening on Apple's iOS operating platform, (including CEO Tim Cook who noted in January 2014 there is a "big opportunity on the platform" when looking at demographics), research from Thrive Analytics shows while those who use Passbook use it much more often than PayPal or Google Wallet -- 60% of them using Passbook on a weekly basis -- they spend significantly less. Nearly 40% of those who've used Passbook spent less than $10 on a transaction.
"And while just over one-fifth of those who turned to Apple Passbook did spend more than $30, this trailed the percentage who typically spent that when using Google Wallet for a transaction by 13 percentage points," eMarketer wrote in the blog post.
For Apple Pay's launch, Apple is working with the major credit card companies American Express (AXP) - Get Free Report , MasterCard (MA) - Get Free Report and Visa (V) - Get Free Report , as well as six major banks (Citigroup (C) - Get Free Report , Chase (JPM) - Get Free Report , Bank of America (BAC) - Get Free Report , Wells Fargo (WFC) - Get Free Report , Capital One (COF) - Get Free Report and American Express to create a system where each transaction is authorized with a one-time, unique number to make purchases.
Available on the newly announced iPhone 6, iPhone 6 Plus, as well as the Apple Watch (it's also available on the iPhone 5, 5C and 5s as long as they are paired with the Watch), Apple's mobile payments initiative (reportedly available as soon as this weekend) comes at a time when the mobile payments industry is struggling to get mainstream adoption. However, given Apple's breadth and scope (800 million iTunes accounts), it should give a boost not only to the industry itself, but Apple's top line as well.
--Written by Chris Ciaccia in New York
>Contact by Email.