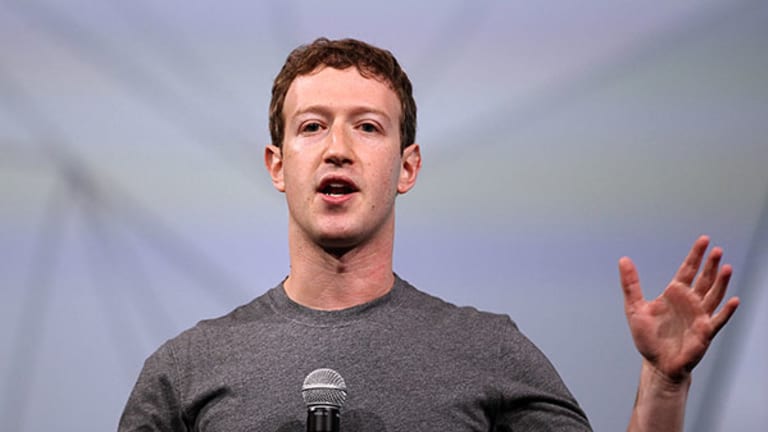 Arnold Schwarzenegger Asked Mark Zuckerberg If the Machines Would Win -- Here's What He Said
Zuckerberg's Townhall Q&A's are fairly frequent, but this time around it wound up being celebrity edition.
NEW YORK (TheStreet) -- Facebook (FB) - Get Meta Platforms Inc. Class A Report founder Mark Zuckerberg frequently hosts Townhall Q&A's on Facebook, but today's Q&A played out slightly differently with questions from celebrities like Arnold Schwarzenegger and Arianna Huffington.
As Zuckerberg explains on his Facebook page, the Townhall Q&A's are meant to be "an important way for me to hear what our community is thinking about." In today's celebrity-style Townhall, the community got a little more exciting.
First up was the Terminator, a.k.a. Arnold Schwarzenegger:
Mark, I always tell people that nobody is too busy to exercise, especially if Popes and Presidents find time. You've got to be one of the busiest guys on the planet, and younger generations can probably relate to you more than they can the Pope - so tell me how you find time to train and what is your regimen like?

And by the way - will the machines win?
Here was Zuck's answer:
Staying in shape is very important. Doing anything well requires energy, and you just have a lot more energy when you're fit.

I make sure I work out at least three times a week -- usually first thing when I wake up. I also try to take my dog running whenever I can, which has the added bonus of being hilarious because that basically like seeing a mop run.

And no, the machines don't win :)
Next came the media folk.
Founder of the Huffington Post Arianna Huffington asked Zuckerberg how digital publishing will evolve over next few years. Zuckerberg answered with some trends on "richness and speed/frequency."
On richness, we're seeing more and more rich content online. Instead of just text and photos, we're now seeing more and more videos. This will continue into the future and we'll see more immersive content like VR. For now though, making sure news organizations are delivering increasingly rich content is important and it's what people want.

On speed / frequency, traditional news is thoroughly vetted but this model has a hard time keeping us with important things happening constantly. There's an important place for news organizations that can deliver smaller bits of news faster and more frequently in pieces. This won't replace the longer and more researched work, and I'm not sure anyone has fully nailed this yet.
Huffington was followed by Jeff Jarvis, a famous journalist and professor, who asked Zuckerberg what Facebook's role is in news. "I'm delighted to see Instant Articles and that it includes a business model to help support good journalism," he wrote. "What's next?"
Zuck responded to Jarvis, emphasizing how important news was to Facebook:
People discover and read a lot of news content on Facebook, so we spend a lot of time making this experience as good as possible.

One of the biggest issues today is just that reading news is slow. If you're using our mobile app and you tap on a photo, it typically loads immediately. But if you tap on a news link, since that content isn't stored on Facebook and you have to download it from elsewhere, it can take 10+ seconds to load. People don't want to wait that long, so a lot of people abandon news before it has loaded or just don't even bother tapping on things in the first place, even if they wanted to read them.

That's easy to solve, and we're working on it with Instant Articles. When news is as fast as everything else on Facebook, people will naturally read a lot more news. That will be good for helping people be more informed about the world, and it will be good for the news ecosystem because it will deliver more traffic.

It's important to keep in mind that Instant Articles isn't a change we make by ourselves. We can release the format, but it will take a while for most publishers to adopt it. So when you ask about the "next thing", it really is getting Instant Articles fully rolled out and making it the primary news experience people have.
Even Stephen Hawking joined in on the fun, asking Zuckerberg what big science question he wants to see answered next--"I would like to know a unified theory of gravity and the other forces. Which of the big questions in science would you like to know the answer to and why?"
Zuckerberg answered Hawking, noting that it was a "pretty good" question:
I'm most interested in questions about people. What will enable us to live forever? How do we cure all diseases? How does the brain work? How does learning work and how we can empower humans to learn a million times more?

I'm also curious about whether there is a fundamental mathematical law underlying human social relationships that governs the balance of who and what we all care about. I bet there is.