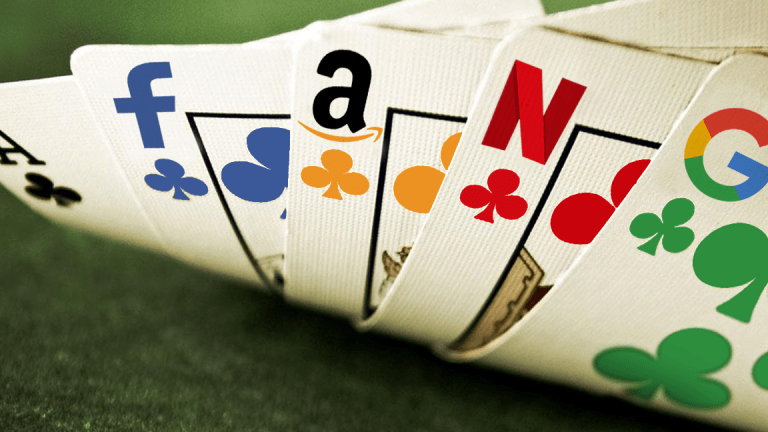 Does Netflix's Stumble Show We've Reached Peak FANG? Maybe Not
Netflix's less-than-stellar earnings sparked concern that for FAANG stocks, the sky isn't the limit after all.
Is there a chance that the mighty FANGs are maxing out?
That was the question on some investors' minds this week as Netflix (NFLX) - Get Free Report took a beating in after-hours trading Monday. After a dud of an earnings report that fell short of subscriber expectations-- a key metric used in justifying the streaming giant's $163 billion market cap -- Netflix's stock tumbled more than 13%, and took those losses into Tuesday, although they recovered to end the day down just 5%.
The rest of the FANGs followed, with Facebook (FB) - Get Free Report , Apple (AAPL) - Get Free Report , Amazon (AMZN) - Get Free Report and Alphabet (GOOGL) - Get Free Report each sagging slightly on Tuesday morning.
"Of course, all the attention will be on NFLX...and the other FAANG stocks [on Tuesday]. [Netflix's drop] is weighing on the other FAANGs as well," wrote Matt Maley of Miller Tabak + Co in an email on Tuesday morning.
Despite its recovery later in the day, Netflix's steep dive tapped into some concerns that even for high-flying tech stocks, the sky might not be the limit after all. 
"They are leaders in terms of this market from a tech perspective, and it's going to be a crucial few weeks ahead as we get more from Facebook, Google and Amazon," said Daniel Ives of GBH Insights. All three companies are scheduled to report earnings in the next two weeks.
The FANG crew has delivered staggering returns in recent years, with Facebook and Netflix leading the pack with five-year gains of more than 700% and 900%, respectively. The group's collective valuation of more than $3.4 trillion make up about 14% of the S&P 500, rivaling the entire GDPs of countries such as Japan and Germany.
The tech stocks are heroes to long-term shareholders, but they're increasingly a boogeyman for competitors and a burden for regulators.
In the trial clearing the merger of AT&T and Time Warner for example, lawyers for AT&T argued successfully that the deal was necessary to compete with the looming FANGs. And their outsized influence has become an obsession among smaller companies as well, with FANG stocks discussed on 950 earnings calls in the first quarter of this year, according to the research firm AlphaSense.
The dizzying valuations have naturally drawn comparisons to the dot-com bubble of the 1990s. In a June note, Goldman Sachs analysts argued that the FANGs are fundamentally different. "Unlike the technology mania of the 1990s, most of this success can be explained by strong fundamentals, revenues and earnings rather than speculation about the future," the analysts wrote. "We do not expect the dominant size and contribution of returns in stock markets to end any time soon."
Their businesses may be substantially different, but the FANGs are tied together in part by assets like exchange-traded funds (ETFs), and their performance reverberates across the broader market. 
"It is impossible to say whether these developments are going to create a situation where the FAANG stocks begin a measurable decline," Miller Tabak's Maley added, referring to Netflix's earnings stumble. "But since the rally has been SO narrow recently, any sustained drop in these names will certainly have a compelling impact on the broader stock market."
GBH's Ives said that Netflix's weak report was likely just a "blip" on what will be a longer climb -- and similar projections could be made of other tech giants.
"They have much different secular drivers, but ultimately, most of the street is going to go up and down with these FAANG names given the high degree of concentrated ownership," he said.
That doesn't mean that swelling valuations will go unquestioned forever: "There could be a valuation argument...there is a de-risking that takes place," Ives added.
They're also a target for regulators, with government agencies in the U.S and Europe scrutinizing Facebook and Alphabet for a host of privacy issues, and lawmakers mulling whether the companies are monopolistic. On Wednesday morning, the EU levied a record $5 billion fine against Alphabet for anti-competitive practices. 
Despite an initial drop-off after Facebook's data scandals came to light in March -- Facebook sunk 13.9% the week after the Cambridge Analytica report emerged, also dragging the FANGs down with it -- the drumbeat of privacy problems haven't caused any lasting damage to Facebook's or Alphabet's advertising businesses so far.
If FANG stocks rise and fall together, there is still plenty of cause for optimism, Ives said.  
"Facebook and Google are seeing advertising tailwinds despite the Cambridge Analytica black cloud," he said.
Amazon, Facebook, Alphabet and Apple are holding in Jim Cramer's Action Alerts PLUS member club. Want to be alerted before Jim Cramer buys or sells these stocks? Learn more now.